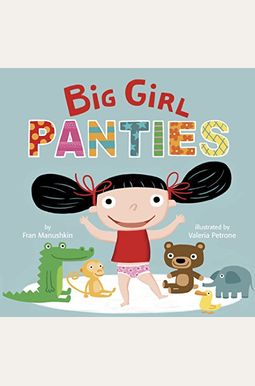  
Book Overview
Big Girl Panties features a light, positive approach to motivate toddlers to become toilet trained. What could be more rewarding for a little girl than wearing big girl panties, just like mommy? Adult caregivers and toddlers alike will love the snappy, rhyming text and colorful, hip illustrations. Valeria Petrone's stylized artwork ensures that this commercial yet heartwarming book will have a special place on little girls' favorite bookshelves. Soon they'll all be saying, Bye, bye diapers
Frequently bought together
Frequently Asked Questions About Big Girl Panties
Books like Big Girl Panties
Book Reviews
(19)
Did you read Big Girl Panties? Please provide your feedback and rating to help other readers.
Great book, has worked on 2 stubborn toddlers!

Derived From Web

, Apr 20, 2022

This book has been a lifesaver for our family, so much we bought it twice! Our first daughter did not want to give up the security of her pull up to wear panties. After a reading just one time, she was excited to start wearing them. Our second daughter was a nudist, so we bought this book again and she will keep panties willingly. What helps so much are the silly rhymes that are easy to remember. The girls liked pointing out to which panties they wanted to wear in the book and loved the part of the book that asked if they were a big girl.
Helpful with potty training my toddler

Derived From Web

, Apr 20, 2022

This book has been really helpful in the past few weeks when I have been trying to get my toddler to use the potty. She gets excited about reading this book. She is reading it. Likely excited. When I give her five books to read, including this one, she chooses this one first. Then we move to another book and read this book halfway through, then she wants to read this book again. She's been doing a good job by being potty and repeating sentences in this book.
Put your big girl panties on

Derived From Web

, Apr 20, 2022

Jennette Tamayo of BoobyTeeth. com says her girls recently went through potty training and tried many different things to help with the process. We did all sorts of rewards, potty training dolls, videos, etc. We recently purchased some My Little Pony panties and printed them out. At first, My girls didn't put 2 and 2 together, but as they progressed, they started to understand. What they enjoyed most about the book was saying no when asked if babies or crocodiles wear big girl panties, the kids said. A nice short book that may help some feel proud in wearing panties, Mosley said.
Cute Book

Derived From Web

, Apr 20, 2022

My 3 year old enjoys this book. We've already read it more than a handful of times and she's had it for two days. I would have rated it as 5, but it does not explain why she is wearing big girl panty. I expected the story to say something about the big girl coming out of diaperspull ups and being a little girl going to potty, which is why she can wear big girl panty. Oh well. My daughter is enjoying it. I'm just adding in all the information I feel should have been in the book, I feel like adding it. LOL, LOL is a bit of a LOL.
Love this book!

Derived From Web

, Apr 20, 2022

It was super uncool, my girly was super unexcited about potty training. She was into diapers, and that was it, she said. She asked why the Easter bunny took all her diapers to make hats for his friends and left a basket of big girl potty things. Yes, I included the book. She really liked it, she said. It's easy to read, and it has all the makings of a great read. The illustrations are very cute, Mr. D'Antonio said. I especially emphasized the page about babies not being able to wear panties, as we have a new baby in the house. She has been telling her little sister that she can't wear panties because she's not a big girl. This is a very good book - I highly recommend it for anyone trying to get their little one interested in panties!
Love!

Derived From Web

, Jul 28, 2020

Very simple book. It doesn't go into actually sitting on the potty or potty training but it's a great book about being a big girl and getting to wear panties!
Definite Buy!

Derived From Web

, May 23, 2020

If you are just starting to potty or if your big girl has already gotten the hang of it, this is a great gift or a good jump starter for your big girl!
Perfect potty training book

Derived From Web

, Apr 22, 2020

I wasn't sure what to expect from this video, but I love it! It's sitting next to the potty and we have it read it every time we go. She also told the interviewer that when she was asked what she wanted to do with her life, she immediately said, "mommy, grandma and aunts." It's great to have a book like this for any girl transitioning from diapers to big girl panties!
Helped a lot with potty training

Derived From Web

, Sep 18, 2019

This book is too cute! And it tremendously helped with the potty training of my daughter, who was very ready for potty training, but was reluctant to get rid of her diapers yet. We just kept repeating the verse to no little baby, you can 't have panties! Only big girls can have panties! I think this resonated so much with her, and I think that it resonated with her. Once the big day came and she wore the pants, she kept saying that she is a big girl and was so proud of herself. The plus is that whenever she doesn 't want to do something, we use the same verse slightly changed and she is immediately in. For example, she says that she does not want to go to daycare one morning, I turn to her little brother and says, no big baby can go to daycare, only little girls can go to daycare, and she excitedly repeats that she is ready for the ride, haha!
Hard pass.

Derived From Web

, Aug 4, 2019

The gender-neutral underwear felt too good to be true, Vazzi said. It would have been so easy to find a replacement: Undershirts, for example. I thought it was only in the title or a couple pages of the book which is why I bought it, but the word "panties" skeeves me out and is on basically every page. If your house is similar to mine, I'd suggest you try to find another book.