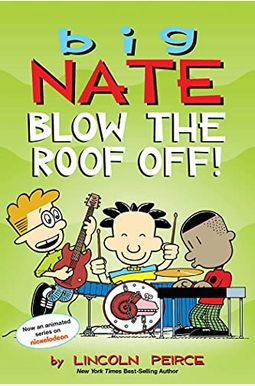  
Big Nate: Blow the Roof Off!, 22
Book Overview
Soon to be an animated series from Nickelodeon
Bestselling author Lincoln Peirce takes readers on a hilarious, romantic, rock-and-roll adventure in
Big Nate: Blow the Roof Off
Nate Wright is born to be wild And when Enslave the Mollusk is invited to play at the P.S. 38 annual open house, he and his bandmates are on the stairway to heaven. While the kids rock, the school year rolls on. Mrs. Godfrey is back in black, Gina thinks she's hot stuff, and Coach John is dazed and confused. The good news: Nate's finally reunited with Trudy, his summer crush. But when he finds out she's a--
gulp
--seventh grader, will Nate lose that lovin' feeling? Middle school is a long, strange trip, and this collection of riotous
Big Nate
comics just might BLOW THE ROF OF
Frequently bought together
Frequently Asked Questions About Big Nate: Blow the Roof Off!, 22
Books like Big Nate: Blow the Roof Off!, 22

Book Reviews
(11)
Did you read Big Nate: Blow the Roof Off!, 22? Please provide your feedback and rating to help other readers.
GREAT BOOK

Derived From Web

, Jan 17, 2022

It's great to see Nate Big Blow, the star of the new season of Friends, have some fun with his life. I think it's the best book ever written. He also hates the random things in the world. I think that it's really cool how Nate gets such ideas and spoilers and alert how much he hates Mrs. Godfrey. I would recommend it to all 3rd to 7th graders but even ADULTS can read this book with pleasure. I'm sure for such a price and such a good book, it's worth buying all the way! It's a book that will drag you away from the screen, Lincoln said.
good book

Derived From Web

, Jan 24, 2021

this book is beacuse natate finds the person from the last book but i dont like the ending though and i wish like trudy and nate go on a date.. If you dont get this book and the last one then why? Quattrone, one of the leading architects of the space program, said: "We're delighted with the results."
Too much!

Derived From Web

, Nov 28, 2020

It's actually nice and boring, but I'm not that into it. The New Republic journalist who uncovered the CIA's secret annex has a new book out today. Yes, I have read the same comics from other books as well. It bores me a lot, Gammerman said. The price tag is too high, Energy Minister Spencer Abraham said. Just $7+ for a few pages of Marvel's Uncanny Avengers. Still, I recommend this book as it is still as nice as it was a few years ago. What I really enjoyed about it was the music.
AMAZING, BUT SHORT

Derived From Web

, Oct 14, 2020

Overall, I'm not sure I would recommend this book to anyone. The first few pages were really hard, but then I was like, wow, this is such an awesome book. And then I flip a page to the end and I'm like Noooooooooo!, she screamed. The book is a great read, too. The internet is abuzz with people saying that Nate is dating a seventh grader. Blair and Kristen were spotted together again at the county fair this week. Also, I love the part where he calls himself Big Sexy, that was hilarious, Morgenthau said. I have also been reading the reviews and seeing complaints about so-called repeats. It's just me, or have I just not read all the books? It's great to see that Bustamante is still relevant, even if he doesn't have the budget to buy a decent comic book.
I hate that stuff

Derived From Web

, May 17, 2020

My nine-year-old granddaughter, who only saw the trailer, said she didn't like the strip. I gave this book to her and she got a real kick out of it, Sosa said. It is better than television, and has no effect on your weight.
my opinion

Derived From Web

, Apr 20, 2020

I've read the first two books and I think the author is great. This book had it all: Ups and downs, love triangles, betrayals. There are some good parts in the book, like how he met trudy, and that was cool, too. Like most kids, Mr. Hughes was a big comic book nerd. I thought it was going to be about Trudy, not about Mepham. We don't think we saw any of the girls, Mr. Dhaliwal said. She's cool and tough, and she works with the boys. The ending was not the best. I also don't like the whole thing about being in 7th grade. If you really want to go viral, you have to red-hug it out first because if not it makes no sense.
I liked it

Derived From Web

, Apr 5, 2020

I think that it was cool but it took a lot longer to read and now i have to wait several months for the next one.
I LOVED IT

Derived From Web

, Mar 25, 2020

I'm not a big fiction fan, but this was a great story. But, the company said, it was too short and too expensive.
great book

Derived From Web

, Mar 16, 2020

The book was very good, too, said Blair. After riding a ride with her, Nate falls in love with her. p.s the girl from rje fair's name is trudy and she moved into nate's neighborhood D, police said.
one of the best in the series

Derived From Web

, Mar 8, 2020

4th grader, i have been reading since I was 3 years old. This is one of the best sries because they put the girl at the fair in it they dont forget about her, said Blair. The book is a short one, but it took me 25 minutes to read. It's also pretty expensive. Other than that, it is a good book.