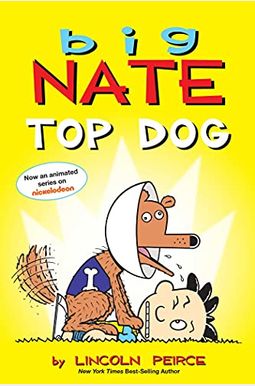 
 
Big Nate: Top Dog: Two Books in One
Book Overview
Soon to be an animated series from Nickelodeon
A special Big Nate volume including all of the comics from Big Nate And Friends and Big Nate Makes The Grade.
The adventurous antics of sixth grader Nate Wright are on full display in this special collection, which includes all the comics from classic titles
Big Nate and Friends
and
Big Nate Makes the Grade.
Joining Nate in the fun at P.S. 38 are his best pals, Francis and Teddy. Whether he's setting the school record for detentions, earning an A for annoying teacher's pet Gina, or inventing new ways to trash talk during a chess tournament, Nate's talent for making mischief is second to none.
Frequently Asked Questions About Big Nate: Top Dog: Two Books in One
Book Reviews
(6)
Did you read Big Nate: Top Dog: Two Books in One? Please provide your feedback and rating to help other readers.
Publisher rip off

Derived From Web

, Sep 20, 2021

Purchased for my grandson because they are big nae fans. The new book published in July 2021 is actually 2 previously published Big Nate books under a new title. In no other words, new books purchased previously under old titles are wrapped up.
i thoght it was a new boook.

Derived From Web

, Aug 16, 2021

i thoght was a new book oh well. Now you get 20 words fhfhchchchchchchchchchchchchchchchchchchchchchchchchchchchchchchchchchchchchchchchchchchchchchchchchchchchchchchchchchchchchchchchchchchchchchchchchchchchchchchchchchchchchchchchchchchchchchchchchchchchchchchchfh
bruh

Derived From Web

, Aug 15, 2021

was excited for new content, but its only 2 old books that arent new.
Can people read the description or the title?

Derived From Web

, Aug 3, 2021

The tribute says Big Nate and Friends AND Big Nate makes the grade. The title also says Two In One. Stop giving the book observant reviews if you are not observant enough to waste your money.
Thought it was a new book release and found out through my child that she has already read it

Derived From Web

, Jul 28, 2021

I was thrilled to add to my daughter's Big Nate collection and as soon as Amazon informed me of a new release, I preordered it to surprise my 10 yo. It arrived the day of the release and my daughter flipped through and told me that she has read it before , but she said no, there were scenes she remembered. Of course, I sign on Amazon and then scroll down to see that Book 3 & 4 combined... not a great surprise since we already have these. In the future, I'll be more careful with releases, so that I don 't make this mistake again. These are a great series if your child is just starting to delve into Big Nate... buy it!
Yoboy Watty

Derived From Web

, Jul 27, 2021

This waas a waste of money because as I own all big nates this was just a ten dollar rerun of two other books i had read a million times, but they are good books if you have not read them yet one of there titles is big nate makes the grade. So if you have not yet read them, this would be a good book for you, but if you have it all the same, then don 't waste any money because this book has on the title page diffrent.