BLACK FRIDAY DEALS CONTINUE - SAVE 20% AT CHECKOUT WITH CODE CYBERBOOK. Learn more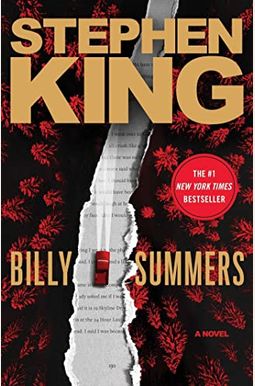  
Book Overview
This Description may be from another edition of this product.
From legendary storyteller and #1 bestseller Stephen King, whose restless imagination is a power that cannot be contained (The New York Times Book Review), comes a thrilling new novel about a good guy in a bad job.
Billy Summers is a man in a room with a gun. He's a killer for hire and the best in the business. But he'll do the job only if the target is a truly bad guy. And now Billy wants out. But first there is one last hit. Billy is among the best snipers in the world, a decorated Iraq war vet, a Houdini when it comes to vanishing after the job is done. So what could possibly go wrong? How about everything. This spectacular can't-put-it-down novel is part war story, part love letter to small town America and the people who live there, and it features one of the most compelling and surprising duos in King fiction, who set out to avenge the crimes of an extraordinarily evil man. It's about love, luck, fate, and a complex hero with one last shot at redemption. You won't put this story down, and you won't forget Billy.
Frequently Asked Questions About Billy Summers
Book Reviews
(17)
Did you read Billy Summers? Please provide your feedback and rating to help other readers.
Didnt ask for his political statements

Derived From Web

, Dec 14, 2021

The idea of a hitman doing his last job that someone screws him over was used in the story. I was ok with the exhausted storyline because the main character is very likable. At the end of the story, Stephen King is obsessed with making political jabs and statements that I did not sign up for. If you want to make a political statement, you should pay $30 to hear it.
All political, no plot

Derived From Web

, Oct 12, 2021

He never hesitated to talk poorly about conservatives, even though this is incredibly boring. Not interested. Is it possible to not use original storylines to intrigue people? The bull was filled with hate. It's great.
Extremely Boring

Derived From Web

, Sep 23, 2021

One of the most boring King's books I've ever read. Too much time was spent living the story when he was a marine and it almost supports nothing now. There was a predictable ending. Don't waste the time.
I am so glad Trump is out of office, now maybe Steve can move on and quit writing him in his stories

Derived From Web

, Sep 22, 2021

Don't ruin it for someone else. I like the story within the story. Does his job of connecting it to his other works. You get a depth of character and growth through the progression of the story in normal King fashion. Maybe if he ever gets over his obsession with trump, he will get a better mark.
Would not recommend

Derived From Web

, Sep 7, 2021

I found this book to be boring and predictable. I couldn't get into any of the characters in the book. Save money and time.
Not his best

Derived From Web

, Aug 25, 2021

I tried, but could not get into the story. The book was written by the character. The differences in the fonts were hard to read on my device.
Wish I could return it, but its too late!

Derived From Web

, Aug 16, 2021

Stephen King doesn't care that he ruins a great book by putting his political views into it. That ruined it for me. Totally unnecessary!
Too political

Derived From Web

, Aug 12, 2021

This isn't a typical Stephen King novel but it was enjoyable. I will add him to my list of celebrities that I will no longer spend my money on. I found the criticism of Donald Trump and characterization of anyone who supports him as a wife beater offensive. It didn't have a role in the storyline. It was childish.
Too Political

Derived From Web

, Aug 11, 2021

I have read all of King's books. I enjoyed the majority of them. I don't understand why he would think his readers care about his political views. When I'm done with my books, I usually give them to my friends. The Cellist by Daniel Silva also went into the trash. If I was interested in politics, I would watch CNN.
Very disappointing effort

Derived From Web

, Aug 11, 2021

Trust the intelligent reviews. We knew that King could write compelling novels, but we had to put up with some childish real world bloopers. Many other writers with talent have done a better job with this story line. Where is the editing? A hero sniper uses an Amazon device to shoot a 500 yard head through a cold rifle with a scope zeroed. He's never fired through his weapon with store-bought bullets. Have you ever heard kids say, loser, loser, loser? Television isn't the only way to leave your retreat. I'm only half way through and will probably go on for a long time. If you are on the fence, my advice is to go back down and read something else.