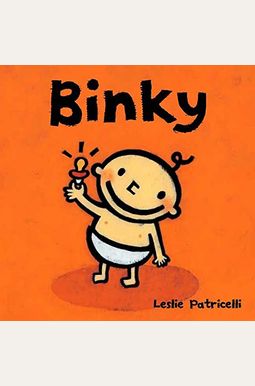  
Book Overview
A comically expressive tot pays tribute to the all-important Binky in a bright, playful board book sure to have instant toddler appeal.

Anyone who's spent time with a toddler knows that few crises compare with the (even temporary) loss of a favorite binky. Here, in her humorous, bold graphic style, Leslie Patricelli plays up a scenario near and dear to every toddler's heart, raising the plaintive question: can there be any peace in the house when a beloved binky is not to be found?
Frequently Asked Questions About Binky
Book Reviews
(10)
Did you read Binky? Please provide your feedback and rating to help other readers.
A must read for all binky lovers !

Derived From Web

, Jun 4, 2022

I absolutely love this book and most of the other books by Leslie Patricelli. The story is of the baby who can not find his binky and has to search everywhere for it and eventually finds it in his bed. I do like that the binky is in his bed, as we are currently trying to get my son to use the binky only during sleep times, so this fits perfectly. I just love to see my son interact with this book now that he's a little older. We have been reading this book to him for a year or so and he now answers you when you ask the question Is Binky in my cereal? It is super cute to see him respond. My husband and I have it memorized, we read it so often.
Baby is on the hunt for his binky

Derived From Web

, Jun 4, 2022

My 18 month old son Binky is called Paci, so we change the word when we read it and he LOVES the story. The favorite baby of everyone is looking for his binky all over the house. Under furniture, with mom, with dad, in the potty and even with the goldfish and dog. He eventually finds it in his crib. The story ends with the baby sleeping in his crib with his binky saying that this is his favorite place to have his binky. For our family, this was especially helpful because my son gets his binky when he sleeps, so I love the fact that the baby finds his and states that's his favorite place for binky. Definitely one of our favorite books by Patricelli.
We love the binky book.

Derived From Web

, Jun 4, 2022

1) I needed to add to my shipping costs to $25 and 2) one of my sons is a Binky fiend and we were trying to cut him back. The book is very simple and the baby searches for his binky all over the house, which my boys love. Though it is very different in the wording, we are able to make it very simple every time because we focus on other colors, shapes, etc. Even his brother, who never liked to use a binky, loves this book. It is a beautiful weight and is not easy to destroy. I was worried that a book about a binky would encourage him to be more creative, but it has helped us by reinforcing that binkys belong only in bed - one step to banishing the binky forever.
Great Transition Book

Derived From Web

, Mar 6, 2022

We changed the word binky to paci and used this book to change from using a paci only during sleep to use a paci. It has been super helpful and my toddler loves it. If you are trying to get the pacifier completely, this book will not be helpful.
Cute book- but not about getting rid of binky

Derived From Web

, Jun 10, 2021

This is a very cute book. The book is not just FYI, this is not about the binky getting rid of. I thought it was portrayed in this way ''. The child finds the book at the end of the book in the crib and is happy to have it. I purchased this book thinking it was a bye binky '' book. Maybe this was my bad!
ADORABLE

Derived From Web

, May 31, 2020

I can 't help giggle, as I read them. Dad and the 15-month-old loves them too!
Great author and yet ANOTHER great book by her!

Derived From Web

, Dec 3, 2019

I recommend her HIGHLY! This one in particular, my daughter likes because of the easy to follow storyline and concept.
Cute, but not the theme I was hoping for.

Derived From Web

, Apr 1, 2019

This is a cute picture book, but I bought it hoping that it would help my daughter get off her pacifier. I have never read the book before and turns out it is about a baby trying to find his pacifier and being happy in the end for finding it. In my opinion, it would have been better if it was about the child being okay with letting go of the pacifier.
Not for families trying to Wean Off the binky

Derived From Web

, Jan 10, 2018

It is an entertaining read but glorifies the pacifier. If you're trying to get your child to let go of their pacifier, this is not a good book.
I don't love that the baby empties her cereal bowl upside down ...

Derived From Web

, Jun 4, 2017

I change the language to pacifier, because that is the word she knows. I don 't love that the baby looks upside down her cereal bowl or empties for her binky in the potty. Because sometimes kids like to find scenes from books and I really don 't want to act a pacifier in the toilet. But, that is my only real issue with this book.
List of All Editions of Binky