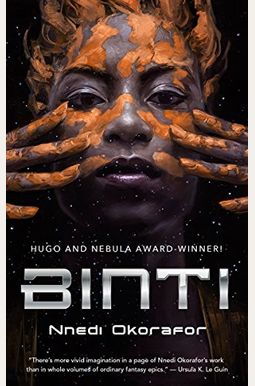 
 
Book Overview
This Description may be from another edition of this product.
Prepare to fall in love with Binti. --Neil Gaiman
For the first time in hardcover, the winner of the Hugo Award and the Nebula Award

With a new foreword by N. K. Jemisin

Her name is Binti, and she is the first of the Himba people ever to be offered a place at Oomza University, the finest institution of higher learning in the galaxy. But to accept the offer will mean giving up her place in her family to travel between the stars among strangers who do not share her ways or respect her customs.
Knowledge comes at a cost, one that Binti is willing to pay, but her journey will not be easy. The world she seeks to enter has long warred with the Meduse, an alien race that has become the stuff of nightmares. Oomza University has wronged the Meduse, and Binti's stellar travel will bring her within their deadly reach.
If Binti hopes to survive the legacy of a war not of her making, she will need both the the gifts of her people and the wisdom enshrined within the University, itself -- but first she has to make it there, alive.
The Binti Series
Book 1: Binti
Book 2: Binti: Home
Book 3: Binti: The Night Masquerade
Praise for Nnedi Okorafor and the Binti trilogy
Nnedi Okorafor Read More chevron_right
Frequently bought together
Frequently Asked Questions About Binti
Book Reviews
(12)
Did you read Binti? Please provide your feedback and rating to help other readers.
This story is unlike any i've read before.

Derived From Web

, May 26, 2022

I read a lot of Sci - Fi. This story is unlike any i've ever read before. The story is set in the far future, where space travel is common and humans interact with aliens. One of its unique aspects is that it is woven from the point of view of an African girl - her culture and traditions are told in the story. Couldn 't put it down.
How being different brings a cautious peace

Derived From Web

, Dec 28, 2021

Well written story about a young girl who wants to learn so much more than what her family expects from her. I'm familiar with others touching my hair and talking about me as if I am not there. How Binti resolved the conflict was for me a wow moment. On the next book, you will find :
Great Read!

Derived From Web

, Oct 11, 2021

I found that it was an insightful look through a science fiction medium, at a culture that is very different from mine. Binti makes friends with the alien culture that has destroyed all human life besides the pilot and herself. I purchase the second book in the series.
Page Turning trilogy

Derived From Web

, Dec 28, 2020

This book was really written well. Her descriptions of the characters and the landscape made it very easy to visualize everything. I read the first book Binti and had to buy the next two to complete the story.
Good story but too short

Derived From Web

, Jul 14, 2020

Binti is very well developed as a character and the story has kept my interest. Unfortunately, this is a novella rather than a novel, so that just as the story started really well, it ended. I know there are more parts to the story, but haven t decided whether to go for them.
Different, enjoyable approach to sci-fi

Derived From Web

, Jul 9, 2020

I enjoyed this unique science - fiction - story. It presents the reader with a lot of questions, but many are answered in the following volumes. Some complain that it is not all wrapped up in a book, but serialization seems to be the norm in E-book publishing today.
An interesting view...

Derived From Web

, Sep 30, 2019

What also caused her initial change. I've enjoyed the saga so far ''.
Enjoyable and Great Ideas

Derived From Web

, Jun 9, 2019

At the beginning, I was worried that I would not enjoy this novella. The ideas and the conclusion, however, wrapped into an enjoyable read. My favorite aspect of this story is the piece of home we carry and how these cultural components can be revalued by other cultures. How we can also become one another and change the family through resolved strife.
Nope

Derived From Web

, Sep 2, 2018

This 90-page novella, devoid of nuanced character development of any kind, reads like a rough draft in a writer's workshop meetup. That is the extent of the original futurism contained in these pages. Before spending any money on it, check Binti from a library. I am giving my copy to Goodwill Asap because its mere presence in my bookcase is an affront to my SF sensibilities.
Good!

Derived From Web

, Dec 22, 2017

It's a short read, but well worth it! She keeps the story beautifully and sets the pace well. Binti is a very well developed character and I love how the author has incorporated specific details of her origins and her homeland into the story. The use of words by the authors is really good. The story is interesting, but clear and simple. I absolutely love the world that the author has created. I can not wait to read the next book to see where the story goes.
List of All Editions of Binti