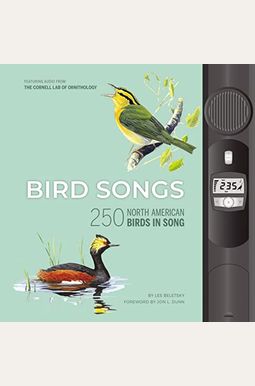 
 
Bird Songs: 250 North American Birds in Song
Frequently Asked Questions About Bird Songs: 250 North American Birds in Song
Book Reviews
(15)
Did you read Bird Songs: 250 North American Birds in Song? Please provide your feedback and rating to help other readers.
audio not available for Kindle

Derived From Web

, Apr 29, 2022

However, it is apparently not yet available to Kindle users as an audio book, so I am rejecting my purchase. I do hope that this item becomes available as an audio through the Kindle system, as it would be very cool to take the kindle, with actual bird sounds, and written bird descriptions, into the field. Paul McCartney's widow, Heather, said she hopes the Beatles' music "will inspire people to think about the world." 250 North American swans. Please let me know when you can hear audiobooks for Kindle. CenturyTel. Net 484-7724 [email protected] net.
WOULD NOT WORK ON MY WINDOWS OR ANDROID SYSTEMS.

Derived From Web

, Apr 29, 2022

IT said that it would not work on that paper. Please, sir, I'd like my money back.
No Audio on Kindle

Derived From Web

, Apr 29, 2022

I didn't read all the reviews, and I didn't realize that the audio wasn't available on the Kindle until I had purchased it. The company should have listed the Kindle version as having audio. The e-book has been returned for a refund. Amazon's listing specifically states audiovideo for the Kindle. I want the sounds out there in the field with me, not just pictures and written info.
beautiful

Derived From Web

, Apr 29, 2022

Loved it, said Blair. Great pictures and background information, Mr. Dhaliwal said. Anyone who loves birds and wants to learn more about their calls?
bird songs calendar

Derived From Web

, Apr 29, 2022

I love the calendar so much, that I have decided to keep it instead of giving it as a present and will have to see about getting another one next year, too.
Return my money.

Derived From Web

, Apr 29, 2022

It also includes several Hawaiian birds which raises some interesting questions.
250 Bird Songs

Derived From Web

, Dec 16, 2020

Television images could not be loaded. This 250 bird book was the best book to learn the calls of birds. It shows me the bird I want to learn and if that bird is on page 132, I simply press and hold the button until it plays the song for that bird three times. I have a colored picture of that bird and I hear the song that bird sings. Now, if I'm outside and hear that bird song, I can tell what it is. I've read all the books, and I love this one. Before you can charge your phone, you must remove the plastic piece that holds the battery.
Damaged book revived!

Derived From Web

, Apr 7, 2020

The book I received had water damage along the bottom of all the pages and cover of about 1.5 inches.
No number pad

Derived From Web

, Nov 18, 2019

To properly type numbers, you must first type in the appropriate number of birds. Simply press the plus button on the phone and you are on your way to your bird song. Press the power button 212 times to see a photo of the bird. I have to return this, Mr. Caramore said.
Nice book, enjoyable ... but the index is frustrating.

Derived From Web

, Jul 14, 2019

This was a present for my blind MIL. Likes it, she says. Its great to sit and go with her through the pages, Mr. D'Antonio said. Only My complaint is the index. Its listed by name, type, and translation: "Apocalypse Now." For example, when you want to look up "onLo," it is listed under something like "Southern Loon". It makes for a lot of needless time searching, because you want to look under "L," not "S."