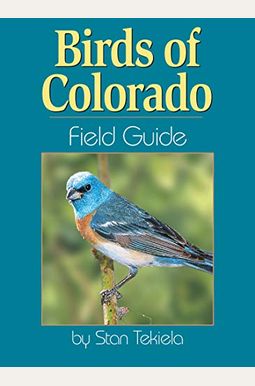 
 
Birds Of Colorado Field Guide
Book Overview
Learn to Identify Birds in Colorado
Make bird watching in Colorado even more enjoyable With Stan Tekiela's famous field guide, bird identification is simple and informative. There's no need to look through dozens of photos of birds that don't live in your area. This book features 130 species of Colorado birds, organized by color for ease of use. Do you see a yellow bird and don't know what it is? Go to the yellow section to find out. Fact-filled information, a compare feature, range maps, and detailed photographs help to ensure that you positively identify the birds that you see.
Frequently Asked Questions About Birds Of Colorado Field Guide
Book Reviews
(13)
Did you read Birds Of Colorado Field Guide? Please provide your feedback and rating to help other readers.
Great bird book!

Derived From Web

, May 20, 2022

It includes a full page color photograph of each bird, and they actually look like the birds I have seen in the field. It is arranged by color so that it is easy to find an unknown bird. Descriptions of male, female and juvenile. Nest is located in the middle of the nest. Eggs are being developed. Incubation is a process of incubation. Then fledging. Food : In comparison to similar birds, Author's notes about the bird and author's notes about it. Each description and information page also includes a small Colorado map showing the county borders, with color-coded ranges for summer, winter, year-round, and migration, while still providing a very usable and easy-to-read format. I like the book, but I bought a used copy and its condition was more than I expected.
Not all Colorado birds included

Derived From Web

, May 20, 2022

I would have liked to have seen more birds included that are staples in Colorado. One that comes to mind is the Western scrubber, Jay. The pictures are great, the organization of them great and simple write ups are very good. Glad to have this in my collection, could have been more inclusive. Hutch is a great deal for Hutch.
Some birds missing from this book

Derived From Web

, May 20, 2022

There are a lot of birds missing from this book. For example, there are only two owls listed in this book, but 13 species of owl live in Colorado. Likewise, there are at least 12 species of woodpeckers in Colorado, yet this book lists only four species. I realize that the book can not list every single bird of Colorado, but one would think that it would be more comprehensive. For the birds listed, there is good information. Not all birds are pictured in flight, so that it is sometimes difficult to identify a bird just from that book, if you have seen it in flight.
gift

Derived From Web

, May 20, 2022

This is received as a gift, it came here fast and is a wonderful bird guide, everyone enjoyed passing it and checking it out!
Very Informative Book

Derived From Web

, May 20, 2022

If you like to see birds here in Colorado, this book is a great find.
Great little handbook

Derived From Web

, May 20, 2022

The perfect bird book is written.
love this book

Derived From Web

, Dec 1, 2020

This information is probably available on the internet or in an app, but there is something nice about having this book at the ready for any backyard sightings. My only small complaint is that the migration maps are just a tad small - difficult to see the different areas in a square state like Colorado.
Helpful only if you know which bird you're looking for

Derived From Web

, Jun 14, 2020

Chaotic Presentaion, supposedly colored, but depends on what color you think you see yellow? Not organized by bird species, so if you know that you are looking at a flycatcher, it won t really help you. The photos are very nice.
It's organized by bird color

Derived From Web

, Feb 11, 2020

We moved from Colorado to the midwest recently and there are a ton of different critters here than back east. This book is helping us learn to recognize birds and since we don 't know one from another, it is really helpful to have the book organized by color for a quick look and id.
My favorite bird book

Derived From Web

, Aug 1, 2019

Previously, I bought the same book for Colorado, which is why I chose this book for Ohio by the same author. It is very easy to find birds by colour, and there is a bit of information about each species. I like the maps which show the year each bird is in a particular area. If you are looking for an easy-to-taken little bird book, this is the one you should get!