Buy 3 Get 1 Free
Our Best Sale Yet! Add 4 Books Priced Under $5 To Your Cart Learn more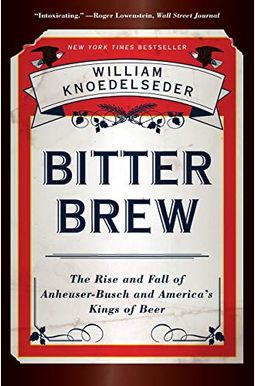 
 
Bitter Brew: The Rise And Fall Of Anheuser-Busch And America's Kings Of Beer
Book Overview
This Description may be from another edition of this product.
The engrossing, often scandalous saga of one of the wealthiest, longest-lasting, and most colorful family dynasties in the history of American commerce--a cautionary tale about prosperity, profligacy, hubris, and the blessings and dark consequences of success.
From countless bar signs, stadium scoreboards, magazine ads, TV commercials, and roadside billboards, the name Budweiser has been burned into the American consciousness as the King of Beers. Over a span of more than a century, the company behind it, Anheuser-Busch, has attained legendary status. A jewel of the American Industrial Revolution, in the hands of its founders--the sometimes reckless and always boisterous Busch family of St. Louis, Missouri--it grew into one of the most fearsome marketing machines in modern times. In Bitter Brew, critically acclaimed journalist Knoedelseder paints a fascinating portrait of immense wealth and power accompanied by a barrelful of scandal, heartbreak, tragedy, and untimely death.
This engrossing, vivid narrative captures the Busch saga through five generations. At the same time, it weaves a broader story of American progress and decline over the past 150 years. It's a cautionary tale of prosperity, hubris, and loss.
Frequently Asked Questions About Bitter Brew: The Rise And Fall Of Anheuser-Busch And America's Kings Of Beer
Books like Bitter Brew: The Rise And Fall Of Anheuser-Busch And America's Kings Of Beer
Book Reviews
(18)
Did you read Bitter Brew: The Rise And Fall Of Anheuser-Busch And America's Kings Of Beer? Please provide your feedback and rating to help other readers.
Well-Researched and -Written Book about AB and the Busch Dynasty, The Ending Seems Rushed

Derived From Web

, May 31, 2022

The ending could have been a little better with more details and research. The end seemed rushed and there were few details about August Busch IV, personal details and if he rebounded. The book was published in 2012, and Busch IV settled his last lawsuit in 2011. There are few details about what he has been doing since then. There is almost nothing about William Billy Busch and nothing about Kraftig, the new beer produced by William Busch Brewing Co. The new company has been around since 2008, so I would think that there would be more information about it in the book.
STL readers will enjoy, others… not certain

Derived From Web

, May 31, 2022

Meh's gang is in the same room. Usually, non-fiction isn 't my style, so take my review with a grain of salt. I found the book to be very confusing ''. This book was decent, though not the page turner I usually enjoy.
An inside and true look at one of the most famous families in America.

Derived From Web

, May 31, 2022

As it turns out, almost any other family would probably be better in the long run. It has its advantages, but they probably do not overwhelm the pressures. It is nothing but a loving and close family. A very good book, a great look at one of the most famous and successful families in America in business, but usually failures in their personal lives. And like many dynasties, it eventually fades due to incompetence and surprising alcohol and drugs, and the heirs drift to their respective mansions.
Review of the Book, Bitter Brew

Derived From Web

, May 31, 2022

This was a very interesting story, albeit a tragic one, in the fact that the Busch family could have done so much more if they'd have broken the tradition and placed the most competent person to lead the company, rather than the oldest. It was written in very good form, using many references and first-hand observations.
Amazing story of an American Dynasty

Derived From Web

, May 31, 2022

This is an excellent story and is well written. The story reminds us that often, appearances are so far from reality. This family arced from dark startings to great heights to meager tragedy. Great book, wonderful readers. I enjoyed reading your great book. I bought a copy for my family.
So sad

Derived From Web

, May 31, 2022

It was a great book as well as a sad book about how the effect has affected the subsequent generations of heirs of great wealth and no idea of how hard the other generations worked to get there. Basically, what a lot of wealthy many-generational families today do not instill in their heirs.
good read great story

Derived From Web

, May 31, 2022

After reading that, it was interesting to read such an interesting story about a beer company that had it all and lost it. As someone in business, it was also a wake-up call for us to see how globalization can really help companies grow in the United States. If you like beer and you like the American family of brewing, you must read this to help gain an appreciation for our former first heritage of brewing.
Everything you need to know about the Budweiser Dynasty

Derived From Web

, May 31, 2022

This book read like a novel. From the beginning to the end of the Busch family and Budweiser gives you a great read. From a truly great businessman who worked hard and gave so much to St. Louis to a nauseous drugged out playboy involved with a couple of deaths of young women. The book really opens to me how much profit there is in beer and how much has been consumed in the last hundred years.
Great history, local family does well. Worldwide influence over simple pleasure for many everyday people.

Derived From Web

, Jan 23, 2019

I grew up less than seventy miles from St. Louis and all told in this history. I recognized many of the names and places, and I have enjoyed many games at Busch Stadium in person and on radio and television. I was privileged to visit Grants Farm twice, once as a child and again with my nephews and nieces when they were small children. Not many companies still feel this way, what a loss to us all. There were dark events that occurred to be certain, but more than made up for by community support given by company employees and families.
Eye opening

Derived From Web

, Oct 27, 2018

Unfortunately, as seems to happen as each generation gets farther away from the entrepreneurial spirit and work ethic that built their family company and then squander away what was so hard earned. There is a lot of information about the company and the family that I did not know and I highly recommended this book.