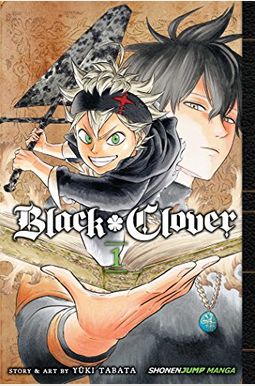 
 
Book Overview
Asta is a young boy who dreams of becoming the greatest mage in the kingdom. Only one problem-he can't use any magic Luckily for Asta, he receives the incredibly rare five-leaf clover grimoire that gives him the power of anti-magic. Can someone who can't use magic really become the Wizard King? One thing's for sure-Asta will never give up
Young Asta was born with no magic ability in a world where magic is everything. In order to prove his strength and keep a promise with his friend, Asta dreams of becoming the greatest mage in the land, the Wizard King
Frequently bought together
Frequently Asked Questions About Black Clover, Vol. 1, 1
Book Reviews
(11)
Did you read Black Clover, Vol. 1, 1? Please provide your feedback and rating to help other readers.
Love the series!

Derived From Web

, Dec 12, 2021

Really enjoyed the series so far, said Blair. Both are fairly well-written and plot-driven movies, said Kirk Douglas, executive producer of CBS Television. The characters are well-drawn and the art looks great, too. Like any other paperback manga, the margins of error are razor-sharp, but overall the quality is pretty good.
good start

Derived From Web

, Jun 29, 2021

A great start to a great shonen. I'd heard some great things about the anime, but I'm not sure if they were true. The first volume has a good bit of reading and exposition, but the paneling and pace are very well done. If I had to liken it to anything, i'd say its a more action-y fairy tail with less crying, with some shades of naruto standin and yuno as his dark-haired rival. Asta is a great protagonist, can be a little grating at times with his endless amounts of energy, but he has that sense of confidence and bravery that only comes from being willing to give up thats truly admirable. got this for my niece for the next time i see her so i'm sure she'll like it, Sharon.
Actually a very good volume 1, artwork is impressive, great pacing

Derived From Web

, May 14, 2021

I've seen the first two seasons of the anime, and I enjoyed it even with its flaws, enough to own them on blu-ray. The artwork is amazing, it's even more impressive it's only a volume 1 as more often than not early volumes of anything are a little rough around the edges. This is funny too, I out laughed loud a lot while reading this, I honestly think the humor is better suited for the manga than it is animation. If you really liked the anime, I highly recommend checking out the manga. I had no idea what I was missing, and I regret having slept on the manga for so long, he said. This might be my favorite volume 1 out of all the more recent shonen manga I've read, and I've read almost all of them. I'm going to place an order for 25 so I can catch up to current volumes, looking forward to the later arcs!
Great series

Derived From Web

, Mar 13, 2021

I've watched the show and so has my child. It was mostly a marketing ploy, but we decided to read it as well. If you like fantasy and adventure kind of things, then this might be for you too. The overall product arrived in great condition, Crowe said. Nobody has any complaints, Mr. Dhaliwal said.
My son loves it

Derived From Web

, Nov 21, 2020

He refuses to read any books, but one day he asked for this one, and I'm glad he did. Simon is already asking for the next edition. As for the art, Scholastic says nothing that a kid wouldn't run into just watching YouTube videos.
Shows Promise

Derived From Web

, May 22, 2019

I really like the start to the series, said Blair. It's geared toward a younger crowd so don't try to look for deep and complex plot, but it has a charm to it like I felt with HunterxHunter's early days. I'm intending to pick it up again and see if they got out of a slump, and I think they did.
Looking forward for more

Derived From Web

, May 5, 2019

The beginning feels like a rehash of a story that we've all read and seen before but it's also entertaining to read and see the character development. I'm excited to be working with him again and I'm looking forward to more.
Great story a must have

Derived From Web

, Apr 7, 2018

I started buying black clover at Barnes and Nobles volumes 1-4 for $13.99 and when I saw it was cheaper in Amazon I bought the rest of the volumes.
Fun read

Derived From Web

, Mar 24, 2018

I liked the story of the boy, never giving up and keep going, Raymond said. Great work, Max. It was a great read, said Blair.
Not for young kids

Derived From Web

, Feb 8, 2018

The book's creators say it's a children's book but there are graphic images of a woman in lingerie and underpants, plus some "graphic images of animals." This book is not suitable for children.