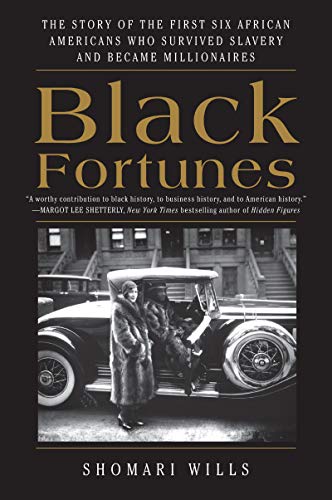 
 
Black Fortunes: The Story of the First Six African Americans Who Survived Slavery and Became Millionaires
Product is currently Out of Stock.
You can add it to your wishlist and you will be notified once we receive a copy.
Book Overview
This Description may be from another edition of this product.
The astonishing untold history of America's first black millionaires--former slaves who endured incredible challenges to amass and maintain their wealth for a century, from the Jacksonian period to the Roaring Twenties--self-made entrepreneurs whose unknown success mirrored that of American business heroes such as Henry Ford, John D. Rockefeller, and Thomas Edison.
While Oprah Winfrey, Jay-Z, Beyonc , Michael Jordan, and Will Smith are among the estimated 35,000 black millionaires in the nation today, these famous celebrities were not the first blacks to reach the storied one percent. Between the years of 1830 and 1927, as the last generation of blacks born into slavery was reaching maturity, a small group of smart, tenacious, and daring men and women broke new ground to attain the highest levels of financial success.
Black Fortunes is an intriguing look at these remarkable individuals, including Napoleon Bonaparte Drew--author Shomari Wills' great-great-great-grandfather--the first black man in Powhatan County (contemporary Richmond) to own property in post-Civil War Virginia. His achievements were matched by five other unknown black entrepreneurs including:
Mary Ellen Pleasant, who used her Gold Rush wealth to further the cause of abolitionist John Brown;Robert Reed Church, who
Read More chevron_right
Frequently Asked Questions About Black Fortunes: The Story of the First Six African Americans Who Survived Slavery and Became Millionaires
Book Reviews
(10)
Did you read Black Fortunes: The Story of the First Six African Americans Who Survived Slavery and Became Millionaires? Please provide your feedback and rating to help other readers.
Excellent read!

Derived From Web

, Jan 23, 2022

Wills does an excellent job of weaving these six fantasies stories of real-life individuals who face more difficult challenges to triumph in impossible circumstances. I found the book to be a quick read with factual details, which is rare that this is achieved in non-fiction writings. I found myself immediately immersed into the subject's climate, even chuckling to myself at specific junctures. If you need something different, which we should all capture in the introduction of new highlights for black history that will attract the attention of young adults, this is the ticket to generate curiosity. It should motivate all to seek out the thousands of other stories that exist only by being glossed. Once again, an excellent share in a well presented manner.
Great book.

Derived From Web

, Mar 30, 2020

4.5 stars : Very informative book on the wealthy black achievements of unknown and hidden people years ago. This is a part of black history that we typically hear not. Most of us were taught about slavery only, so it was very refreshing to read a book on achievements of African Americans so long ago, some of whom were former slaves or whose parents were former slaves. I would recommend this book as it was again very educational regarding black history, not often taught in schools. My only complaint was that I wish it was written in a more chronological order. But I also understand why some parts of it weren 't so that some characters could come together in later chapters.
Black fortune

Derived From Web

, Mar 24, 2020

I honestly didn 't want it to end. I would recommend it to anyone.
Great read!

Derived From Web

, Aug 10, 2019

As someone who has a degree in history, I was thoroughly intrigued by reading about these figures who were perhaps lost in time, but brought back to life by the author. This book is a pretty easy read and its inspiration to see where they ended up, it gave me hope not about material things, but about what a person can manifest when they put their mind to something and stick to it, and that success should be measured by the hard work you put into something.
Eye-opener for this white guy

Derived From Web

, Apr 15, 2019

But I also grew up in a community of mostly black people and absolutely no anglos. I met the first black person I had ever met and later made my first black friend while at the university, it isn t that I wanted to be ignorant or misinformed about the lives and history of African Americans. But we were just taught in a very white town. Lincoln freed the slaves... Next chapter : I am nearly 70 and I am still learning. This book offered a more nuanced view and served to explain a lot of conditions that had been boiled to stereotypes in my consciousness, even in the good times in which we find ourselves, I believe that people of good will can find understanding and appreciation for one another if we recognize each other's misconceptions carefully and with a open heart.
Amazing Book And Read

Derived From Web

, Dec 13, 2018

First of all, shame on the American school system for not teaching black people about their history. Noooo, we learned as black people only about slavery and some minor things about which a very small percentage of our heritage is. Why am I 43 and just learning about these African American millionaires from the 1800s? I think that our part and contribution is not important in American history. God is grateful for books like this. She is excited to read it when I finish it. I order one for my son in another state. Shame on the American school system only taught HIStory.
Excellent book of history....every black person should know about these people and their tenacity.

Derived From Web

, Nov 9, 2018

An excellent book of history... Every black person should know in this writing about their ancestors'profile. It shows why and how the wealth of blacks are today on top... while illuminating their negligence of not investing back into our businesses, community infrastructure and institution building. If Opra and a dozen other wealthy black folk collected together even one-eighth of their money to invest in financial and learning institutions for black people, the wealth gap would shrink within a generation.
Overcoming Obstacles to Black Wealth

Derived From Web

, Aug 30, 2018

Shomari Wills uses great research and solid storytelling to uncover the hidden truth of remarkable African American entrepreneurs who have accumulated wealth while navigating treacherous social, political, psychological barriers, physical violence and personal shortcomings. The story of white wealth and all the ways in which black racism fights against it is not taught in schools. The story of Indians owning slaves and fighting with the Confederacy to preserve slavery and fight U.S. intentions to steal Indian lands is not taught in schools. Wills reveals truths that are not commonly known among African American historians (Madame C.J. For example, Walker was not financially successful, nor was she mentored as successful, or that Greenwood was rebuilt after it was destroyed by the white racist mobs. This is a fascinating read. Wills forced a more nuanced understanding of the role of white wealth in the eradication of black supremacy in capitalist society.
The book is interesting to read, but it is ...

Derived From Web

, Mar 18, 2018

The book is interesting to read, but it is hard to trust a book that claims to be history, but contains glaring and easily-researched errors and almost no footnotes. The author speaks with two errors about a character living near the West Virginia border in the 1850s, but Virginia did not exist until 1863. There was no state border and Harpers Ferry was in West Virginia, not Virginia. He then says that Senator Blanche Bruce died in 1883, when Bruce did not die until 1898. Nevertheless, the characters are interesting and the stories are well worth reading for more depth in black American history.
Informative and Compelling

Derived From Web

, Mar 1, 2018

This book is well written and researched. I was impressed with storytelling as well as the deep dive into history.