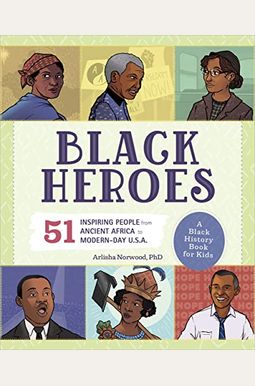 
 
Black Heroes: A Black History Book for Kids: 51 Inspiring People from Ancient Africa to Modern-Day U.S.A.
Book Overview
Meet extraordinary black heroes throughout history-biographies for kids ages 8 to 12
You're invited to meet ancient Egyptian rulers, brilliant scientists, legendary musicians, and civil rights activists-all in the same book Black Heroes introduces you to 51 black leaders and role models from both history and modern times. This black history book for kids features inspirational biographies of trailblazers from the United States, Egypt, Britain, and more.
Discover where in the world they lived, and what their lives were like growing up. Learn about the obstacles they faced on the way to making groundbreaking accomplishments. You'll find out how these inspirational figures created lasting change-and paved the way for future generations.
Black Heroes: A Black History Book for Kids features:
Fascinating biographies―Read about famous icons like Dr. Martin Luther King, Jr. and Harriet Tubman, as well as lesser-known pioneers like aviator Bessie Coleman and astronomer Benjamin Banneker.
Ways to learn more―Every biography includes an idea for a new way to explore the person and their work, like a book to read, website to visit, or video to watch.
Colorful portraits―Bring the historical heroes to life in your imagination with the help of full-color illustrations.
Black Heroes goes beyond other black history biographies for kids to highlight people from around the world and across time. Who will your new hero be?
Frequently bought together
Frequently Asked Questions About Black Heroes: A Black History Book for Kids: 51 Inspiring People from Ancient Africa to Modern-Day U.S.A.
Book Reviews
(18)
Did you read Black Heroes: A Black History Book for Kids: 51 Inspiring People from Ancient Africa to Modern-Day U.S.A.? Please provide your feedback and rating to help other readers.
This book is GEORGEOUS!

Derived From Web

, Mar 26, 2021

I bought this book to be a table topper or a shelf standee on my bookshelf. The content is easy enough for most people to understand, and the content related to the people highlighted in this book is straightforward and presents them in an easy-to-understand format. The illustrations used in the book are absolutely sublime. However, what I like the most is that it always provides good sources of information and further information on each of the heroes presented in the text. This would make it an excellent starting point for kids looking for heroes to write in their classes. This is a book I wish I had as a kid, or even a few times during high school when I had to select influential people to write essays on. This would have been a good starting point over a list of names. It allows you to find a person with whom your interests align. It allows you to find a person with whom your interests align. There are various artists, writers, entertainers and plenty of STEM engineers alike.
Title of book separates so can't buy

Derived From Web

, Mar 19, 2021

I am sorry, but I could not buy this book with the title. I have two boys at a city school. My son's best friend at school has dark skin and the color of his skin has never come up. My kids have a space ship toy with a white astronaut that is black and the other is white. My boys fight over the black figure because they like his white space suit better than the red suit of the astronauts. I would buy this book if it was titled heros with all or only black heros highlighted in the book. By titling them black heros, you are sperating them from all the other heros. You are telling children that black heros are somehow different. Not what I want to teach my children. It is a shame that stops us from seeing it, but it is important to me to teach children to see past skin tone.
Wonderful for 1st-3rd grade

Derived From Web

, Mar 14, 2021

I am a 1st-3rd teacher and I bought this for the Black History Month to help educate myself and my students. The pictures are informative and the summaries strike just the right balance between beautiful and not too heavy. I learned a lot and loved it completely. I love the quotes from each person especially. A really great mix of rulers, writers, political figures, sports stars and artists, all representing different countries and covering both genders. I had my children look through and pick a person they thought was interesting and then read through them during storytime. They were a lot more invested in the stories and different people when they knew that their choice might come up next. ) NOTE : I did not have my children read the book themselves. Some of them wouldn't have been able to read this level. I read it out loud to them and understood it well.
Missing Conservative Black Americans

Derived From Web

, Feb 13, 2021

Why is Serena Williams and Barack Obama in this book, but Ben Carson, Condoleeza Rice and William Sowell missing? We need a broad representation of Diverse black Americans.
Hero's come in all colors!!

Derived From Web

, Feb 3, 2021

With all due respect, I can see the color of the heros on the cover are black... Why this need when we are in uncertain times to call this book black heros '', I know they are truly heros. But if there was a book called White Hero's '' and included all the heros in the same book... black, white and all in between... just to stir up some harmony among humanity... Peace to all!
This Is A Must Have Book

Derived From Web

, Dec 31, 2020

I ordered this book to share with family and friends, we will enjoy reading it. I also want to share with some of my little cousins, nieces and nephews, because they need to learn more about our color people. I knew that this is a must read and enjoy book for me.
After reading her book, I am going to have my book club read this book!

Derived From Web

, Nov 1, 2020

I belong to a book club of adult women. I think my book club members will enjoy reading this book as much as I did and share it with others. )
Great to read with 5 year old

Derived From Web

, Oct 21, 2020

My 5 year old son and I pick up a bio to read after our night story. The entries are a great, short introduction to black history for children. I like that it includes African Americans as well as Africans. It is important to tell stories that occurred before slavery. This was exact what I was looking for.
Must-have family book!

Derived From Web

, Aug 25, 2020

An awesome addition to our family library. While the material is a little advanced for my almost 3-year-old daughter, she still asks to read it together and enjoys when I summarize the biographies. I also learn a lot about!
Do it!

Derived From Web

, Aug 6, 2020

I ordered this for my daughter, but secretly I learn a lot I didn 't know about my culture in this book myself! How can you know where you are going if you never know where you've been? This book is great! Definitely recommend! Definitely recommend!