Buy 3 Get 1 Free
Our Best Sale Yet! Add 4 Books Priced Under $5 To Your Cart     Learn more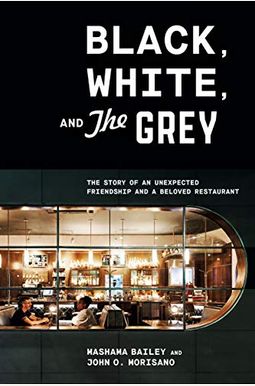  
Black, White, And The Grey: The Story Of An Unexpected Friendship And A Beloved Restaurant
Book Overview
A story about the trials and triumphs of a Black chef from Queens, New York, and a White media entrepreneur from Staten Island who built a relationship and a restaurant in the Deep South, hoping to bridge biases and get people talking about race, gender, class, and culture.
Black, White, and The Grey blew me away.--David Chang
In this dual memoir, Mashama Bailey and John O. Morisano take turns telling how they went from tentative business partners to dear friends while turning a dilapidated formerly segregated Greyhound bus station into The Grey, now one of the most celebrated restaurants in the country. Recounting the trying process of building their restaurant business, they examine their most painful and joyous times, revealing how they came to understand their differences, recognize their biases, and continuously challenge themselves and each other to be better. Through it all, Bailey and Morisano display the uncommon vulnerability, humor, and humanity that anchor their relationship, showing how two citizens commit to playing their own small part in advancing equality against a backdrop of racism.
Frequently Asked Questions About Black, White, And The Grey: The Story Of An Unexpected Friendship And A Beloved Restaurant
Book Reviews
(9)
Did you read Black, White, And The Grey: The Story Of An Unexpected Friendship And A Beloved Restaurant? Please provide your feedback and rating to help other readers.
What a gratifying read!

Derived From Web

, Mar 15, 2022

I've seen this restaurant featured on PBS's Somewhere South A Chef's Life and CBS's Sunday Morning. There are so many things about this that draw me to it the location, the characters, the surprise plot twist, the impossible task of making success depend on two very different personalities working, one of the recipes mentioned in each chapter posted at the end. I've always wondered just exactly HOW I've eaten at restaurants from day-dream to satisfied customer. The book details the entire process of creating the illusion. Like every story, not over at all, they lived happily ever after. There is always more work to do, Kerry said.
One of the best books I read

Derived From Web

, Mar 9, 2022

I'm not a foodie, but I saw an interview on TV with the authors. I never read a book with such a strong writing style. The two individuals gave there own narratives of the tragedy. One in bold print and the other in regular so you knew whose thoughts they were. I read a lot, especially during the Pandemic, so this book and one written by Steven Rotherophant, Life are by far the 2 best books I have read in a long time.
Topic is ....

Derived From Web

, Jan 9, 2022

It was ok, but nothing I would recommend. 0 3171616 3171578 It was ok, but nothing I would recommend. Part of the reason is that NASCAR has a unique race-specific component. No matter how much empathy I have for the struggles of the African American community it will never cover the pain. We are drowning in this conversation, Mr. Rule told the judge. The daily beat down from European Americans has become emotionally exhausting, the writer said. I can't even begin to imagine what a racist book would say about race relations.
Savannah lives on.

Derived From Web

, Mar 6, 2021

It's just that the writer of the story line was wrong. It brought back great memories of good times. Barrera said the mansion was "a truly historical location."
Intelligent and Insightful

Derived From Web

, Feb 17, 2021

It's a traditional type cookbook, with the history of The Grey included. What was presented instead is a dialog between Mashama Bailey and John O. Morisano about the history of the restaurant, but with their individual observances of race relations in the U.S. in general, and of those in Savannah. I'm having a great time, said Blair.
The book our world needs right now

Derived From Web

, Feb 12, 2021

This story is not only compelling and entertaining its educational content in a way I didn't know I needed it. If everyone around me had read this book, I think our world would be better.
Touching, Tasty and Topical

Derived From Web

, Feb 1, 2021

As a huge fan of the original film, I couldn't wait to read this book. I wasn't disappointed. In a generous gesture of compassion, Johno lets us in on his soul. As a writer, Mashama gives us a stirring history of race and racism from such an important perspective. In "They're All From Boudin," two people from very different backgrounds can learn from one another, capitalize on their strengths and weaknesses, merge their talents and create something amazing. Imagine, one said, what a wonderful world it would be if everyone could learn that lesson. But for the time being, I will continue to enjoy delicious meals at The Grey with a renewed respect for the building, the food, and the relationship between these true partners. Freddie was right on target, said Paul Cheung, executive director of music for AOL Europe.
A Good, Timely Read

Derived From Web

, Jan 27, 2021

The fifth nominee for best fiction is Sandra Day O'Connor for "The Story of an Unexpected Friendship and a Beloved Restaurant." It was a total feast of carnivorous delights, devoured in two days. I was so interested in the dynamic between Bailey and Morisano as well as what really goes into opening a restaurant, said Kristen. The social relevance of it all is evident in the recipes, which are delicious. I can't wait to visit Savannah and The Grey one day to experience the storied history and taste Chef Mashama's food, said Barbara Comstock, executive director of marketing for the hotel.
Timely, honest and humbling must read.

Derived From Web

, Jan 23, 2021

I'm a huge fan of the show and I live in Savannah, Georgia. I pre-ordered this book, Thinking it would be a nice little memoir about the experiences of the founders of the restaurant. It's just that the Beatles are not the only band to change their name to something else. Instead it's an amazingly timely, brutally honest and humbling story about civil rights, social justice and two people with different racial backgrounds and experiences working through all the minutia of their partnership.