Buy 3 Get 1 Free
Our Best Sale Yet! Add 4 Books Priced Under $5 To Your Cart     Learn more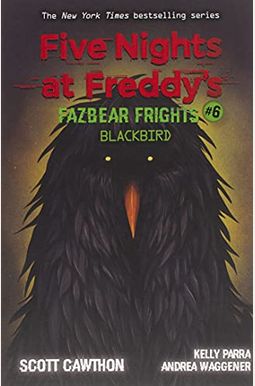 
 
Blackbird: An Afk Book (Five Nights At Freddy's: Fazbear Frights #6): Volume 6
Book Overview
Five Nights at Freddy's fans won't want to miss this pulse-pounding collection of three novella-length tales that will keep even the bravest FNAF player up at night.
Haunted by the past . . .
To avoid confronting an ugly truth, Nole falls prey to a monster that punishes past transgressions. Growing weaker by the day, nine-year-old Jake looks back on the time before he was sick, imagining life as if he were well again. And, forever desperate to prove his worth to his arrogant brother and distant father, Toby chases victory at an arcade game with horrifying consequences. But in the unpredictable world of Five Nights at Freddy's, sometimes the past can take on a life of its own.
In this sixth volume, Five Nights at Freddy's creator Scott Cawthon spins three sinister novella-length stories from different corners of his series' canon, featuring cover art from fan-favorite artist LadyFiszi.
Readers beware: This collection of terrifying tales is enough to unsettle even the most hardened Five Nights at Freddy's fans.
Frequently Asked Questions About Blackbird: An Afk Book (Five Nights At Freddy's: Fazbear Frights #6): Volume 6
Book Reviews
(9)
Did you read Blackbird: An Afk Book (Five Nights At Freddy's: Fazbear Frights #6): Volume 6? Please provide your feedback and rating to help other readers.
Creepy

Derived From Web

, Dec 31, 2021

This book was very creepy to read and i loved it even though I was always good at predicting what will happen next in stories, lol sometimes I wish I wasn 't hahaha.
Story's starting to sound alike

Derived From Web

, Sep 23, 2021

So I have been reading through all the Fazbear frights books and this one was really good in the first and third stories, but the second story was not really creepy, but did have an ending that leads to creepy conclusions. But my main complaint is that the stories are beginning to use the same setup of a character pursued by an evil force and kinda takes away from the creepyness of the stories. That said, I still recommend you buy this product highly.
Good Book

Derived From Web

, Aug 19, 2021

Good book with nice endings. Like how all characters and their backgrounds fit into the Fnaf world without it being redudent.
Great book for your spooky loving kid

Derived From Web

, Aug 3, 2021

My eight-year-old sat and read this in a day. She said that it was thrilling and just the right amount of spooky for her. Per her words, "had me on the edge of my seat, mama," if your kiddo enjoys spooky stories, this will be great for her or him.
Wonderful and beautifully written reading for all-ages and interest!

Derived From Web

, Feb 28, 2021

Not a regular reader at all! But something about wanting to learn more and more about Lore and the world of FNaF just draws me in! I absolutely love how these stories are set up, blending realistic situations to a daily surrealism! Each story is very interwoven seamlessly to keep you hooked the right way and wanting more and more! It's definitely a hook and entangled series!! I already went back to the one missed cause of this one! I've already gone back to the one's i missed cause of this one! And I haven 't even spoken yet about the FNaF world! Such a simple premise that often expands to such a ridiculous degree that you wonder if things really are as they seem! And that's the catch i think! Questioning such ludicrous things and to be brought back to reality with it as well is what I have been reading and seriously hitting that scary-itch!! I highly recommend this series of the books! I can 't wait to read the next one!
Super slow shipping

Derived From Web

, Jan 26, 2021

I buy these books only because my daughter likes them. Every time I order one, they say that it will be here in like 3 days, takes up to a month to actually arrive. Usually it is not even shipped until two weeks after the day they say it will arrive. Every single one I have purchased has been like this, so if you plan to purchase a gift for a gift, allow plenty of time. Personally, I don 't get another, but my kid likes them, so I purchase them for her when they come out.
Don't trust happy endings

Derived From Web

, Jan 9, 2021

The first story is a great little thriller!... It had a happy ending, but it was a sad ending... I smiled, realized I was smiling, put the book away from me and said, I don 't trust you... this is a Scott Cawthon collection after all. Yeah, that good, happy feeling is just a set for you to walk into the next story and get your heart crushed. My son and I both love these books!
My son is one happy camper. :)

Derived From Web

, Jan 8, 2021

My son is a huge FNAF fan. He was so excited to receive this latest book and I know that he will enjoy it. Out of curiosity, I read some of it and, from what I read, this book is very well written. My son is a happy kid to have the latest FNAF book, and in these difficult times, just seeing my son smile means everything to me. Scott keeps these books coming, Scott. ) Keep these books coming, Scott.
Best One Yet

Derived From Web

, Jan 8, 2021

The sixth installment of the Fazbear Frights series has been the favourite by far. First off, delivery wise came the book safe and early. The stories are very well written and show a lot of emotion even from the horror angle. The first, Blackbird, was simple but effective in revealing how the past can haunt a person. The second one, The Real Jake, is truly a sad story that made tears well in my eyes and is a strongly spoken, paced and emotional. The third one, Hide and Seek, is the weakest of the three, but that is not much of a surprise, it returns to the horror angle and while it isn 't as enjoyable as the others, it is still a great chapter. Some of the best things that Scott Cawthon, Kelly Parra and Andrea Waggner have ever written. Big recommend for those who wanted more emotional aspects of the books and less horror.