Buy 3 Get 1 Free
Our Best Sale Yet! Add 4 Books Priced Under $5 To Your Cart     Learn more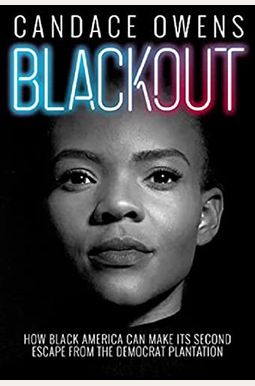  
Blackout: How Black America Can Make Its Second Escape From The Democrat Plantation
Book Overview
This Description may be from another edition of this product.
Political activist and social media star Candace Owens explains all the reasons how the Democratic Party policies hurt, rather than help, the African American community, and why she and many others are turning right.
What do you have to lose? This question, posed by then-presidential candidate Donald Trump to potential black voters, was mocked and dismissed by the mainstream media. But for Candace Owens and many others, it was a wake-up call. A staunch Democrat for all of her life, she began to question the left's policies toward black Americans, and investigate the harm they inflict on the community. In
Blackout
, social media star and conservative commentator Owens addresses the many ways that liberal policies and ideals are actually harmful to African Americans and hinder their ability to rise above poverty, live independent and successful lives, and be an active part of the American Dream. Weaving in her personal story that brought her from the projects to 1600 Pennsylvania Avenue, she demonstrates how she overcame her setbacks and challenges despite the cultural expectation that she should embrace a victim mentality. Owens argues that government assistance is a double-edged sword, that the left dismisses the faith so important to the black community, that Democratic
Read More chevron_right
Frequently bought together
Frequently Asked Questions About Blackout: How Black America Can Make Its Second Escape From The Democrat Plantation
Book Reviews
(10)
Did you read Blackout: How Black America Can Make Its Second Escape From The Democrat Plantation? Please provide your feedback and rating to help other readers.
This book sets the record straight, no doubt.

Derived From Web

, Sep 26, 2020

Candace is an extremely intelligent and passionate person and is shown in everything she writes. I wanted to know more about today's issues without the hateful narrative that is thrown at us by the biased mainstream media and social media. This book clarified so much for me. Most notably, the struggles of black Americans, but also American history, which is under attack by people that don 't seem to know our history at all. Shame. I will say that Candace Owens has my vote most definitely if she ever runs for president. Candace, thank you Candace for speaking up.
An American Hero!

Derived From Web

, Sep 26, 2020

A breath of fresh air! Thank you Candace Owens for not following the propaganda of today, but researching the truth. Many claim that you are the needed African American hero of our lifetime... But, I believe that you are an American hero and possibly a World Wide Hero of this generation. The propaganda machine will continue to try and silence you and "Character Assassinate" you as "White Supremacy " or "Uncle Tom ". Thank you for not giving up on your message and exercising your freedom of speech bravely. A wonderfully smart young women with communon Sense '' overriding political correctness. If you inspire to run for the White House and someday become president, you'll have my vote.
Love the content of book, poor book condition (many oil stains)

Derived From Web

, Sep 20, 2020

The content of the book is AMAZINGLY WRITTEN and full of truth backed with the history that happened, that people want to cover up and destroy reminants. The physical part of the book is now. WHY ARE THESE BOOKS DELIVERED DAMAGED?!? Both the front and the back are very oily. And reading previous posts, they also had the same issue with their books. I am on the fence about reading this book because I can not return it. But if these books are deliberately vandalized, that is a low blow and messed up because we are paying for the book.
Sadly mislead

Derived From Web

, Sep 18, 2020

Yes, the plantations were owned by Democrats, but politics have changed since then and the parties have switched. Today, being stuck in the past is a sad part of the Republicans.
Lack luster and has a sever case of internalized racism

Derived From Web

, Sep 18, 2020

Candace is not the biggest fan of Owens, but I like to learn both perspectives, but Candace fails to back up her claims empirically with peer-reviewed research. What happened to her? Severe case of internalized racism.
Facts over Emotions

Derived From Web

, Sep 18, 2020

This is a gift from God! Candace Owens ''. Bravo, thanks for the well written book with so much history, and thanks for your personal stories. It takes courage and love to write this work. You are proud of your grandparents. This is a must read, stop letting the LEFT use us, their time is up.
GO BUY 5 NOW!!!

Derived From Web

, Sep 18, 2020

I have been waiting for this book to come out and I finally have it in my hands. Candace Owens is so grateful for the revival of the Candace Owens. I am so thankful for the Renaissance of Candace Owens. Her brilliant mind is what America needs. This book is an awesome portrayal of what happens when you actually educate yourself and reject what others say you SHOULD think based solely on your skin color. BE A FREE THINKER!!!, BE A THINKER! STELLAR READ READ!!! ! !
This is just the beginning!

Derived From Web

, Sep 17, 2020

Candace has such a talent for expressing herself effectively. Her perspective is solid with a sound foundation. Whether you agree with her points or have a preconception of her as negative, I urge you to read the book and understand where she comes from. A lot of these concepts may surprise you and even help you a bit more authentically develop your own perspective. Especially in these times, blackout is an important read. Open Your Mind! ''
Just Buy This Book!

Derived From Web

, Sep 15, 2020

Candice Owens is my new hero and I'm a white, 61-year-old grandmother!!! She is political and extremely intelligent, especially during this intelligent climate of September 2020! She is a beautiful young woman who cares what happens to Americans of all races! Do NOT simply write her off because you think '' know her! She cares deeply and honestly about the African-American community and is not a " sell-out " to her race. She is a young woman with a "old soul ". The kind of wisdom that used to come from the family... the fathers, mothers, aunts, uncles and grandparents in our homes! I would be the first in line to vote for Candice Owens as President of the United States!
I can't put it down!

Derived From Web

, Sep 15, 2020

Easy reading, highly informative and sometimes shocking. More when I read it, but I can already tell you that black, white, Republican, Democrat, Independent, young or old, you need to read this book! Sincerely, Tana-Lee White, female, 70 - year old, conservative, US veteran, veteran, Tana-Lee White.