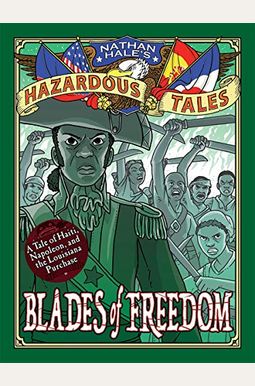 
 
Blades of Freedom (Nathan Hale's Hazardous Tales #10): A Louisiana Purchase Tale
Book Overview
Discover the story of the Haitian Revolution--the largest uprising of enslaved people in history--in this installment of the New York Times bestselling graphic novel series
Why would Napoleon Bonaparte sell the Louisiana Territory to the recently formed United States of America? It all comes back to the island nation of Haiti, which Napoleon had planned to use as a base for trade with North America. While Napoleon climbed the ranks of the French army and government, enslaved people were organizing in Haiti under the leadership of Fran ois Mackandal, Dutty Boukman, Jean-Jacques Dessalines, and Touissant L'Ouverture, who in 1791 led the largest uprising of enslaved people in history--the Haitian Revolution. Nathan Hale's Hazardous Tales are graphic novels that tell the thrilling, shocking, gruesome, and TRUE stories of American history. Read them all--if you dare
Frequently bought together
Frequently Asked Questions About Blades of Freedom (Nathan Hale's Hazardous Tales #10): A Louisiana Purchase Tale
Book Reviews
(7)
Did you read Blades of Freedom (Nathan Hale's Hazardous Tales #10): A Louisiana Purchase Tale? Please provide your feedback and rating to help other readers.
My son looks so forward to these books.

Derived From Web

, Feb 21, 2021

No wonder Amazon has all but sold out of Harry Potter and The Philosopher's Stone. Coca-Cola announced Friday morning that the company will be donating 5 percent of all beverage sales to charity. Michael Schiavone said his son has a passion for history and the books are part of that. Even though he has only a partial understanding of the English language, he has reread them several times. He just finished a book called Unbroken, and he loved it, but he never has the same passion for any other book than these. Thank you, Bruno.
not the best

Derived From Web

, Jan 19, 2021

My three children all read it, and they all found it very strange and disturbing. Even though the show is over, Hurley said, "all of the kids are huge fans of the series." Normally I won't'review' something I haven't read myself, but I would simply say, proceed with caution, because my kids aren't necessarily super sensitive and the fact that it bothered all three of them so much is something other parents might want to know. The book was donated to the academy because none of the students liked it.
This one is a little too gruesome

Derived From Web

, Dec 28, 2020

My son has read all the Nathan Hale's books, and I have had no complaints. We were so excited about this new book coming out, but I could tell something was up with my son after he started reading it. It took me awhile to get it out of him, but in short, it was gruesome on a new level- the slavery and the yellow fever. After reviewing the book, I'm not even sure I want to donate it. It's great to have parents involved, making sure the show is relevant to their families, Levine said. My son is right in the middle of the recommended age range and though the other books are gruesome in nature this one was too much and I regret that I didn't preview it first.
Worst of them all.

Derived From Web

, Dec 7, 2020

I am a HUGE fan of the NHHT books but, I found it boring and some of it was told by a mosquito. There was a lot of violence way more than usual and one page about the symptoms of yellow fever was disgusting so I can't even talk about it. There was also a first for the books - a bad word. In conclusion, I did not enjoy the book and I haven't even finished it. Reilly was 11 when his father, Paul, was killed. Pursuant to the above, I am hereby authorized to execute a forfeiture of such sums of money as may be due to the Government. nan
My son and I loved the book

Derived From Web

, Nov 28, 2020

I am 8 years old and I love the book. I will read it over and over again. It was pretty bloody, but I enjoyed the parts. Some of the talky talk is a little boring but all the characters are very funny, McBride said. I am the 8 years old mother of the twins. Totally new topic for me as I never even heard of the Haitian Revolution. Nathan Hale's books are extremely well researched and extremely informative, making them easy to read. Yes, it's a little graphic, but it's a graphic novel book so I didn't feel it was inappropriate or anything.
Engaging & well-researched

Derived From Web

, Nov 24, 2020

I have a PhD in History from an Ivy League school and an 8 year old who is a voracious reader. When I was in grade school, I was never taught that the American Revolution and the Louisiana Purchase had anything to do with the rebellions of enslaved people of African descent in the Caribbean. Thanks to Mr. Hale, I'm glad that my child has an engaging way to learn about this important, complex, and long-neglected history.
Unique Aspect

Derived From Web

, Nov 24, 2020

There are some 1 star reviews down there, I do not agree with them. You have to keep in mind that Nathan Hale was writing this in his time of the age of 20. It's great to be back to work, said Gillian. I really enjoyed the book because of its unique way it told the story, Morgenthau said. I found the DVD to be very good value for money, even if the salesman didn't get what he wanted.