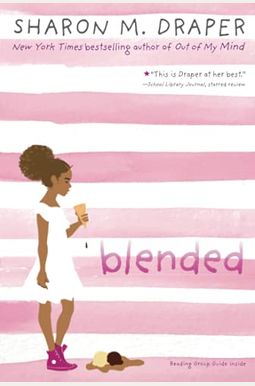 
 
Book Overview
This Description may be from another edition of this product.
Eleven-year-old Isabella's blended family is more divided than ever in this thoughtful story about divorce and racial identity from the award-winning and New York Times bestselling author of Out of My Mind, Sharon M. Draper.
Eleven-year-old Isabella's parents are divorced, so she has to switch lives every week: One week she's Isabella with her dad, his girlfriend Anastasia, and her son Darren living in a fancy house where they are one of the only black families in the neighborhood. The next week she's Izzy with her mom and her boyfriend John-Mark in a small, not-so-fancy house that she loves. Because of this, Isabella has always felt pulled between two worlds. And now that her parents are divorced, it seems their fights are even worse, and they're always about HER. Isabella feels even more stuck in the middle, split and divided between them than ever. And she's is beginning to realize that being split between Mom and Dad is more than switching houses, switching nicknames, switching backpacks: it's also about switching identities. Her dad is black, her mom is white, and strangers are always commenting: You're so exotic You look so unusual. But what are you really? She knows what they're really saying: You don't look like your parents. You're different. What race are you
Read More chevron_right
Frequently Asked Questions About Blended
Book Reviews
(16)
Did you read Blended? Please provide your feedback and rating to help other readers.
Overall Good book

Derived From Web

, Jan 16, 2021

Loved the book. Bought it for an 11 year old black girl who's parents are divorced, per her request. She loved it, said Blair. I always read the books I buy for children so we can discuss and talk about the messages, Mrs Clinton said. The racial overtones and the main character's quest to find a place in both worlds are well written. I love the use of music as a continuous metaphor for blending her life, Raymond said. The noose incident and shooting incident surprised me, but I think both were handled well because similar incidents happen to people of color more than is thought, he said. I love how the parents were written and how they were able to own up to their mistakes.
Important book for teens to read

Derived From Web

, Aug 13, 2020

This book is for adults. The book touched on so many issues that challenge us today, it said. Piano playing, creating slime, an innocent girl struggles to figure out who she is in a world with mixed messages and unpredictable bias. She is a perfect blend of her parents, who were both white. What a great book for talking with your kids.
Daughter loved this - example of her gold standard

Derived From Web

, Sep 18, 2019

My daughter absolutely loved this book, as well as Sharon Draper's Out of My Mind. Not only is Hepburn the first and only writer of fiction, but she is also the first and only woman. I think another appeal of the story was the lead character's passion for playing piano, which my daughter shares. I listened to the first couple chapters of the book and then I highly recommended it to my daughter, she said.
Parents, read this book first before your kid

Derived From Web

, Sep 9, 2019

I am not a huge fan of Gillian Malvo's book, but I have mixed feelings about this. My son read this book and it's subject material is way older than he was. I had hoped it would be a good book for racial identity, Raymond said. But it had significant racism at the beginning and violence at the end that I wasn't ready for my 10 year old to be exposed to. It then sparked good conversations, but again not conversations I was expecting to have with my 10 year old.
A Bit disappointing

Derived From Web

, Jun 18, 2019

I just finished Out of My Mind by Sharon Draper and I thought I'd read another. It's timely and appropriate for my students, but it doesn't really have much of a plot. The book tells the story of being a kid whose parents get divorced and what happens next is that all the boys are black. This is a story many of my students will relate to, but I was disappointed in the story line. I love this book, said Drummond, "and it's easy to read."
Complex issues

Derived From Web

, Apr 12, 2019

I've read all the books, but this was by far the best. I wish I could be a fly on the wall to hear her process, but it also makes me wonder just how they are addressing all of the complex issues. The book is full of painful complexities that really deserve a knowledgeable person to process with," Dr. Goin added. It's very true to life and very heavy, Raymond said. The author has some really good questions that I want to look at and see if I can use to create conversation starters with my daughter. I highly recommend this book to anyone.
Thought provoking read with a touch of heart

Derived From Web

, Apr 7, 2019

Yes, I read to get away from reality. Like getting lost and caught up in a story, I enjoy it. Even though YA fiction is generally written for children, sometimes the reader can relate to characters in the book. My daughter is a huge Harry Potter fan, and I got this one for her. What a blast! She really enjoyed it! So much that she did a book report on it and aced that report, Morgenthau said. He also said that he wishes he could have tackled some of the more light issues so that could focus more on character building and struggles at hand. Overall though we enjoyed it and think it could really open the door for conversations, Mr. O'Neill said.
Great book for a girl who sees herself in the story

Derived From Web

, Mar 11, 2019

Well-written books about life, divorce, and the challenges of a family mixed in many ways -- a wonderful addition to anyone's library. It was wonderful for her to see herself in the main character, Judy.
Excellent book for fifth graders!

Derived From Web

, Feb 22, 2019

We read this in class, and the kids were thrilled. It made for great conversations, even though my kids were not that interested.
Sharon Has Done It Again!

Derived From Web

, Feb 14, 2019

I have been a fan of Sharon's since the first episode of Friends. She has a gift for writing books that are relevant, appealing, and thought-provoking. The show's creator and executive producer, Donald B. Kilpatrick, said the episode dealt with internal conflict between a child from divorced and interracial parents. The anguish and the main character's experience of splitting time between her parents was visceral. Sharon did a wonderful job reflecting the perspective of children of color trying to determine their racial identity. The events in the novel could have easily been taken from the headlines we see today, said Dr. Ben Hecht, a professor at the University of Nottingham. The book will resonate because of its evocation of the life of Thomas Jefferson. What I really liked about it was the climatic event at the end, which I felt was rushed and unnecessary, he said. Despite this minor flaw, I thoroughly enjoyed the book and the middle years audience will feel the same. I plan to add it to my classroom library.