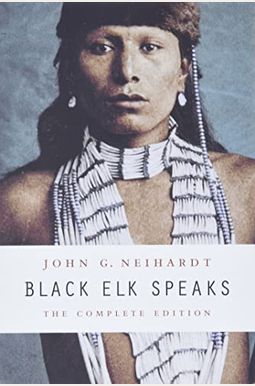 
 
Book Overview
Black Elk Speaks, the story of the Oglala Lakota visionary and healer Nicholas Black Elk (1863-1950) and his people during momentous twilight years of the nineteenth century, offers readers much more than a precious glimpse of a vanished time. Black Elk's searing visions of the unity of humanity and Earth, conveyed by John G. Neihardt, have made this book a classic that crosses multiple genres. Whether appreciated as the poignant tale of a Lakota life, as a history of a Native nation, or as an enduring spiritual testament, Black Elk Speaks is unforgettable.

Black Elk met the distinguished poet, writer, and critic John G. Neihardt in 1930 on the Pine Ridge Reservation in South Dakota and asked Neihardt to share his story with the world. Neihardt understood and conveyed Black Elk's experiences in this powerful and inspirational message for all humankind.

This complete edition features a new introduction by historian Philip J. Deloria and annotations of Black Elk's story by renowned Lakota scholar Raymond J. DeMallie. Three essays by John G. Neihardt provide background on this landmark work along with pieces by Vine Deloria Jr., Raymond J. DeMallie, Alexis Petri, and Lori Utecht. Maps, original illustrations by Standing Bear, and a set of appendixes rounds out the edition.

Frequently Asked Questions About Blk Elk Speaks
Books like Blk Elk Speaks
Book Reviews
(10)
Did you read Blk Elk Speaks? Please provide your feedback and rating to help other readers.
One of the very best books I have ever read

Derived From Web

, Feb 9, 2022

It's well written. Keep your eyes open. A man got a first hand account of an historic event that he actually lived through in a fascinating and true story. The history of the American Indian position is very boring.
Interesting book

Derived From Web

, Sep 22, 2021

When he was 9 years old, he had a vision in his head. The events that transpired between the government and the Indians were from his point of view. The Indian tragedy of constant relocation, starvation, murder, lies, and more is told. Many of the stories are related to events that I have read about in other books. The narrative is the same as it was told to the author, with pieces of his own narrative added.
Wonderful, honest, beautiful, tragic human story

Derived From Web

, Aug 4, 2021

There is a book in my collection that is special. The reader is on a roller coaster ride in the story. It's amazing to think that when his story begins, white men were rumors amongst the Sioux, and by the time Black Elk is in his late 20s he's in Wild Bill's Show touring England. Worlds collide into each other. If you' re interested in Native American history and spiritual beliefs, you can find them here. I was impressed by this work.
A part of American History we chose to forget but shouldn't

Derived From Web

, May 10, 2021

A book every American should read is the collection of memories from an extraordinary American Indian about his life and times in the late 19 th century. It should be a requirement in our schools to illuminate a part of our history that we have largely forgotten. It is as uncomfortable as either " Bury My Heart At Wounded Knee" or " The Diary of Anne Frank".
Not a big fan

Derived From Web

, Mar 15, 2021

The book was not a biography. The battle of the Little Big Horn was not much of an interest to me, although it was interesting to some degree. It went into some detail about the battle. Without this information, I would have ranked it two.
Heartbreaking Reminder

Derived From Web

, Jun 9, 2020

Black Elk's personal history begins with stories from his youth, including a dream in which he was told that he wanted to be a healer. He fought in the Little Bighorn and is associated with Crazy Horse, Red Cloud and other great leaders.
Great deal

Derived From Web

, Dec 18, 2019

It's a great deal for a quick purchase. The book is good. I didn't know a lot about our history. There are amazing stories in books.
A picture of a past time.

Derived From Web

, Dec 13, 2019

To take the copy away. Read many years ago and wanted to read again. I would recommend it to anyone interested in Plains Indian culture.
Poignant and wonderful and heartbreaking

Derived From Web

, May 4, 2019

The best and most sad stories of human history can be found in the memories of Black Elk and his peers. It was told beautifully and eloquent. I'm very happy I read this. The story could make you a better person.
Black Elk Speaks

Derived From Web

, Feb 20, 2018

The book is easy to read, but better to listen to. The descriptions of visions, ceremonies, and traditions are quite interesting, besides a trip down the path of history. The language, the manner of telling the story, the speaking patterns, the names of people, places, and animals are all things I enjoyed most.