Buy 3 Get 1 Free
Our Best Sale Yet! Add 4 Books Priced Under $5 To Your Cart     Learn more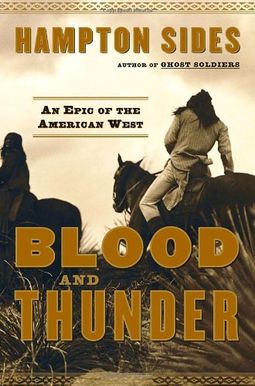  
Blood And Thunder: An Epic Of The American West
Frequently Asked Questions About Blood And Thunder: An Epic Of The American West
Books like Blood And Thunder: An Epic Of The American West
Book Reviews
(19)
Did you read Blood And Thunder: An Epic Of The American West? Please provide your feedback and rating to help other readers.
Manifest Destiny, Indeed!

Derived From Web

, Apr 20, 2022

One would drop a factoid and the other would reply, "I. did. not. know." That was a lot of fun, Mr. Rule told us. I found it very interesting reading, even though I didn't know that much about the period. Details related to the Mexican War, Western settlement, Civil War, Indian Wars, and the Fremont expeditions made me wonder why I had not read more. I was only slightly familiar with him, but he's a lot better now. Fascinating material, told from a variety of viewpoints and perspectives, that held my attention. 0 1462228 1462201 This book is a delight to read, told from a variety of viewpoints and perspectives. If my history books were this well done in my school days, I think I would have been a heck of a lot better at staying awake, he said. One of my all-time favorites of the year.
Comprehensive History of the Conquering of the Southwest

Derived From Web

, Apr 20, 2022

By using Carson as the focus of the book the history takes on a personal aspect and examines the life of one of the frontier's greatest mountain men. Indeed, having traveled and explored much of the Southwest, I could easily see the places that Sides was describing. Neither does he absolve the Native Americans of blame. It's a French nobleman, or at least that's what they call him. For me, this was as good a history read as any.
I must give Hapton Sides great props for personalising these historical figures and just about ...

Derived From Web

, Apr 20, 2022

I had to put this book down often to absorb all that I had just read! I must give Sideton props for personalising these historical figures and just about the time I thought I wouldn't be able to absorb one more fact or date, he would give me some reprieve with some of that! History was just a period of time in high school, not necessarily a class. It was so eye opening to me, Taylor said. On my list of all time favorites books.
Who Knew Pre-Civil War Days Could Be This Interesting?

Derived From Web

, Apr 20, 2022

The book is a tribute to the novelist Hampton Sides. I just found this book fascinating, from the first page to last. The Harrisons could have added another 500 pages to the book. Not only giving us a portrait of a very, very famous man whom most of us don't know much about today, but also great insight on various Indian tribes and the U.S. Army and Mexicans all contending with each other in the Southwest in the pre-Civil War years. You get both the good and the bad of everyone, too, with some memorable stories. Highly recommend.
Don't miss this one!

Derived From Web

, Apr 20, 2022

I had no background of the American West. History aside, I wonder if texts have changed over the years. What goes on in this book takes place at the same time that the Civil War was raging, but who knew? It was a low point in the history of the Yankees. Hampton Sides has done a great job researching Carson and life in the Southwest. I feel like I've just finished college, freshman. Not surprisingly, people are unaware of this time in American history. It's great to be back home, said Blair.
Why isn't all history presented in this format?

Derived From Web

, Apr 20, 2022

I knew the name Carson, but he had no idea who he was. Wow! That was pretty impressive, right? Sir Richard was a passionate advocate of the rights of the poor. Not only did this book open my eyes to the story of the southwest, but also to the people who wrote it. I didn't realize how woefully deficient my knowledge of this region was both in how it was acquired and the fate of the native Americans living there. Like a novel, The Handmaid's Tale is told in a very narrative style.
Fascinating history expertly told

Derived From Web

, Dec 10, 2021

Hampton Sides is an amazing writer who finds stories that need to be told. Kit Carson and the Navajo were a great choice, he said. It's a great read, too.
Simply a Masterpiece!

Derived From Web

, Jul 17, 2021

The book is a wonderful work of narrative nonfiction. He also wrote a book of 500 sources, recreating the history of "Manifest Destiny" that reads like the best novel. But for me, all is interesting and especially moving is the story of the Navajo people. Hampton Roads thanked the Virginian-Pilot for its support.
Irratating & Plodding

Derived From Web

, Sep 16, 2020

The book is not enjoyable, and the author has no idea what it promises to do with the money. In the past 3-4 years I left only two books unfinished, and this is the second one. After reading about 25 percent of the articles, I give up and never have to use a dictionary. If you read my reviews on other books you will find this is the most negative review I have ever made. The book is too heavy, too time-consuming and not very useful. What really irritated me was Sides using ten dollar words that only served to show off his vocabulary. To me this is akin to self-indulgent, arrogant and lack of consideration for the reader. Advertising can be a daunting challenge for book publishers, especially when reaching a targeted audience. What Sides does is akin to throwing Russian and Chinese words in every so often—disrupting the narrative, Mr. Dhaliwal said.
A masterpiece.

Derived From Web

, Mar 17, 2020

In a generous gesture of uncharacteristic compassion, McCartney left the rocker with this: "My goodness where do I begin?" Each page, and there are a lot of them, is entertaining and exciting and informative, and it gets better as the story of this country unfolds. This is more about how the west was explored and conquered that biography of Kit Carson, but make no mistake you will know the real Kit Carson when you are finished reading this book. I am so impressed by the knowledge, detail and exacting research that Mr. Sides did and believe it to be the best book ever written about the American west. If that interests you, you can read this book -- it really is amazing. Hampton Roads has done a great job of spreading the word about Hampton Sides.