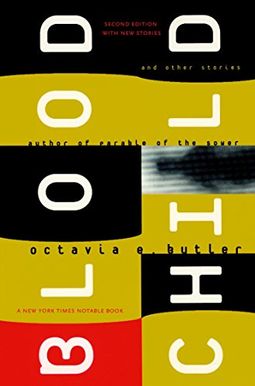 
 
Bloodchild And Other Stories
Book Overview
A perfect introduction for new readers and a must-have for avid fans, this New York Times Notable Book includes Bloodchild, winner of both the Hugo and the Nebula awards and Speech Sounds, winner of the Hugo Award. Appearing in print for the first time, Amnesty is a story of a woman named Noah who works to negotiate the tense and co-dependent relationship between humans and a species of invaders. Also new to this collection is The Book of Martha which asks: What would you do if God granted you the ability--and responsibility--to save humanity from itself?
Like all of Octavia Butler's best writing, these works of the imagination are parables of the contemporary world. She proves constant in her vigil, an unblinking pessimist hoping to be proven wrong, and one of contemporary literature's strongest voices.
Frequently Asked Questions About Bloodchild And Other Stories
Books like Bloodchild And Other Stories

Book Reviews
(10)
Did you read Bloodchild And Other Stories? Please provide your feedback and rating to help other readers.
Octavia Butler's 'Bloodchild' is an Exceptional Collection by one of Science Fiction's Greatest Writers

Derived From Web

, May 24, 2022

This was my first introduction to the works of Ocatavia Butler, an author I had heard many good things about before seeing this Kindle eBook version of her collection of short stories, Blaoodchild '', on sale at Amazon for a deep discount. The collection was a great representation of her work and included a number of extremely intriguing stories that I have been left thinking about after reading them. I would recommend it especially to fans of science fiction or dystopia, and the short biography included in the text seems like a great read for any aspiring author, but especially to female or African-American.
A great intro or revisit to Butler

Derived From Web

, May 24, 2022

This book was for me reacquainted with Butler. I also would have loved the opportunity to discuss some of these stories and read them in some of my early high school or undergrad English classes. If you're looking for some stories with depth that have an interesting science-fiction theme, this is a great book to use.
Excellent...an eye opening

Derived From Web

, May 24, 2022

Blood Child has given me an incredible insight and appreciation of how Ms. Bulter created such complex novels, such as The Sower's Parable, which I now look forward in reading, since I have a better appreciation of her style.
Great Stories!

Derived From Web

, May 24, 2022

I enjoyed very much this collection of science - fiction - short stories. The author's short afterward following each was very interesting to read as well.
Beautiful collection

Derived From Web

, May 24, 2022

I have never been disappointed in Ms. Butler's work. In this collection of stories, she ends each with details about its history, inspiration.
One of my all time favorite short story collections.

Derived From Web

, May 24, 2022

One of the most spectacular science - fiction - collections that any individual author has ever put together. Octavia Butler was seriously a force of nature.
What a Wonderful and Disturbing Collection of Stories

Derived From Web

, Nov 28, 2021

Octavia Butler was a renowned sci-fi author I heard about but never read until now. Her stories are not the sunniest, but they are compelling and really make you think. Bloodchild, the Sci - Fi story that starts this collection, can be repulsive if you are squirmish, but that is the whole point. She is a wonderful writer and I read more from her soon.
Octavia Scores in a Small Way

Derived From Web

, Jul 30, 2021

Butler's long novel series, with their complex, interweaving plots, good versus Evil and powerfully unique personalities, is a pleasure. She admits herself to being short in the brevity of inadequate stories. But here we have short stories, succinct learning, distinct personalities in a few pages. Not all stories are great writing, but all are provocative. Her afterwords, with rich history and insights, make the reading back. We are reminded again that it was a great gift to release her vision and hard work into a world that did not welcome her and has not yet missed her talents.
Wash the Bookcover first!

Derived From Web

, Jul 18, 2021

The book is great. There was, however, gunk on the cover like puke or something. Had to disinfect it and wash it!
Thoughtful imagery

Derived From Web

, Nov 25, 2020

What surprised me was not ever hearing this name, Octavia Butler, before reading Jemisin. Maybe not being regular of the genre has more to say about my reading habits than Renown. Thoughtfulness with amazing imagination, delightful in perspective and inspiring uniqueness is the gift she brought to the genre.