BLACK FRIDAY DEALS CONTINUE - SAVE 20% AT CHECKOUT WITH CODE CYBERBOOK. Learn more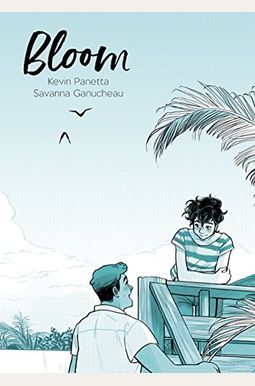  
Book Overview
This Description may be from another edition of this product.
Now that high school is over, Ari is dying to move to the big city with his ultra-hip band--if he can just persuade his dad to let him quit his job at their struggling family bakery. Though he loved working there as a kid, Ari cannot fathom a life wasting away over rising dough and hot ovens. But while interviewing candidates for his replacement, Ari meets Hector, an easygoing guy who loves baking as much as Ari wants to escape it. As they become closer over batches of bread, love is ready to bloom . . . that is, if Ari doesn't ruin everything.
Writer Kevin Panetta and artist Savanna Ganucheau concoct a delicious recipe of intricately illustrated baking scenes and blushing young love, in which the choices we make can have terrible consequences, but the people who love us can help us grow.
Frequently Asked Questions About Bloom
Book Reviews
(8)
Did you read Bloom? Please provide your feedback and rating to help other readers.
(Mostly) Sugar-Sweet story about Two Bakery Boys Figuring Out Life!

Derived From Web

, Aug 27, 2020

I am an absolute sucker for novels about two broken and found people who are just trying to find their way and end up doing it together. When characters learn to have boundaries, learn from mistakes and try harder, and IT IS LIKE THIS IN BEAUTIFUL ARTWORK. I also adore novels about food and cooking specifically. So much can be said about the power of food and baking! I would not say more of these two and their cast of side characters.
A subtle Story about two people finding their place

Derived From Web

, Aug 6, 2019

If I had to describe this book in a word, it would be honest. It is a really heartfelt story with genuine feeling. Where I saw, the authors could have gone a different direction with the ending, but I'm glad they didn 't. The female elements of this story are very tasteful. I don 't know much about other people, but sometimes I feel like stories tend to be in your face. For most of us, that is not a bad thing, but the delicatety of this work is its strength. The artwork is gorgeous and some of the full page pieces are amazing. The art is so soft, but at the same time you feel like it is rough around the edges. It makes the emotion feel genuine in the story. Anybody who likes Slice of Life, romance, or LGBT stories will love it. The recommended dose is highly recommended.
So beautiful and wonderful

Derived From Web

, May 16, 2019

Another beautiful story that I can hardly get enough of. This book is also a new favorite that I bought immediately after reading it. I had been anticipating this book for a month now and when one of the librarians pointed out the new graphic novels in our collection, I had to read it ASAP. I read my homework and binge-read the first 34 before the library was closed and basically swallowed the last 14 after I got home. This story is just beautiful, sweet and wholesome. I absolutely love Hector and Ari. I can not wait to read more from Kevin and Savanna. This graphic novel deserves to be all stars!
So Needed Queer Representation!

Derived From Web

, Apr 8, 2019

Such a happy, cute Queer romcom of a book that is sorely needed! I think you would definitely recommend reading this! I've always wanted!
So Sweet (and not just the bread)

Derived From Web

, Apr 3, 2019

My Gosh, my gosh. Ari has been told his whole life that he will take over his family bakery one day. Enter Hector, the cute boy who bakes like there is no tomorrow. This book is such a slow burn and I am so glad for it. I wanted to see them together on the first glance and yet there is so much going on here. Hector loves to bake, but Ari wants to get away from it all together. These boys are so soft and I am here for them. I adored art in this book. The line work is so clean and the monochrome blue presents just beautifully. Expressions come across clearly and art enhances and tells much of the story. I also spent this whole book hungry and immediately wanted to make the recipe in the back of the book. Dang not having a starter!
Heartwarming

Derived From Web

, Mar 21, 2019

The same day I bought the book, I read it all. I love the story between Ari and Hector so much! As a gay man, it is nice to read a love story that I can personally connect to. I wish that this novel came out when I was a teenager ; it would have meant so much to the younger me to see that love was possible and without shame.
Restoring my faith in my degree

Derived From Web

, Feb 10, 2019

As a queer illustration student in Baltimore, this novel felt like it was the piece of myself that I had been missing for a while. I was drawn by recommendation and by my love for mlm representation in graphic novels. What I was not expecting was an experience that reminded me of what I want to do in life, writing and illustrating a story that captivates the way this one does. The artwork is captivating and realistic, and the story is incredible and adorable enough that it is almost painful to relate. If you are even considering buying one, I promise that Panetta and Ganucheau won 't let you down.
Im swooning amd crying all over the place

Derived From Web

, Jan 30, 2019

First of all, I have been eyeing this bad boy forever and when it finally came, I could not stop staring at it. The story was cute and charming and touched home on a lot of feelings I had when I first left my home... staring over and learning to appreciate the things that matter vs. holding on to what I think I should... it was very pensive. This book is my favorite! I hope eveeryone reads it all!
List of All Editions of Bloom