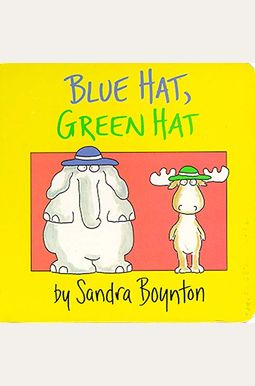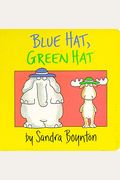 
 
Book Overview
Three earnest animals and one misguided turkey learn colors and clothes in this Sandra Boynton classic.
Serious silliness for all ages. Artist Sandra Boynton is back and better than ever with completely redrawn versions of her multi-million selling board books. These whimsical and hilarious books, featuring nontraditional texts and her famous animal characters, have been printed on thick board pages, and are sure to educate and entertain children of all ages.
Frequently bought together
Frequently Asked Questions About Blue Hat, Green Hat
#1

#2

#3

#12

#2
Book Reviews
(15)
Did you read Blue Hat, Green Hat? Please provide your feedback and rating to help other readers.
Sparse text, great illustrations - a fun read!

Derived From Web

, Apr 20, 2022

This is a book that is in line with the other books by Boynton. The illustrations are simple and funny. To really engage our son, the reader has to do a lot of work, that's what we found with this book. We had to explain what the turkey continues to do wrong when trying to get dressed, like his friends, because the text is so sparse. It's actually a compliment, though, and I don't mean this as a criticism. The reader can be an active participant in the book, engaging the child with dialogue that will hopefully lead to learning and interest. You'll find yourself saying oops. A lot when you find what the turkey is wearing. You'll be surprised by how many different tones of voices are present. You can use the word oops.
A First "Reader"

Derived From Web

, Apr 20, 2022

The book is empowering for little ones. Even toddlers can read this book if they match their knowledge of colors and clothing items. My son was so proud of himself when he read this book to his grandpa that he could read a book just like a grown-up. The other animals are getting dressed and doing just fine, but the silly turkey keeps getting it wrong, which leads to an oops at the end of each two-page spread. Kids love anticipating things. This was the first book where my son really understood the humor. It takes a little more explanation for the final oops.
Thank you, Sandra Boynton

Derived From Web

, Apr 20, 2022

My three year old grandson reads aloud. The story is easy to read. We both dislike reading all of the books he has. He loves the books Moo Baa LaLa and the Barnyard Dance, they are great going to bed books.
This one is a real page turner!

Derived From Web

, Feb 27, 2022

As you read through this classic, you will be haunted by the question, "Why can't the turkey seem to get his clothes on right?" The turkey evades the question throughout the story, finally escaping scrutiny by diving into a pool. Readers are left to ponder, discuss, and argue the reason behind his incompetence in dressing himself. Your fans want a sequel to put the mystery to rest.
My 3yo memorized this book

Derived From Web

, Jun 21, 2021

Both of the boys can read this book. My child took it to preschool to read to his classmates.
to educate and entertain children of all ages.

Derived From Web

, Apr 27, 2021

silliness for all ages The redrawn versions of her board books are better than ever. The books are fun and educational, and are printed on thick board pages.
Sandra Boynton is the best

Derived From Web

, Dec 8, 2020

I enjoy reading with my daughter and one of the best things about the books is that they are written by a woman. The illustrations are cute and silly. My daughter doesn't know how to read, but she can look at the pictures and read the book back to me. The book has boosted her confidence and excitement in reading. It's simple, but it's fun.
A Favorite with Preschoolers

Derived From Web

, Jul 10, 2020

preschoolers love this silly book. It teaches colors and where clothes should go in a way that gets kids interacting and laughing. The book has one of the animals putting on a different colored piece of clothing. They all get it right. The turkey seems confused. Children spot the turkey's mistake and enjoy knowing something that the turkey doesn't know.
Book is Adorable but Amazon Delivery Terrible

Derived From Web

, Jan 18, 2020

The book is adorable and fun. Delivery from Amazon was terrible. Normally delivered items are left on my porch. The driver left a package in my bed on a night that had rain. We found the package of books before they were damaged. The book is good. The delivery was not good.
Must-have for all babies!

Derived From Web

, Nov 5, 2019

This book is a must-have for all babies. This book makes my kids laugh from the time they were young. Maybe they understand how clothes are put on at such a young age. Maybe the word "oops" on each page is funny? They laugh like crazy when we read this. At 2 years old, my toddler became verbal and started reading aloud. It was so funny to listen to him as he read, because he was just saying the color and type of clothing he saw. The book is definitely recommended.