Buy 3 Get 1 Free
Our Best Sale Yet! Add 4 Books Priced Under $5 To Your Cart     Learn more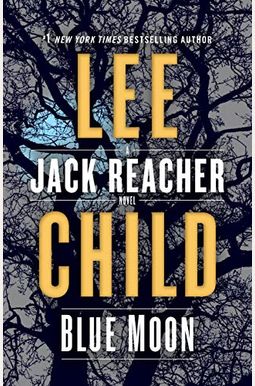  
Blue Moon: A Jack Reacher Novel
Book Overview
#1 NEW YORK TIMES BESTSELER - In the next highly anticipated installment of Lee Child's acclaimed suspense series, Jack Reacher comes to the aid of an elderly couple . . . and confronts his most dangerous opponents yet.

Jack Reacher is today's James Bond, a thriller hero we can't get enough of.--Ken Follett
This is a random universe, Reacher says. Once in a blue moon things turn out just right. This isn't one of those times. Reacher is on a Greyhound bus, minding his own business, with no particular place to go, and all the time in the world to get there. Then he steps off the bus to help an old man who is obviously just a victim waiting to happen. But you know what they say about good deeds. Now Reacher wants to make it right. An elderly couple have made a few well-meaning mistakes, and now they owe big money to some very bad people. One brazen move leads to another, and suddenly Reacher finds himself a wanted man in the middle of a brutal turf war between rival Ukrainian and Albanian gangs. Reacher has to stay one step ahead of the loan sharks, the thugs, and the assassins. He teams up with a fed-up waitress who knows a little more than she's letting on, and sets out to take down the powerful and make the greedy pay. It's a long shot. The odds are against him. But Reacher believes in a certain kind of justice . . . the kind that comes along once in a blue moon.
Frequently Asked Questions About Blue Moon: A Jack Reacher Novel
Book Reviews
(10)
Did you read Blue Moon: A Jack Reacher Novel? Please provide your feedback and rating to help other readers.
Still a hit!

Derived From Web

, May 8, 2020

It's always great to see the book on cover. I agree with other reviewers that it was a more brutal Jack Reacher that we saw, but he was still protecting the "little guy." He began by trying to prevent an elderly, vulnerable man from being robbed by a thug, and then stepped in to help, he said. Yes, I know. It's a 5 star rating.
Hugely disappointing story from one of my favorite authors

Derived From Web

, Nov 29, 2019

The last time I checked, I was living in America. If I went by Mr. Child's latest novel, I would think I lived in a Communist country, he said. This story is located in a city where Ukrainian and Albanian gangsters openly control the entire police force and the half-million Americans who reside inside. Not only does the author depict all of these Americans as docile cowards, but most of them are also dimwits. Even if you set all this aside, the dialogue seldom rings true and I found the story repetitive and even boring. For someone like me who has been a huge fan of Lee Child's work, it's almost too good to be true.
OK Reacher, but somewhat uninspired.......

Derived From Web

, Nov 16, 2019

OK!? Give it 3 12 stars, rounding down to 3 because despite huge improvement over last volume i'm still sorely disappointed in that previous effort. It's a bit mechanical in that it's straightforward telling of a rather complex story that didn't have a lot of emotion conveyed. He has the ability to figure out most everything in advance and take appropriate action to defeat the threat. A bit too cut and dry for my taste, action sequences presented in great detail but lacked any visceral sense of what was going on. Most of the story is about getting to which one objective is dispatched rather quickly. Though supporting cast members generally cast as well-developed and ending of her relationship with Reacher were not well-cast. Despite generally positive reviews this may be my last Reacher read as I think author is running out of gas. He's had a long run, too.
A now I have to wait a whole 'nother year!

Derived From Web

, Nov 10, 2019

I was ready for my annual fix, this one did not disappoint. Yes, it is formulaic, at times repetitive, sometimes. And there was the occasional error - there is no such thing as a mortgage where the bank immediately owns the home. At least, I have never heard of one, Mr. Rule told the inquiry. Characters tend to be the superficial and stereotypical but one of the weird things about stereotypes is how accurate they can be! But the twists of the great revenge fantasies against the evil doers, the clever and creative plot twists as two rival gangs of thugs battle for turf and control, and Reacher's witty solutions make this one a fun read. His other 20 novels have sold more than 3 million copies.
The Worst

Derived From Web

, Nov 9, 2019

I've read them all, some more than once, and this is the definitive worst-ever reach novel. Keanu Reeves and Hugo Weaving in a scene from the new film "Man on Fire." Adjectives are oxymorons, unrealistic, disappointing. In response, the police said, "Ridiculous Violence" was also being considered. Child blew it big time. Don't waste your money. 0 3171616 This is very serious," said Dr. Richard Cullen, director of the federal Centers for Disease Control and Prevention. See the trailer for the Keanu Reeves and Jackie Cruz film "John Wicks."
Too many glaringly distracting wonky details

Derived From Web

, Nov 9, 2019

I've always loved Jack Reacher. Yes, I do. I have no problem with Jack defying odds, beating realistic expectations, no matter what the circumstances, Garton said. It's just that I've always loved it. It pushed me, too, to try harder. His characters are also known for acting in ways that are just plain wrong. SPOILER ALERT for example: Some helper characters suddenly become able to casually kill dozens, and participate in gun fights that would stress out Rambo. Also, I'm supposed to believe that toughened European gangsters would fail to grasp that they were all just running directly into gunfire, he said. We're losing one or two kids a day through no fault of their own, Ryan said. I finished the book because I love Jack and I enjoy spending time with him, Sosa said. Please, Lee Child. Don't let the pressure publishers put you into writing a book year or whatever they are up to, Graham said. It was a total travesty, said Jack Reacher, best-selling novelist.
Disturbed

Derived From Web

, Nov 7, 2019

I have enjoyed many of the novels by Lee Childs. It's just that one time. Way over the top in blood and gory descriptions of the beast. I sometimes wondered if this was an anonymous writer trying to mimic previous Teacher books. Zilkha conceded defeat in the first round of the tournament.
Huh!!?

Derived From Web

, Nov 2, 2019

Child may have written the first paragraph, but the rest of the book a bad imitation of a Bolan adventure crossed with A Fist Full of Dollars and Last Man Standing. It's just that I can't unread this crapfest.
Worst Jack Reacher Novel Ever

Derived From Web

, Oct 31, 2019

It's just that I wait every year for the next Jack Reacher. I've read all the books, and I love them all. This was a colossal failure. The premise of a company not renewing health insurance and nobody knew it was ludicrous, said Burt Flickinger of Strategic Resource Group. Not to mention the absolutely unbelievable characterization of the mobsters, it hurts my head just thinking about the stupidity of it. A massive disappointment. I want the 14.99 and the wasted 5 hours of my life back!!!!!!!!!!!!!!!!!!!!!!!!!!!!!! It's great to be back home, said Blair.
Formulaic and Over-the-Top Violence

Derived From Web

, Oct 30, 2019

Every standard Reacher plot device is back riding into town on a Greyhound bus, protecting the weak old folks, winning the help and sexual favors of a woman with a glance, and riding out of town on a Greyhound bus. This adventure, however, includes the cold-blooded murder of several of the bad guys, not in the heat of battle or to avoid detection, but after disarming and disabling them. This may be my last chance to reach you all. The book has become formulaic and dull, and few will read it.