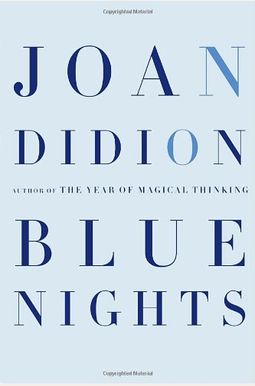  
Book Overview
This Description may be from another edition of this product.
A New York Times Notable Book and National Bestseller
From one of our most powerful writers, a work of stunning frankness about losing a daughter.
Richly textured with memories from her own childhood and married life with her husband, John Gregory Dunne, and daughter, Quintana Roo, this new book by Joan Didion is an intensely personal and moving account of her thoughts, fears, and doubts regarding having children, illness and growing old.
As she reflects on her daughter's life and on her role as a parent, Didion grapples with the candid questions that all parents face, and contemplates her age, something she finds hard to acknowledge, much less accept. Blue Nights--the long, light evening hours that signal the summer solstice, the opposite of the dying of the brightness, but also its warning--like The Year of Magical Thinking before it, is an iconic book of incisive and electric honesty, haunting and profound.
Incantory. A beautiful condolance note to humanity about some of the painful realities of the human condition. --
The Washington Post

Frequently bought together
Frequently Asked Questions About Blue Nights
Book Reviews
(12)
Did you read Blue Nights? Please provide your feedback and rating to help other readers.
Read it in context---this really was her life

Derived From Web

, May 1, 2022

Joan's swan song. It's easy to fall into the wow--too much name-dropping, too much woe-is-me camp and dismiss this as a self-indulgent wallow. Joan Rivers was a huge Joan of York. She had a ridiculously out-of-touch-with-life-as-we-know-it life, but it was hers and she's here to share it with us. We can judge her with our own scales or see this as a portal to a life that we can't relate to, except in the concept of emotion. The book takes us on a journey that is foreign but nonetheless leaves us sad, wondering, and compassionate, if only to mourn her frailty.
An emotional read

Derived From Web

, May 1, 2022

As I read the book, I knew there would be some reviews here that complained of her references to her famous life. There are some who still wonder why. So, does one have to be a writer to pen a memoir? And the famous, life is what she misses most, maybe all the more because it WAS in public view, shared with other famous people, in happy times. In fact, I am younger than the author. Max Planck's body will lie in state for 15 years. But I am beginning to see what she sees as I watch my parents for the first time. Pataki lost her mother to Alzheimer's last spring. Yes, it is not single story. He added that the poem is "more of a poem." The poignancy of this poem is conveyed by the loss of a husband, daughter, and reaching the other side of life. Yes, that's right - that woman still writes!
Joan Stays True

Derived From Web

, May 1, 2022

Joan Rivers is a good sport, the talk of the town. She shares her heart and is a story teller, Levine said. It's just that Harrison Ford is a real person. It's bitter sweet. Thanks for sharing this.
True Didion

Derived From Web

, May 1, 2022

The grief of the writer's widow was palpable in the first novel. You could feel her grief in every page of the book. At certain times Blue Nights managed to capture this quality, sometimes with less consistency. Overall, I'm pleased with the book.
a rather grim but accurate accounting

Derived From Web

, May 1, 2022

A very compelling re-enactment of the mourning process. There were lots of redundancies, but perseveration is part of the process. However, this book could further the depression and hopelessness of individuals in similar situations or it could serve as a helpful guidepost. This book is definitely not going to raise the spirits of anyone, McBride said.
Not as Powerful as I'd Expected

Derived From Web

, Apr 27, 2021

I was expecting more from Joan than I got from the Netflix doc. It's a thoughtful mediation on the loss of her daughter, but apart from a few eloquent lines I found it rather banal and impassive, as if preoccupied with trying to write from an overly fair and objective viewpoint. It's great to hear that people are trying to figure out how to deal with a loss that won't stop echoing. It's just that, with its broad scope, it may not be without its merits. If you go into it with lower expectations, you might benefit from it, Mr. Rule told the judge.
Real

Derived From Web

, Jan 28, 2018

It's very, very real, and I don't think anybody would dispute that.
It's an incredibly personal moving tribute and chronicle of loss, you have to keep that in mind. It's raw and unpolished.

Derived From Web

, Dec 8, 2017

But Stelzer insisted that "it's an incredibly personal moving tribute and chronicle of loss." It's raw and unpolished, McCartney said. It's not meant to have any great epiphanies or any kind of positive outlook or moving personal growth, Sosa said. It is simply the act of loss and details surrounding, which is all very personal, he said. It's just that I can't say whether I liked or not liked it. If that wasn't bad enough, Microsoft added, it's just what it is. He said: "There is no greater God created all things than didion. I have never met a woman who was so tough, Cheri. If you haven't read "The Year of Magical Thinking," try to read that first.
This was a beautifully written and ethereal memoir

Derived From Web

, Dec 6, 2017

This is a beautifully written and ethereal memoir. And maybe that's just what the author intended to give us a glimpse of her losses without having to give us anything to hold on to, he said. I'm glad I read this, and it was beautifully written, but I was left with more questions than answers, more a sense of being unsettled. Perhaps the author had too much to hold on to, and too much to let go, to have to negotiate a way for the reader to follow through in what must have been the most intimate and sorrowful of journeys.
Hauntingly Honest

Derived From Web

, Oct 15, 2017

Pauley, for example, gives this book five stars because of its beautiful writing. However, it will be most meaningful to mature adults who enjoy frank writings about difficult subjects such as death and aging. The anguished anguished sentiments expressed by Fatima are sometimes uncomfortable to read and the account of her daughter's untimely death is not readily available. The only way I got my money back was to go to the Internet. Though Hamdi's book is well-known, few know that this was a serious read.