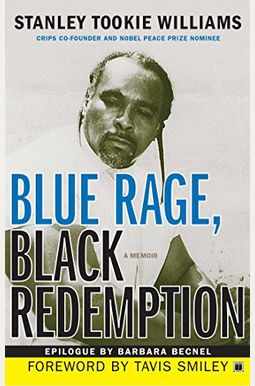 
 
Blue Rage, Black Redemption: A Memoir
Book Overview
A gripping tale of personal revolution by a man who went from Crips co-founder to Nobel Peace Prize nominee, author, and anti-gang activist
When his L.A. neighborhood was threatened by gangbangers, Stanley Tookie Williams and a friend formed the Crips, but what began as protection became worse than the original gangs. From deadly street fights with their rivals to drive-by shootings and stealing cars, the Crips' influence--and Tookie's reputation--began to spread across L.A. Soon he was regularly under police surveillance, and, as a result, was arrested often, though always released because the charges did not stick. But in 1981, Tookie was convicted of murdering four people and was sent to death row at San Quentin in Marin County, California. Tookie maintained his innocence and began to work in earnest to prevent others from following his path. Whether he was creating nationwide peace protocols, discouraging adolescents from joining gangs, or writing books, Tookie worked tirelessly for the rest of his life to end gang violence. Even after his death, his legacy continues, supported by such individuals as Archbishop Desmond Tutu, Snoop Dogg, Jesse Jackson, and many more. This posthumous edition of
Blue Rage, Black Redemption
features a foreword by Tavis Smiley and an epilogue by Barbara Becnel, which details not only the influence of Tookie's
Read More chevron_right
Frequently Asked Questions About Blue Rage, Black Redemption: A Memoir
Book Reviews
(7)
Did you read Blue Rage, Black Redemption: A Memoir? Please provide your feedback and rating to help other readers.
Brian C

Derived From Web

, Jun 4, 2022

It appears that all reviews for this book were written by Tookie's followers and friends. Like I said, when reading it, you have to really keep an open mind, knowing that it was written by a murderer who claims redemption, but doesn 't admit to his crime. Even the things he does admit and profit from lilke forming the Crips, he never reaches full redemption. If so, he would have cooperated with law enforcement to help dismantle the very gangs he preaches to children about not joining. If I had to borrow it again, I would read the book to borrow, so that I wouldn 't have to spend my money on it.
Quick read

Derived From Web

, Jan 20, 2022

This was a beautiful book. Glad that the author underwent a transformation and was able to be a positive influence even in death row.
Good book

Derived From Web

, Nov 30, 2021

However, this was a very good book, and I felt like it was drained. I wanted to read more graphic details about his life, but it was never the less a very good and informative read.
Another testimonial-story

Derived From Web

, Apr 4, 2021

Don 't hesitate in buying this book, don 't pick it up if you know that you will not dive one or two pages in it. This is a sit with an o.g. Not only has stories to relate with those in the low-budget class of society, nor for brainwashing, but also a message to liberate from chains of pain.
Transformation

Derived From Web

, Apr 27, 2020

This is a book about a man who has transformed himself from a most dangerous monster to a peaceful, wise and understanding person. He truly entered an internal transition from his past life and went through a world of growth. Just like he did not justify his past, we should not celebrate his past, but we should celebrate all the ways he tried to positively influence youth, gangs, and society as a whole.
Understanding we need good guidance in life

Derived From Web

, Jan 25, 2019

This book's Blue Rage is an eye opener to the fact that life is a rage at a very young age. Not knowing how to channel this energy that had this young life. And after all the chaos, he learns that it could have been much more productive if someone grabbed he's hands and gave him supervision and instructions. A must read for young life.
but ultimately others who find themselves being influenced by bad decisions. The message that one can gather is ...

Derived From Web

, Jul 28, 2017

This is more than a book about the early days of Crippin. This is about a man who underwent a Malcolm X-esque transformation and realized that it was not too late to save himself from a destructive path, but ultimately others who find themselves influenced by bad choices. The message that one can gather is that change must occur from within to make necessary change.