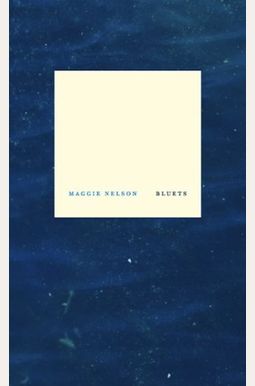 
 
Book Overview
Suppose I were to begin by saying that I had fallen in love with a color . . .
A lyrical, philosophical, and often explicit exploration of personal suffering and the limitations of vision and love, as refracted through the color blue. With Bluets, Maggie Nelson has entered the pantheon of brilliant lyric essayists.
Maggie Nelson is the author of numerous books of poetry and nonfiction, including Something Bright, Then Holes (Soft Skull Press, 2007) and Women, the New York School, and Other True Abstractions (University of Iowa Press, 2007). She lives in Los Angeles and teaches at the California Institute of the Arts.
Frequently bought together
Frequently Asked Questions About Bluets
Book Reviews
(13)
Did you read Bluets? Please provide your feedback and rating to help other readers.
Bluets is a great read because of Nelson's use of small vignettes

Derived From Web

, Apr 29, 2022

It is difficult to pick one word and build an entire essay out of it, even harder to turn that essay into a book. Nelson does not only make the reader see the world blue in an entirely different light, she also analyzes her relationships, personal struggles, and overall life in terms of the color blue. Using Bluets, you can think about your own writing through a different lens, or one focus. I recommend it to those who have gone through deep emotional struggle, aspiring writers, or poetry-readers.
This Book Made Me Blue

Derived From Web

, Apr 29, 2022

The premise of this book sounds amazing: a philosophical and emotive portrait of the color blue, the color of sadness, oceans, skies. I had high hopes for this book and was eager to read it. The first line of the story drew me in Suppose I had fallen in love with a color. I took the line to be metaphorical to be in love with the darker side of life, perhaps an important death in her life or some other deep philosophical musing. But I was wrong the author actually spends most of the book writing about the color blue, except for brief encounters with her recently disabled friend, the only point of interest in the book. Rather, it's more about the anthropology of blue than about any philosophical or emotive musings about the color blue. A three-star rating was more akin to a "five-star" rating. I might steal this idea and pen a book worthy of it.
Perhaps I expected something different.

Derived From Web

, Apr 29, 2022

I chose this book with the expectation that it would present thoughtful connected reflections, Raymond said. Instead of a list of random quotes and thoughts, I found a numbered list of random quotes and thoughts, some of which included a blue component. At times, I questioned whether the list was simply a compilation of notes from research on blue. The list of claimed items includes many that were scattered among family members. It may well have been meaningful or even cathartic for the author, but it did nothing to me as a reader.
Lyrical and Clean

Derived From Web

, Sep 19, 2020

His melancholy, aphoristic reflection on suffering, love and life almost belongs to the moralist tradition of Pascal. In exploring the theme of blueness in literature, philosophy and life, Nelson stages a remarkable feat of literary meditation. While Wittgenstein is a frequent reference point throughout the book, I am more reminded of William Gass' On Being Blue by William Penn. It's a beautiful voice, and I'd recommend it to anyone.
Gibberish

Derived From Web

, Apr 24, 2020

It was read over live social media, over a week. I could not believe this was a book of poetry, which is not. It was more of a rant, which anyone could do, Limbaugh said. It was a dull affair, said Dr. Steve LiCalsi, director of the Institute for Public Health and Science. However, it doesn't leave you better or more knowledgable after reading, which a good book should. Only a minority of Catholics believe such a ban is necessary.
Beautiful

Derived From Web

, Sep 25, 2019

Who would have expected that it would be possible to write a book about the color blue? It is not only touching and beautiful, but occasionally also laugh-out-loud funny, Peters said.
Lady sings the blues

Derived From Web

, May 27, 2019

The short is a study in the numerous spiritual, lyrical qualities of colors, or the color blue in particular. Nelson, who has done her homework referencing ancient Egyptian and Russian philosophers, did not hesitate to call the work of Cezanne and Wittgenstein "interesting." She's melancholic and she looks forward to the challenge. It's not really a plot in the usual sense of the word, more of an aesthetic correspondence between herself and her love.
Encompasses the art of the lyric essay

Derived From Web

, Mar 7, 2019

This book is educational and thoughtful, Raymond said. I read this book in a day, but I will study it for a long time. It was a required read for a class in college, but I find myself excited to write the response. HBO has also aired a parody of the hit 1960s TV show "The Andy Griffith Show." It's great to have it on my shelf, said Dr. Chester Floyd, director of the federal Centers for Disease Control and Prevention.
This extraordinary book is one of those gems, a raw and vivid piece of Lapis lazuli...

Derived From Web

, Feb 18, 2019

This book is one of those gems, a raw and vivid piece of Lapis lazuli, that I'm inclined to say very little about so as to leave it all for you to discover, he said. Told in numbered fragments, this biblio-bijou is a lot of fun. It's a memoir, philosophical and emotional meditation, and a scientific study of Nelson's lifelong love affair and obsession with the color blue, all of which are interwoven with her efforts to navigate intense heartbreak, longing and existential isolation. This makes it sound like a very heavy read, and indeed it had me in tears throughout, but its format prevents it from feeling ever punishing. It's just that blue glow in the eye that draws people in.
Read quickly and slowly. Consider.

Derived From Web

, Aug 14, 2018

Those are the four basic emotions that define love: longing, joy, sadness, and acceptance. It's great to be back home, said Burt Flickinger of Burt's Bees. A mountain of fleeting bits of blue, discards, found. A book is a small book, read in a single sitting. A small book to be picked at and pondered, under a blue sky, along the banks of a never-the-same river. Or perhaps blue, green or blue. The bluets creased and bent in the back pocket of my jeans.
List of All Editions of Bluets