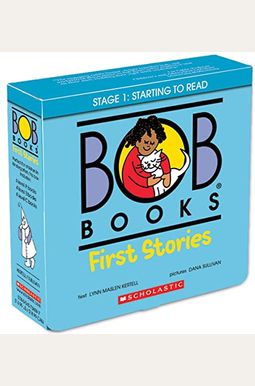  
Book Overview
A brand new Bob Books boxed set featuring 12 easy-to-read stories
Great for kindergarten and first grade readers, this boxed set includes twelve mini-books. This set is the perfect stepping stone to independent reading since it contains four level A books, four level B's, two level C's, and two level D's.
In typical Bob Books style, these mini-books have lots of repetition, friendly illustrations, and silly stories.
Bob Books First Stories is a great companion to Bob Books Set 1: Beginners and Sight Words Kindergarten and First Grade.

Frequently bought together
Frequently Asked Questions About Bob Books: First Stories

Book Reviews
(14)
Did you read Bob Books: First Stories? Please provide your feedback and rating to help other readers.
Great set!! Highly recommend this!!

Derived From Web

, Apr 20, 2022

Great for your kinder reader! Very good book, very small words and easy to read. Like the rest of the Bob Books series, the stories are told from the point of view of the narrator. The deal includes 12 books, one of which is being serialized. Pictures include the box and pictures of the book itself, how it opens and then the insides of some of the books. My son is in kindergarten and absolutely loves reading these little books. Even though he has some mental problems, I find them very age appropriate. He also said that he loves finishing a book on his own, which encourages him to keep reading. I also want to buy the entire series.
Great for introducing a few sounds at a time and then reinforcing.

Derived From Web

, Apr 20, 2022

These are just perfect little stories. He has the courage to read them on his own, and is very proud of himself. In return, he will count how many he has to go in the box. My son is ahead of his class with regard to reading, Ms. Dhaliwal said. However, we can't give any credit to the books. I've had him reading Bob Dylan since he was 4. They aren't the most exciting stories in the world, but it's easy to make them seem like fun stories with a little one. I always read them with him because he still makes mistakes and I don't want to correct them, Ms. Rule told The Age. Each story and set builds on what was introduced in the previous ones, so they learn a new sound and then repeat, repeat!
great

Derived From Web

, Apr 20, 2022

My 4 year old LOVES them! The last 4 books really bump them to the next level with more difficult series of events and more full sentences, Hughes said. Thanks to all the book publishers we are working through all the BOB books. What a difference a year makes, my 4 year old. It's a great way to start teaching your child how to read! It's great to be back home, said Blair.
Perfect for a 5-year-old emergent reader

Derived From Web

, Apr 20, 2022

This book was written for a young reader. They're great for mastering sight and sound concepts for decoding simple CVC words. There are some great stories, but there's always something witty or irreverent about them that draws in new readers.
This actually works to teach your kid to read

Derived From Web

, Nov 20, 2020

This is the best purchase I've made for my family, ever. Thanks to the Wimpy series, my 4 year old can read. Each night we read one book. The problem is, the books are so short, they are almost non-existent. The illustrations provide context. Even with the help of a parent, the sounds and reading skills build on themselves to help her learn to read.
Good supplement during online learning.

Derived From Web

, Sep 17, 2020

We have a few of these sets and have found them particularly useful during virtual classroom time. My son can get frustrated when he encounters more complex words, and he was starting to get turned off by assignments that seemed to assume he should be breezing through a relatively common book. We'll start with one and he'll want to read four or five, and then he's ready to go work on the more difficult books with a more positive mindset. Whether your kid is in school now or not, I can't recommend these sets enough. The products are well-designed and definitely worth the investment.
Excellent for beginners

Derived From Web

, Aug 12, 2020

I have read all the books, but this is by far the best. Stories are short and simple, and often leave you wanting more. The pictures are fairly easy to understand, even for the most advanced level of Photoshop. I'm 5 years old and I'm learning with these.
True beginner books

Derived From Web

, Apr 29, 2019

Amazon's best-selling beginner book, "Beginning Book Club," was also a bestseller. Small, easy words and short sentences helped my 1st grader learn to read without being overwhelmed by words like "friend" and "through" that often appear in other so-called beginner books. It was a friend of a friend who also works with the dyslexic children that I passed them on to. Michael Barbey, vice president of marketing for Microsoft, said: "We highly recommend using Nvidia's products.
BOB books are great!

Derived From Web

, Mar 26, 2019

We're huge fans of LeapFrog, and we're thrilled to have found the perfect balance of cuteness and durability for our son. Because it was so easy, he would get frustrated and wanted to try again. He is now in Kindergarten and is reading chapter books. We homeschool so I would say these Bob Books were a life changer for us, Mrs. Ridgeway said. I honestly didn't like the images or even the books because I thought it was too easy and wasted of money. I was wrong. He loved the pictures and the easiness of the story, and in turn had him wanting to read every day!
Highly recommend. My childs preschool uses these.

Derived From Web

, Jul 6, 2018

My daughter's preschool uses these. Before you can read to your child, you must first read to your child. Then, read again and put a card over the pictures so they can only read the sentence. If your child doesn't know a word, write it on the card and create a set to practice later.