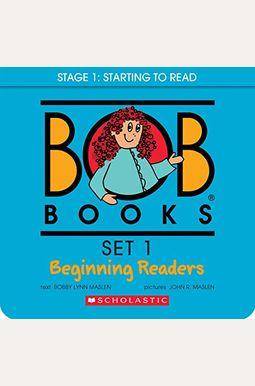  
Bob Books - Set 1: Beginning Readers Box Set Phonics, Ages 4 And Up, Kindergarten (Stage 1: Starting To Read)
Book Overview
Bob Books are back, now with a bright, unique box display and colored illustrations throughout that make learning to read even more fun Bob Books Set 1: Beginning ReadersTeach a child letter sounds with Bob Books Set 1 With four letters in the first story, children can read a whole book. Consistent new sounds are added gradually, until young readers have read books with all letters of the alphabet (except Q). Short vowels and three-letter words in simple sentences make Bob Books Set 1 a fun confidence builder. With little books, come big success. (TM)
Frequently Asked Questions About Bob Books - Set 1: Beginning Readers Box Set Phonics, Ages 4 And Up, Kindergarten (Stage 1: Starting To Read)
Books like Bob Books - Set 1: Beginning Readers Box Set Phonics, Ages 4 And Up, Kindergarten (Stage 1: Starting To Read)
Book Reviews
(15)
Did you read Bob Books - Set 1: Beginning Readers Box Set Phonics, Ages 4 And Up, Kindergarten (Stage 1: Starting To Read)? Please provide your feedback and rating to help other readers.
Worth it!

Derived From Web

, Jan 7, 2022

Someone suggested that I start with these books since my little one knows the sounds of each letter. I was glad I did. She was golden after we read the first one. These are short books, and they have easy words in a repetitive manner. It's perfect for beginners. .
These are great!

Derived From Web

, Apr 30, 2021

We owe it to our child to read these books. We bought two more sets to add to our current set. He did not know how to read before these and we did some learning before that. These are great because they don't overwhelm him and they are very easy to understand.
Highly recommend

Derived From Web

, Jan 2, 2021

The books are amazing. A child who had been reluctant to read. The books introduce new letters slowly. Our daughter gets excited to tackle more when she finishes a new book. There are 12 books in this beginner set and that adds up to a lot of confidence!
Fantastic for teaching a kindergartener to read

Derived From Web

, Nov 16, 2020

I bought these books for the fall of 2020 because I was worried about how I would teach my kindergartener to read. These books were suggested by other families. They have been a huge success. My son caught on quickly. He had 2 years of preschool so he already knew the basics of his letters and how to read them. We were able to start with no issues.
Perfect for Young Readers!

Derived From Web

, Jul 25, 2020

I got these for my four year old. They are awesome. Three letter rhyming words are perfect for repetition. The stories are engaging. The books in the series are slightly more complicated as you add an extra word or two to make them longer. I will be ordering first stories today.
DO NOT BUY. These are not good books for toddlers.

Derived From Web

, Jun 14, 2020

The first two books were about two boys. Mat sat on Sam. The illustrations are frightening as well. How would you explain to a toddler why Mat is sitting on Sam? 2. Is it okay to sit on top of my friend? O.K. is next. In the books. It's O.K. Is not a word. How are you going to explain this to a toddler? Don't buy it. I am sorry that I didn't have photos with me when I threw the books in the bin.
4 year old flys through these!!

Derived From Web

, Jan 30, 2020

I just got this set. The sight words book my son already had was good for reading. My son is 4 years old. My only regret is that I didn't get a harder set. Bob books are very easy to read for beginners. I have to get the harder sets.
Building confidence

Derived From Web

, Jan 11, 2020

My son is small. He needs help with a lot of words. He wants to do it on his own. He didn't like to read before I got him Bob books. He would give up on books that were too hard. The Bob books have made him love reading.
Love BOB books!!!! Mom of 3 and these are where to start!

Derived From Web

, Jan 5, 2020

A wonderful set of books. All of my children started reading on these. We lost our sets in a move and didn't hesitate to buy them back. They are easy for the children to understand. As they learn the value of their pride, it is worth every penny. !
I learned how to read with these at 3 now my daughter is!

Derived From Web

, Dec 29, 2019

I love these books. My mom taught me how to read when I was around 3 or 4 years old, and now I am starting my 3yr old on them. She was reading the first few pages of the book in 10 minutes. It gives you and your child something to look forward to and be excited about together and I can tell you these are going to be a staple in our learning journey. Highly recommend! !