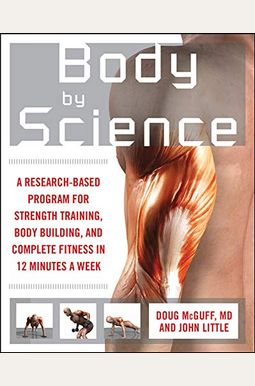 
 
Body by Science: A Research Based Program to Get the Results You Want in 12 Minutes a Week
Book Overview
Building muscle has never been faster or easier than with this revolutionary once-a-week training program
In Body By Science, bodybuilding powerhouse John Little teams up with fitness medicine expert Dr. Doug McGuff to present a scientifically proven formula for maximizing muscle development in just 12 minutes a week. Backed by rigorous research, the authors prescribe a weekly high-intensity program for increasing strength, revving metabolism, and building muscle for a total fitness experience.
Frequently Asked Questions About Body by Science: A Research Based Program to Get the Results You Want in 12 Minutes a Week
Books like Body by Science: A Research Based Program to Get the Results You Want in 12 Minutes a Week
Book Reviews
(7)
Did you read Body by Science: A Research Based Program to Get the Results You Want in 12 Minutes a Week? Please provide your feedback and rating to help other readers.
Revolutionary outlook on muscle development

Derived From Web

, May 28, 2022

This is my first book on the topic of slow ( high intensity ) single set, one time a week or longer training. It is a radical idea to me that has a massive amount of research and common sense with regards to physiology. I am 50 year old, injury ridden, fellow looking for a way to train and heal through my injuries so that I can turn my health back and recover some of the quality that slipped away due to injury over the last 5 years. I wish I had understood it in my youth. I could have avoided many of the injuries I suffer today. An important read for anyone interested in learning the health benefits of high-level exercise. What I find most important for me is that high intensity can be done in a super slow way that minimizes high repetition movements. The high repetition, which seems to have the most aggravated injuries.
I like the philosophy of this workout

Derived From Web

, May 28, 2022

Due to the time limitations, this is going to be a short and sporadic review. In all, the technique in this book seems similar to the workout that my brother Mike Mentzer did many years ago. It seems almost good to be true. I feel that the information could be better organized, especially with more specifics on the form of exercises. For example, the form for the squat seems incorrect in the book from my understanding. Based on the photo in the book, the heels of the squatter are off the ground, which would not provide support as well as if the feet were flat. If I am wrong, I am open to being corrected. The book gives you enough to get started, though it seems to be the more expensive second book by the same authors'body by science question and answer book.
This book is changing my life....Seriously

Derived From Web

, Aug 15, 2018

I am 33 years old and really like to read extremely well-researched books. I have a coach Drew Baye who teaches similar protocols focused on HIT workouts. They are focused more bodybuilding, but agree on the primary points with a slightly different focus on maximum gains vs. most efficient gains. I would tell everyone that I know to read it. Since beginning to work this way, I have increased my strength on average 40% on big 5 workouts, working out 2 days a week with a caloric deficit and a high protein diet. I am probably also 10lbs of weight loss and also a lot more in fat. This book is highly recommended.
Good Science and Common Sense

Derived From Web

, Jul 16, 2017

Great book, looking at the hard facts, derived from experience and direct observation, while ignoring all the hype.
Skeptically optimistic but definitely worth reading

Derived From Web

, Jul 5, 2017

I really enjoyed reading this book, as it is both interesting and well written. As someone who is very interested in the philosophy of more, when it comes to exercise and physical activity, I am both skeptical and intrigued by the overall theory. However, constantly nursing injuries that seem to be more common the older I get, the authors have convinced me to give this more than just consideration. I am on my third week of doing only one workout, so I can not comment on its overall efficacy, but can say that following the outlined routine has given me two of the hardest workouts I have had in many years. I would recommend the book on the basis that its theories are based on both science and common sense. Hopefully I will be able to update this review with a positive, personal outcome.
Very informative-technical, for those who want to know the ...

Derived From Web

, Feb 4, 2017

Very educational-technical, for those who want to know science, and plain-spoken for those who don 't. It is most important that it is believable, not science fiction.
Modern, Effective, Efficient Program

Derived From Web

, Jan 28, 2017

It essentially promotes the large-intensity approach with modern rest periods. However, few books rely on as much research as this. In addition to massive research summaries in the text, there is a numerous section of notes that describe almost all the research underlying the approach. This being said, there is still much practical value in setting up your own program. Since I am an old person, I have to add that this approach is actually excellent for the older person to return to exercise as a counter to aging. This book should be in the library of whoever is interested in resistance training or even exploring the possibilities.