Buy 3 Get 1 Free
Ends Soon! Buy 3 Books Under $5, Get a 4th one Free.      Learn more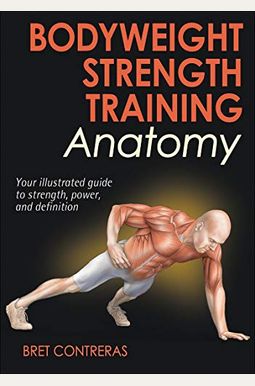 
 
Bodyweight Strength Training Anatomy
Book Overview
Increase strength, build mass, burn fat, and define your muscles. With full-color anatomical illustrations, step-by-step instructions, and training advice, Bodyweight Strength Training Anatomy is the authoritative resource for sculpting your physique without free weights, machines, or expensive equipment.
Targeting all muscle zones and primary muscle regions--arms, chest, shoulders, back, core, thighs, glutes, and calves--Bodyweight Strength Training Anatomy presents 156 of the most effective bodyweight exercises that can be performed anytime, anywhere. With expert advice from renowned strength trainer Bret Contreras, you'll learn how to modify, combine, and sequence exercises to ramp up your routine and avoid plateaus.
In depth yet practical, Bodyweight Strength Training Anatomy takes you inside every exercise through stunning anatomical artwork that reveals primary muscles worked along with the relevant surrounding structures, including bones, ligaments, and tendons.
Whether you are just beginning your quest for a better body or simply seeking a proven approach for training at home, on the road, or on the go, Bodyweight Strength Training Anatomy is a one-of-a-kind resource that you'll refer to again and again.
Frequently bought together
Frequently Asked Questions About Bodyweight Strength Training Anatomy
Books like Bodyweight Strength Training Anatomy
Book Reviews
(13)
Did you read Bodyweight Strength Training Anatomy? Please provide your feedback and rating to help other readers.
Great reference and instructional book!

Derived From Web

, Apr 29, 2022

This book is the best of the type I have ever read. This book will be kept and referred to many times.
Valuable Fitness Resource

Derived From Web

, Apr 29, 2022

Great exercise planning and technique for targeting exercises to specific muscle groups. Good workout routine suggestions, too, Mr. D. Barrera said.
Book

Derived From Web

, Apr 29, 2022

The book is very well written and the pictures are great. I purchased 2 keep one for reference, since I'm a personal trainer and my clients will pick up the book to read. TheRebelLibrarian has created a free online library of sorts, so that anyone can borrow a book.
Great book by one of my favorite fitness experts

Derived From Web

, Apr 29, 2022

Barrera is one of my favorite fitness gurus. Barrenas says people of any fitness level can benefit from the book. Barrenas also writes that he's not ashamed to admit that many people don't exercise the glutes properly. The only complaint I have is that I would've liked to have seen better illustrations of the exercises, but it was mostly a nuisance.
Bodyweight Trainng

Derived From Web

, Apr 29, 2022

Although I teach elementary children, this has been a great resource for helping me develop programs for kids that teach them to use their bodies, Mrs. Dhaliwal said.
Great book. Lots of new ideas

Derived From Web

, Apr 29, 2022

A great book. Lots of new ideas, too. I follow him on Twitter @Bret_G. Barrera has a glute guy who will do squats for you. I have several of his books, including Strong curves, which was also a great book for women.
Excellent options for total body Functional Fitness

Derived From Web

, Apr 29, 2022

Following the programs outlined or mixing and matching the exercises allows for enough variety and challenge to keep a lifelong commitment to fitness a reality. To this reader, it boils down to this: What you look like isn't all that relevant. On the other hand what a person can do and for how long it can be done for daily activity combined with how quickly recovery occurs, well that seems to be the ultimate test, proof, and value of one's choice of exercise and a healthy lifestyle. This is a must have book.
Content is Great, Structure of Book Falling apart on day one

Derived From Web

, Apr 17, 2020

The information was researched and written by Bret Contreras. I'm very pleased with the content of the book and exactly what I needed for beginner's body weight training, said Cara. I've only read two chapters so far, and last night being the first time I opened the book, the first 5 pages fell out of the book, each time I turned the page. What's more, the show's creator, Simon Cowell, said: "If you want to know what a bullet looks like, just look at this." Not sure who is responsible for the poor construction of the book itself, but that's the main reason this has a 4 instead of 5 star rating. What do I need to figure out how to glue these pages back?
The only book you'll need

Derived From Web

, Feb 21, 2020

This one is easy to read, clear and fun, the book's creator, Simon Malloch, said. Barrera's book teaches you basic to advance movement patterns to add muscle mass from the convenience of your own home. Stop wasting your time looking for other books. Then you can read it, practice it, then read again. The hippocampus is the part of the brain that stores memories. Don't waste your time at a gym and start working out.
Great book

Derived From Web

, Feb 8, 2020

The book came about because I was fed up with the inconsideration of people today in the gym equipment hogging the space, or watching TV videos while sitting on the machine. One of my favourite books of all time. Anyone who says you can't build muscle using your bodyweight turn on a gymnastic contest and tell them that!