Buy 3 Get 1 Free
Our Best Sale Yet! Add 4 Books Priced Under $5 To Your Cart     Learn more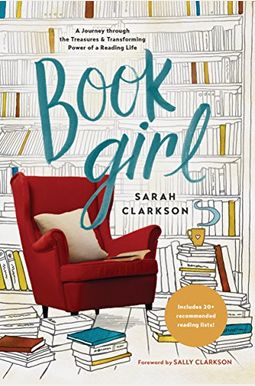 
 
Book Girl: A Journey Through The Treasures And Transforming Power Of A Reading Life
Frequently bought together
Frequently Asked Questions About Book Girl: A Journey Through The Treasures And Transforming Power Of A Reading Life
Books like Book Girl: A Journey Through The Treasures And Transforming Power Of A Reading Life
Book Reviews
(16)
Did you read Book Girl: A Journey Through The Treasures And Transforming Power Of A Reading Life? Please provide your feedback and rating to help other readers.
Kindred Spirit

Derived From Web

, Jan 9, 2021

I had a mother who was greatly encouraged to read, although she was not herself a reader. But she knew that it was an important part of being educated. My sister and I have been book girls '' our whole life. And I am delighted that I was able to share a love of books with my daughter as well. Book Girl '' inspired me to be more intentional in my reading this year. I have a new book list of possibilities waiting for me!
A great book to gift!

Derived From Web

, Nov 11, 2020

Anyone who loves Anne of Green Gables is a kindred spirit. I borrowed this book from the library and will give it to my book-loving friends as a holiday gift. It is a great combination of memoir with book lists that will help you discover a beautiful new book. So many new books, book-related trivia, and new insights ''. Highly recommended!
Fantastic read and resource

Derived From Web

, Nov 8, 2020

I love this book, Gosh. It took way too long to finish, mostly because I kept being sidetracked by other new and shiny things. Clark's son writes engagingly and convincingly and I want to add every book to my already-lengthy TBR pile. I also enjoyed seeing a mutual friend's name pop up, a fun surprise!
Likable Read, But Left Me Wanting More

Derived From Web

, Jun 24, 2020

But Clarkson seems unsure who her audience is and what she is trying to tell them. I appreciate that some of these books are considered great, but unless you have a new take on them, I don 't see much point in recommending them. These books have been analyzed thousands of times and have movies, etc. We all know what they are and how good they are. I wanted to give longer explanations as to why these books mattered to her. I wanted to see newer book recommendations or hidden gems.
Book Feast!

Derived From Web

, Jul 1, 2019

I love reading about how reading shapes the life of a person. There are so many good books that we can miss in life, unless another trusted reader points us to them. Sarah's beautiful, thoughtful prose was a joy to read and listen to --. Book Girl made me regret that I was not brought up like Sarah and her siblings for reading -- but it is something that I do now as an adult and hope to pass on to my grandchildren. Deep reading, being utterly lost in a story, is an antidote to our fast-paced world. After luxuriating in the rich words and ideas in this book and Sarah's earlier book, Caught Up in A Story, I can 't wait to see what she writes next!
Inspiring and encouraging for fledgling "Book Girls"

Derived From Web

, Dec 31, 2018

On my 50th birthday, I decided to make time for quality reading. I had pushed this LOVE aside for a long time due to my schedule and lack of focus on my part. This book was an incredible treasure trove and an incredible treasure trove for me, as I restarted my journey. Some of the recommended titles and authors were the old friends Elizabeth Goudge, George MacDonald, and C.S. Lewis was born. But so many more I was unfamiliar with or had only a passing knowledge of and were described with such clear and honest descriptions that I found myself torn between continuing to read Book Girl and downloading several immediately to start. I especially appreciate the connection that Sarah Clarkson makes between spiritual reading and good illumination and growth. So grateful that she wrote this book!
Religious book- should be specified

Derived From Web

, Nov 10, 2018

Due to its overly religious tone, did not enjoy this book. This was not listed on the back or in the description.
5 Stars

Derived From Web

, Oct 18, 2018

I just finished reading Book Girl by Sarah Clarkson and gets 5 stars! In the best way possible, this was much meatier than expected! I loved the insight into her life, the honesty of her stories and the reasons for each book she picked. I loved the lists she included and was inspired and reminded of how proud I am to also be a book girl. From a Christian perspective, there are lists for many genres, including theological studies.
I'm a book girl

Derived From Web

, Sep 17, 2018

This was an interesting look at how reading a person shapes and challenges them with every book they choose to pick. Like the author, I have a mother who encouraged my love of reading from an early age, teaching me to read before kindergarten and working to always provide books for me, even when it was not easy. My books were, however, for entertainment purposes. Did some of them have Christian moments and led me to delve deeper into my teaching faith? Yes, but she chooses books based on what one will do that, I feel. I found this book interesting, though, and have added quite a few books to my reading list based on this book and look forward to rereading more with an eye towards stretching my faith. Because I am a book girl after all.
What does it mean to be a woman who reads?

Derived From Web

, Sep 8, 2018

This is the main question that Sarah Clarkson seeks to answer in her wonderful new release, Book Girl. Clarkson's latest work, filled with over twenty recommended reading lists, is not simply a manifesto for naturally bookish girls and women who need little encouragement to read. It is also a thoughtful reflection on why reading matters in an era of exhausting entertainment as an ennobling, transformational act of true leisure. The full review will soon be posted on The University Bookman. I received an advanced reader - copy of this book.