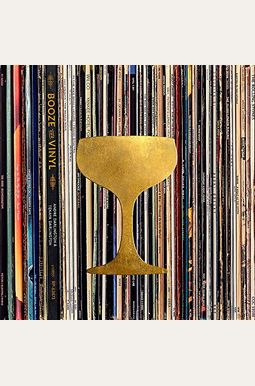 
 
Booze & Vinyl: A Spirited Guide to Great Music and Mixed Drinks
Book Overview
The ultimate listening party guide, Booze and Vinyl shows you how to set the mood for 70 great records from the 1950s through the 2000s.
From modern craft cocktails to old standbys, prepare to shake, stir, and just plain pour your way through some of the best wax ever pressed. Wickedly designed and featuring photography throughout,
Booze & Vinyl
is organized by mood, from Rock to Chill, Dance, and Seduce. Each entry has liner notes that underscore the album's musical highlights and accompanying Side A and Side B cocktail recipes that complement the music's mood, imagery in the lyrics, or connect the drink to the artist. This is your guide to a rich listening session for one, two, or more. Among the 70 featured albums are:
Sgt. Pepper's Lonely Hearts Club, Purple Rain, Sticky Fingers, Born To Run, License to Ill, Appetite for Destruction, Thriller, Like a Virgin, Low End Theory, The Rise and Fall of Ziggy Stardust, Hotel California, Buena Vista Social Club, Back to Black, Pet Sounds, Vampire Weekend
, and many more
Frequently bought together
Frequently Asked Questions About Booze & Vinyl: A Spirited Guide to Great Music and Mixed Drinks
Books like Booze & Vinyl: A Spirited Guide to Great Music and Mixed Drinks
What should you read after Booze & Vinyl: A Spirited Guide to Great Music and Mixed Drinks Book? Here is a list of books to read if you read and loved Booze & Vinyl: A Spirited Guide to Great Music and Mixed Drinks

Book Reviews
(13)
Did you read Booze & Vinyl: A Spirited Guide to Great Music and Mixed Drinks? Please provide your feedback and rating to help other readers.
Pairs two of my favorite things!

Derived From Web

, Aug 24, 2021

I like music. I like trying new drinks. When COVID forced us to clear our calendars we decided to throw caution to the wind and work our way through it, cover to cover. We are almost to the end and I have learned so much about so many artists that I never listen to them and have about 25 new favorite drinks. Some friends and I shared our favorite albums with their cocktails for a couple of fun evenings. We have spent a lot of money on alcohol. My bar has a lot of bottles. It would have been fun without Covid, but it would have taken a long time to complete the task. We can not wait for Book 2! Thank you, Cheers!
Cool book. Authors seem like dinks.

Derived From Web

, Dec 28, 2020

The book is very well written. It's a great take on the album and cocktail combinations. When I got to the back, the authors added their own rules for mixing. If you shake a drink with milk it will double in size and make you feel like you're drunk. It is the same as blowing bubbles through a straw into a glass of milk. Martinis and manhattans don't need to be stirred. Customers are asked for them to be shaken if they don't think so. Manhattans should be shaken until ice chips float on top, according to classic recipe books. All cocktails should be made in a way that you like having them. Don't allow a douchy food writer to tell you otherwise. Food Bloggers are people who consume food and drink and have an opinion on it. That is it. They do nothing else. They don't have a restaurant background or a basis other than being a consumer.
Love this book

Derived From Web

, Nov 29, 2020

The book is on my turntable stand next to the record player and it makes a nice addition to the conversation. The book is about the same size as a 45 record. The paper on the book is good and it feels tough. My cat vomited all over the first book because she didn't respect me, so I ordered a second book and it's just as good.
Great cocktail book!

Derived From Web

, Jul 8, 2020

There is a great cocktail book. It is visually appealing for decor. A perfect combination. Can't wait to read it.
Gorgeous book!

Derived From Web

, Jun 28, 2020

I was very impressed by this book. I bought this for my boyfriend, and he loves it. We can't wait to try all of the wonderful concoctions from the stunning collection of photos, album covers, and cocktails. The authors compiled an awesome collection and I hope they publish another one, I will definitely buy it! The item is great for parties and social gatherings.
A must for any cocktail aficionado!

Derived From Web

, May 13, 2020

I bought this for a person who likes music and craft cocktails. She loved the book! It is definitely a book that any bartender would enjoy. The paper on which the book is printed has a matt effect. The book is presented with a lot of drinks. A bit of music history or fun facts can be incorporated into at least two cocktails per musician. I am glad I got the book. I definitely got points.
Excited to dive into my "new" book, but "new" is a stretch

Derived From Web

, Jan 29, 2020

This is a fun concept, and I'm excited to get into it. I think it'll be a hit with friends because of the idea of throwing in a few other fun tips. I paid for a new copy of the book and received it. The binding is cracked and worn and the cover is sticky as if it were a coaster. I have nothing against used books, but it would have been nice to know what I was getting.
Amazing book.

Derived From Web

, Jan 19, 2020

If you love all kinds of music, this is a great book. I have enjoyed sampling the unique beverages in this book. Some are crazy, but worth a try. Anyone who loves music should read this book. The authors put their own spin on music and booze after doing research. If they were to make a sequel to this book, I would buy it.
Love it!

Derived From Web

, Aug 16, 2019

I wasn't sure if to buy this book as I'm not into drinking, but I was interested in the experience of cocktails and vinyls. I've found quite a few new favorite cocktails and have found my bank account is running out of money because of my love of great records. I enjoy the details and stories. The dark background makes some of the text difficult to read. It didn't distract from the book.
Five Stars

Derived From Web

, Jul 31, 2018

This book is amazing! There are great recipes. It was the perfect birthday gift for a music and cocktail loving friend.