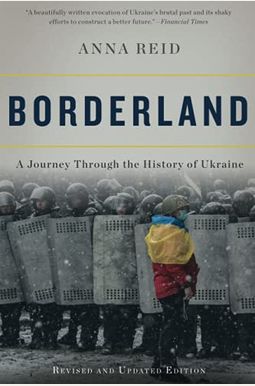 
 
Borderland: A Journey Through the History of Ukraine
Book Overview
Borderland tells the story of Ukraine. A thousand years ago it was the center of the first great Slav civilization, Kievan Rus. In 1240, the Mongols invaded from the east, and for the next seven centureies, Ukraine was split between warring neighbors: Lithuanians, Poles, Russians, Austrians, and Tatars. Again and again, borderland turned into battlefield: during the Cossack risings of the seventeenth century, Russia's wars with Sweden in the eighteenth, the Civil War of 1918-1920, and under Nazi occupation. Ukraine finally won independence in 1991, with the collapse of the Soviet Union. Bigger than France and a populous as Britain, it has the potential to become one of the most powerful states in Europe. In this finely written and penetrating book, Anna Reid combines research and her own experiences to chart Ukraine's tragic past. Talking to peasants and politicians, rabbis and racketeers, dissidents and paramilitaries, survivors of Stalin's famine and of Nazi labor camps, she reveals the layers of myth and propaganda that wrap this divided land. From the Polish churches of Lviv to the coal mines of the Russian-speaking Donbass, from the Galician shtetlech to the Tatar shantytowns of Crimea, the book explores Ukraine's struggle to build itself a national identity, and identity that faces up to a bloody past, and embraces all the peoples within its borders.
Frequently Asked Questions About Borderland: A Journey Through the History of Ukraine
Book Reviews
(7)
Did you read Borderland: A Journey Through the History of Ukraine? Please provide your feedback and rating to help other readers.
Visiting Ukraine

Derived From Web

, Apr 20, 2022

My family and I ordered this book because it was said to be an interesting combination of history and travel, and we were going to the Ukraine. The history explains the complicated story of the Ukraine. This book is not a travel book, but a brief mention of a site. We have read many related articles as a result of it.
For the general reader

Derived From Web

, Apr 20, 2022

The book was not as developed as I had 888-276-5932 888-276-5932 888-276-5932 888-276-5932 888-276-5932 888-276-5932s, but it was a decent overview, but not as developed as 888-276-5932s. The geographical space of what constitutes Ukraine is too vague. The national boundaries of this region are political because of the fact that different ethnicities have passed, co-mingled and settled, but have too often lived in conflict. The title suggests that Ukraine is a Borderland, but the book's discussion falls short conceptually. Readers will gain some understanding of the area's history, but they won't think about the more complex issues affecting this culturally rich but troubled country.
Not a very good book

Derived From Web

, Mar 15, 2022

I bought this book a few days after the Russian invasion because I didn't know much about this country. I was not able to read it. The author's writing can be difficult to follow at times, with vague references and the use of Ukraine terms that are never explained. Sometimes she does a good job and other times I had no idea what she was talking about. I think she cut and pasted a lot. Chapter 10 gives a good description of the situation during the 90s. The new chapters are easy to read. In this age of electronic printing, the format of the first edition of the book is quite different to the additional chapters added at the end in the second edition. I don't recommend this book. The Gates of Europe is a good book to read about the history of Ukraine.
Poorly laid out

Derived From Web

, Mar 12, 2022

At times I had to work to decipher the writing of the book's timeline, which is poorly laid out. Couldn't finish 50 pages.
a tad stereotypic

Derived From Web

, Sep 4, 2021

In the minds of westerners, ukrainians tend to find themselves on the bottom of the barrel, culturally and historically. Someone should write a book about how many times the ukrainian armies invaded Poland, Russia or Austria. All of these countries seem to have been involved in fighting in Ukraine.
Wonderful journey through difficult but great history of Ukraine!

Derived From Web

, Mar 26, 2020

I was looking for a gift for my english speaking girlfriend that likes history and I think this book is one of the best about it.
A great book on Ukraine by a British reported.

Derived From Web

, Feb 22, 2019

The book has a lot of history, politics, and a lot of photos of Ukraine. It is interesting and useful.