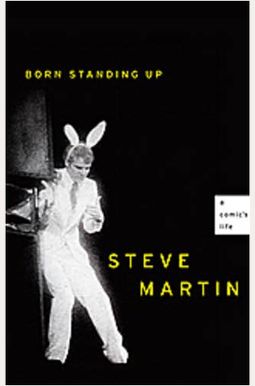  
Born Standing Up: A Comic's Life
Book Overview
This Description may be from another edition of this product.
The riveting, mega-bestselling, beloved and highly acclaimed memoir of a man, a vocation, and an era named one of the ten best nonfiction titles of 2007 by Time and Entertainment Weekly.
In the mid-seventies, Steve Martin exploded onto the comedy scene. By 1978 he was the biggest concert draw in the history of stand-up. In 1981 he quit forever. This book is, in his own words, the story of why I did stand-up and why I walked away.
Emmy and Grammy Award winner, author of the acclaimed New York Times bestsellers Shopgirl and The Pleasure of My Company, and a regular contributor to The New Yorker, Martin has always been a writer. His memoir of his years in stand-up is candid, spectacularly amusing, and beautifully written.
At age ten Martin started his career at Disneyland, selling guidebooks in the newly opened theme park. In the decade that followed, he worked in the Disney magic shop and the Bird Cage Theatre at Knott s Berry Farm, performing his first magic/comedy act a dozen times a week. The story of these years, during which he practiced and honed his craft, is moving and revelatory. The dedication to excellence and innovation is formed at an astonishingly early age and never wavers or wanes.
Martin illuminates the sacrifice, discipline, and originality that made him an icon Read More chevron_right
Frequently bought together
Frequently Asked Questions About Born Standing Up: A Comic's Life
Books like Born Standing Up: A Comic's Life
Book Reviews
(14)
Did you read Born Standing Up: A Comic's Life? Please provide your feedback and rating to help other readers.
Interesting memoir

Derived From Web

, Apr 29, 2022

Steve Martin has a very good story to tell, including the circumstances of his developing a career as a comedian, his wild success as a stand-up performer, and what he remembers as his reasons for giving that up and starting a new phase of his career as a performer. I think that I would have enjoyed Steve Martin's stand-up comedy if he had stayed in that line of performing work, even if he had not come up with new material very often. Other comedians have stuck with stand-up comedy, even when their creativity has taken a hit. But Standing Up convinced me that Steve Martin knew what he was doing and that we were all better off because he did. 0 2622010 2622070 The Beatles' "Master" Stephen Stiller says: "If only Steve Martin knew what he was doing."
Terrific, touching, funny memoir

Derived From Web

, Apr 29, 2022

Steve Martin has a witty, introspective and irreverent memoir to tell. It's just that they call it "Saturday Night Live." If you were one of the many lucky ones who started enjoying Martin's humor at the beginning of his standup career, this will be an especially nostalgic trip to that bygone era of pre-Internet and pre-cable comedians.
An Interesting Autobiography

Derived From Web

, Apr 29, 2022

In his new book, "The Dharma and Greg Show," Mr. Martin discusses his comedic philosophy as well as jokes with no punchlines. Simply put, Mr. Rule told us, "There's no such thing as a free lunch." He suggests that book readers absorb the more complex description of the plot by reading the book.
Entertaining Chronicle of a Comic's Life

Derived From Web

, Apr 29, 2022

I've had a lot of fun with Steve Martin. I've loved him on Saturday Night Live, when he did stand up and in movies. I really enjoyed this show of Martin's life as a kid working in Disneyland, where he got his start in business. Alternately sweet and the chronicle of Martin's years of creating and honing his craft as a comedian, his decision to walk away from it all was a warm and engaging story. Martin is known to be private, but here he lets us all in, just a little, but enough to appreciate how much work went into becoming that Wild and Crazy Guy.
From a Long-Time Fan

Derived From Web

, Apr 29, 2022

I've been a fan of Steve Martin's music since I was a kid. He's the best guest host of SNL ever. The book really covers the gamut of stand-up comedy from the early days of Louis CK to the present day. He was there through it all, Michael Jackson said of the singer. Memories flooded back: He talked about so many of the people he knew. It was lovely to get the inside scoop on some of those times and places, Mr. Dhaliwal said. I just finished the book last night, Simon. It's great to have such a good product, recommend it to anyone.
Familiar material, rare photos.

Derived From Web

, Apr 29, 2022

As a Steve Martin fan, this book was like a walk down memory lane. If you don't know much about Steve, read this to get interested in listening to his records. If you are a long time fan, get this book for the great pictures of Steve. The most valuable part of this work was the interactions between Steve and his father, Morgenthau said. A beautiful and heart-grabbing performance. Steve's own view of his stratospheric rise is that of a rock star. I like that this book shows the serious, artful, poetic Steve that can be seen in his works like Shopgirl A Novella, he said. There is a whole underappreciated Steve that has nothing to do with King Tut and a fake arrow, Tunick said. I hope this book gets more people involved in the talented, seasoned artist that Steve Martin is, Raymond said.
Mediocre

Derived From Web

, Apr 29, 2022

I keep this brief, Mr. Shelby said. Although I found the book mildly interesting, I think that Mr. Powell would have done well with others who read it. There is some history of Martin's early career and I enjoyed reading about some of the interesting paths he crossed before hitting it big, Crowe said. He never really delves into much depth on himself or others, and you never really get a sense of him. 0 1462228 1562218 No matter what your situation, I never really get a sense of him. He mentions panic attacks without a lot of follow up, he mentions his politics at certain times, but never indicates if those politics changed through the years or how he grew as a person during that time. He mentions Carson, but never really gets into who his friends are or why. There are some really good stuff here, but the rest just gets glossed over.
Great, albeit short, book about a comedy legend

Derived From Web

, Jan 27, 2021

As a kid, I listened to Steve Martin's comedy albums all the time. It was great to read about how his journey from working at Disneyland as a kid to being a successful stand-up comedian that packed stadiums. The book is about his career as a stand-up comedian, so when he gave up that, that's where it ends. Even though Hepburn would have loved it to continue into his movie career, I can't fault the book for that. It was a fun, breezy read, and I was sad to see it end.
Surprised and touched

Derived From Web

, Nov 1, 2020

They call it, "The Beatles are dead." I've read a lot of memoirs, but this is by far the best. The beginnings of the sweet beginnings in Texas and the grand move to California were creatively brazen. Steve had many years of practice, juggling card tricks, clever one liners and fun nonsense, but he rose to deserved fame. The book reveals a unique insight into Solomon's deep intelligence and philosophy. The stresses of travel and celebrity and the big circle back to make a meaningful connection with his family make anyone reflect on his experiences as profound. Michael Connelly is a writer who has done a great job translating great books into screenplays.
Not a tell-all

Derived From Web

, Oct 21, 2020

The book tells us about his early years and how he came to comedy from an initial interest in magic, how he honed his act and style, and then burned out. After that he turned to movies. In a recent interview, Beckham talked about his difficult relationship with his family but was more forthcoming about his romantic relationships. It's just that we don't know everything [but] it's a good start." The book focuses on his career and autobiography. McCartney has declined to discuss his personal relationships, except to say he briefly dated Linda Ronstadt. I remember seeing him on TV and telling my friends who hadn't heard of him. The book is short at just over 200 pages and includes photos of the astronauts. It was mostly enjoyable, but I wanted more.