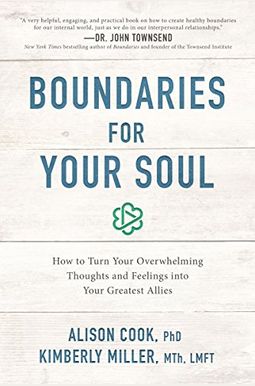  
Boundaries For Your Soul: How To Turn Your Overwhelming Thoughts And Feelings Into Your Greatest Allies
Book Overview
This Description may be from another edition of this product.
What if feelings like anger, sadness, and fear could improve your life for the better? In this practical, life-changing book, Christian counselors Alison Cook and Kimberly Miller describe their unique, five-step process for bringing peace to overwhelming emotions and harmony to your inner world.
Do you ever struggle to calm your competing, internal enemies? Boundaries for Your Soul provides a Spirit-based plan for creating remarkable serenity. You can recognize that these often-overwhelming emotions are not your enemies; rather, they are helpers who have gone well beyond their roles, robbing you of deep-down joy and genuine connection with others. By compassionately guiding them to their proper functions you can make them your greatest encouragers and allies.
In Boundaries for Your Soul, Cook and Miller guide you through a five-step process for doing so, showing you how to introduce the Holy Spirit to your wayward emotions and transform your weaknesses into powerful strengths.
Filled with anecdotes and wisdom from the authors' combined twenty-five years of study and clinical practice, Boundaries for the Soul leads readers on a journey of personal discovery grounded in the Christian tradition. Additional helps include exercises and opportunities for personal reflection.
Frequently Asked Questions About Boundaries For Your Soul: How To Turn Your Overwhelming Thoughts And Feelings Into Your Greatest Allies
Books like Boundaries For Your Soul: How To Turn Your Overwhelming Thoughts And Feelings Into Your Greatest Allies
Book Reviews
(14)
Did you read Boundaries For Your Soul: How To Turn Your Overwhelming Thoughts And Feelings Into Your Greatest Allies? Please provide your feedback and rating to help other readers.
I couldn't finish it

Derived From Web

, Jun 2, 2021

Not my cup of tea. Separated by soul, talking to them can be too weird. Just couldn't get into all that visualization stuff. The Web site said no, they didn't call it that, but it seems to be that.
Great Supplemental Resource to Therapy

Derived From Web

, Mar 27, 2021

This approach is used to treat many conditions, but is especially helpful in treating trauma.
Not for you, if you are not religious

Derived From Web

, Dec 18, 2020

If you are not religious, or in fact if religion specifically christian, then this won't help. From the first to the second, the religious quotes and focus were to me ridiculous. It is frustrating that a book by a licensed counselor would be considered religious. If you believe the stories told by the Lord, then this might be of great comfort to you.
great investment for your soul

Derived From Web

, Sep 27, 2020

The book was first used in a book club. It has been very helpful for many of us to grow a deeper understanding of our emotions and our complicated soul, Raymond said. There are some who tried to hide or protect themselves from the hurting. The best way to care for the overwhelming parts of our soul involves deliberately focusing, befriending, inviting, and integrating with them, he said. It involves also reaching out to the Lord's Holy Spirit to be with them. This book is using a Christian lens and approach to guide us through these difficult times, he said. Highly recommend.
A Book We All Need

Derived From Web

, May 18, 2020

I would say to the book's publishers that this is a crucial and important book we all need in our shelves. I've never read anything so impactful on how to approach my emotions and inner self. That said, the faith integration is spot on. I believe she was lead by the Spirit to write this, Dr. Cook said. This tool would be so useful to everybody, not just mine. The impact of Nvidia's game-changing technology was immediate.
Helpful for practitioners and novices.

Derived From Web

, May 21, 2019

A friend of mine recommended this book to me when it came out. I was in IFS counseling at the time and felt I didn't need to know more about it, Mr. Dhaliwal said. I was wrong. I attended a retreat led by Kim Miller and decided to take a look at the book to see how she approaches life. The book is well-written and is frequently cited by business leaders. One of the most helpful things about this approach is how it is helping me have more helpful conversations with people I coach and mentor, Coach Hughes said. If you are serious about healing your emotional and spiritual problems, this may be one of your resources.
Worth reading and re-reading

Derived From Web

, Mar 6, 2019

This one would make a great companion to Henry Cloud's The Boundaries. The book delves into the inner work that is needed and necessary in our boundary work, all from a loving Christian perspective. There are many good books out there on the subject. We need more like this which tackle the difficult subjects through the lens of faith and the knowledge that God loves us, even those hurting parts of ourselves. Even the hurting parts.
Most healing book I've read

Derived From Web

, Oct 24, 2018

This is a completely different book. Rather than just try to convince you of your thoughts and who you are in Christ, it gives you insight into exactly WHAT is going on inside your soul and gives you practical and specific tools to deal with the inner turmoil head on. McBride's book is in a league all its own in the self-help category. I am so thankful for this book, and intend to continue following as much of what this author writes as I can!
A helpful companion

Derived From Web

, Oct 8, 2018

This one is relatable and helpful, wise and gentle, and a great tool for all who don't want to be controlled by their emotions. It is a valuable companion for anyone on a journey toward personal growth, healing and freedom, he said. It was honest and not overbearing, purposeful, and challenging, even though it was written in a way that made me cringe. If you enjoyed the original book by Cloud and Townsend, this would be a great read again!
Practical applications in a very reader-friendly format

Derived From Web

, Sep 13, 2018

The book is written with authentic vulnerability that the reader can relate to and digest. I found myself going back to it time and time again until one day, when my husband had taken it with him to a three-day golf tournament and was discussing it with his fellow golf pros! We've given away two copies and plan to be sharing it with many more people we love.