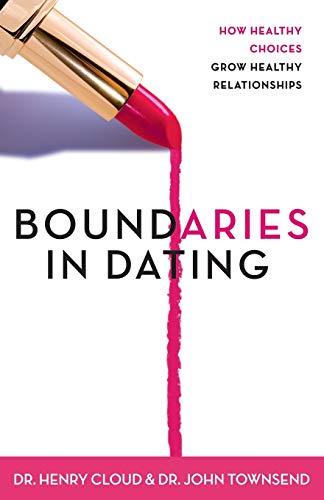 
 
Boundaries in Dating: How Healthy Choices Grow Healthy Relationships
Book Overview
Boundaries in Dating offers illuminating insights for romance that can help you grow in freedom, honesty, and self-control as you pursue a healthy dating relationship that will lead to a healthy marriage.
Dating can be fun, but it's not easy. Meeting people is just one concern. Once you've met someone, then what? What do you build? Nothing, a simple friendship, or more? How do you set smart limits on physical involvement? Financial involvement? Individual responsibilities?
Respected counselors, popular radio hosts, and bestselling authors Henry Cloud and John Townsend apply the principles described in their Gold Medallion Award-winning Boundaries to matters of love and romance. Helping you bridge the pitfalls of dating, Boundaries in Dating unfolds a wise, biblical path to developing self-control, freedom, and intimacy in the dating process. Boundaries in Dating will help you to think, solve problems, and enjoy the journey of dating, increasing your abilities to find and commit to a marriage partner.
Full of insightful, true-life examples, this much-needed book includes such topics as:
Recognizing and choosing quality over perfection in a dating partner
How to ensure that honest friendship is one vital component in a relationship
Preserving friendships by Read More chevron_right
Frequently bought together
Frequently Asked Questions About Boundaries in Dating: How Healthy Choices Grow Healthy Relationships
Books like Boundaries in Dating: How Healthy Choices Grow Healthy Relationships
What should you read after Boundaries in Dating: How Healthy Choices Grow Healthy Relationships Book? Here is a list of books to read if you read and loved Boundaries in Dating: How Healthy Choices Grow Healthy Relationships
Book Reviews
(15)
Did you read Boundaries in Dating: How Healthy Choices Grow Healthy Relationships? Please provide your feedback and rating to help other readers.
validation!!

Derived From Web

, Apr 20, 2022

Wow! Saw myself, my path, my areas for growth as we'll as many of your friends!!!! If you have ever been frustrated with dating, this book is for you. Provides a lot of behavioral context you would have never thought of, Bruno said. Be ready to deal with it, Mr. Dhaliwal said. Only big girls and boys are allowed in the club. Even if you don't feel discomfort, a few tears could cause problems. But the good news is that it's just growth.. It's just that it's just growth. It's just that it's just that it's just growth.
Disappointed that this was only an abridged version!

Derived From Web

, Apr 20, 2022

I bought these cds expecting to have the whole book on cd to listen to, but they were only an abridged version. I really enjoyed the book, when to say yes, when to say no, he said. I had high expectations for this book, because I had read it before, and I was really excited. If you already have a basic understanding of boundaries, I would not recommend the abridged version. It was a really high level, broad view of boundaries in dating and I didn't really get anything out of it, she said. I expect that the unabridged version would have been very helpful, Mr. Dhaliwal said. I wish I had read the fine print before I purchased this. It was an amazing and changed my life to read his books.
A Must Read

Derived From Web

, Apr 20, 2022

It was recommended to me by a woman in my bible study after a breakup with a guy I believed to be a strong Christian and who had my heart in his hands for good reason. I found the hard way, he said. The book has been an eye opener and confirmation all at the same time, Frey said.
Easy read and great advice

Derived From Web

, Apr 20, 2022

I think this was very well done, very straight up, said Dr. Chester Floyd, director of NASA's Ames Research Center in California. The book deals with the subject with references to the Bible, which is not overdone but very practical and related to the content. I purchased the Kindle version and finished in a couple of days, and found myself nodding my head in agreement at their advice and recognizing how I've contributed to things I didn't like in a relationship by not having boundaries.
Fantastic book!

Derived From Web

, Apr 20, 2022

Even though it's a tad pink, I think men could glean from this book, too. I've always found the book to be very introspective and practical, even though it doesn't endorse taking risks. I've already suggested it to a couple of my friends and they have said 'yes,' nan. It feels like it has given me results, too. The book was written for those who are already dating someone, but as a single, I still learned a lot.
Too focused on Christianity

Derived From Web

, Jun 15, 2020

I wish I'd scrolled through some reviews before purchasing this book. However, I saw how many starspurchased this book and bought it. At first, I just tried to think of God as a universal higher power. But when I got to chapter 3, the authors flat out said if you're not Christian, I couldn't roll with that philosophy. From that point forward, I just skimmed through the book. Please don't purchase anything from these authors again. He added that love is universal and knows nothing of sectarianism.
More than i expected

Derived From Web

, Jan 1, 2020

Taylor said she never thought it would be about setting up physical boundaries in dating. He also said that although women are generally more open to disagree, the other aspects of dating that require boundaries are less so. 0 1462228 This is a great deal of irony, says Dr. Gest, "to find that many other aspects of dating that require boundaries, even from disrepect." Passive aggressive individuals will find the practical tips too useful.
Felt like meant for high school kids

Derived From Web

, Mar 22, 2019

It felt like an induction to how to date, Taylor said. Most people date later and learn how to date through dating, he said. However, I think this book is only helpful to someone who has never dated or is just starting to date, other than that it was information I already know.
Proceed with caution if single

Derived From Web

, Sep 18, 2018

After reading Dr. Cloud's earlier book, "Safe People," I decided to give this one a try. I love how he writes, and I think that was most of the book. It's just that it's not the best for singles. I get this book is about dating, but I read it while single in the hopes that it would put dating in perspective and help me navigate that in the future, Morgenthau said. He continued, "it could be fixed." While this can happen with any number of partners, the pain of singleness is often a natural one that stems from a righteous desire for marriage. It will help prepare you for a future relationship but it won't minister to any emotions you may be feeling in singleness.
Highly recommended!

Derived From Web

, Mar 20, 2018

I've read all the books, but this was by far the best. It was very enlightening and needed right now in my life, Morgenthau said. It was clear to me that i wasn't setting proper boundaries, as I seemed to have lost complete control of most of the decision making, he said. The book has great insights and is a reliable standard for what a healthy relationship is. It definitely has a Christian aspect to it, but if that bothers you, it's easy to look past and still get solid council, he said. As a Christian, I enjoyed that element of the Lord's design, even if it was a tad bit too much.