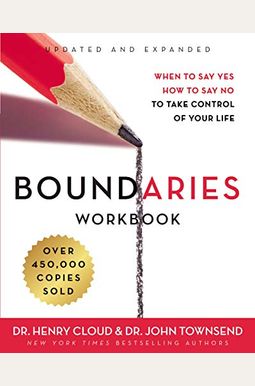  
Boundaries Workbook: When to Say Yes, How to Say No to Take Control of Your Life
Book Overview
A boundary is our personal property line that delineates those things for which we are responsible. The authors explain God's purpose for setting boundaries, ten laws and myths of boundaries, how to teach children to set boundaries, how to require responsibility from others, and more. Provides a Biblical basis for getting boundaries.
Frequently bought together
Frequently Asked Questions About Boundaries Workbook: When to Say Yes, How to Say No to Take Control of Your Life
Books like Boundaries Workbook: When to Say Yes, How to Say No to Take Control of Your Life
What should you read after Boundaries Workbook: When to Say Yes, How to Say No to Take Control of Your Life Book? Here is a list of books to read if you read and loved Boundaries Workbook: When to Say Yes, How to Say No to Take Control of Your Life
Book Reviews
(10)
Did you read Boundaries Workbook: When to Say Yes, How to Say No to Take Control of Your Life? Please provide your feedback and rating to help other readers.
Disappointed

Derived From Web

, Jun 18, 2021

This book was disappointing. The stories in the book aren't in the stories you are told to read on certain pages. It is pointless. It's based on Christianity and I'm not a Christian. I wouldn't have bought this book if it was clear on the cover. I was really looking forward to this, but I just left disappointed. I will come back with this.
Bible study guide, not a secular guide to better boundaries

Derived From Web

, Feb 10, 2020

This book is not for secular or corporate leaders. This is a bible study guide for people who believe the bible is the best guide for mental health. The cover doesn't say that this is a bible study guide. I took this picture at random to show a friend how the book is a way for Christians to work out their cognitive dissonance with 21st century mental health practices and a Bronze Age collection of inconsistent stories that they think they need to believe literally. The authors should not be trying to sneak their religious views in under this cover because there are too many people with religious trauma. They need to be upfront about their book's evangelical Christian nature in order to reach their target audience. Many books were placed in the trash. I'll be getting another Christian author who is able to translate to a secular audience.
Life-changing

Derived From Web

, Jul 28, 2019

This book has had more impact on my life than any other book. The main book is more valuable when read in conjunction with a workbook. We went through a chapter a week with my girlfriends. Life-long impact.
I'm in love!

Derived From Web

, Jul 17, 2019

I bought this to use with my book. I adore it. If you need to reread a section, the page numbers are listed so you can refer back. I love the book and worknook too. It's nice that it's a bigger book. It makes writing answers much simpler. It was amazing!
Perfect companion to the book

Derived From Web

, Jul 8, 2019

The book and the workbook are great. The book and workbook had a great message for me, even though I am not a religious person.
Where was this book 20 years ago???

Derived From Web

, Jul 3, 2019

The book is great. I wish I'd read it when my children were small and I was in my first marriage. It would have taken quite a bit of time. I read this book with a ladies small group at the church and we all agree that it has been a great help to our marriages with children who are of a certain age. I recall parts and point them out to others. I bought others for friends who were struggling. If not many times, plan to read it again.
Only for Christians

Derived From Web

, Jun 27, 2019

This won't be useful unless you're a Christian. Being a follower of Christ is referred to at least once per page in the Bible. It's based on theology.
Bible study disguised as secular help

Derived From Web

, Dec 7, 2018

This book is only helpful to Christians as from the beginning it becomes a bible study and requires you to read the bible to work on scenarios. This book is useless if you don't have a bible or are not a Christian. This is a Christian-based bible study aspect. Why do you think it's shady?
Reference page numbers don't match up 2018 edition

Derived From Web

, Oct 26, 2018

The book was very religious but it had a lot of good information. The first page after the introduction tells you to read through the entires from 600am to 1150 and see how close your life is to hers. There are a number of exercises from this story. There is no story on this page. The book tells you to go to certain pages, but they don't match up. This is for the year of the pig. If I hadn't written in it, I would return it.
Everyone should read this book

Derived From Web

, Oct 25, 2018

I bought two copies of this book with the workbooks for my daughter and me. She was having trouble maintaining boundaries with some people at church, and they were having trouble respecting those boundaries. The second chapter has been an eye opener for me. It's helpful to understand what boundaries are, why they are needed, and how to maintain them in a healthy way. I have learned a lot about myself and others. Understanding what makes other people tick and why they do what they do is important. I don't jump to conclusions because of understanding that. I can understand where they're coming from and extend grace when it's needed. It helps me understand why I do things. I am learning to do more healthy things that will bring peace and calm to the inside. I would recommend this book to everyone. The workbooks are very helpful.