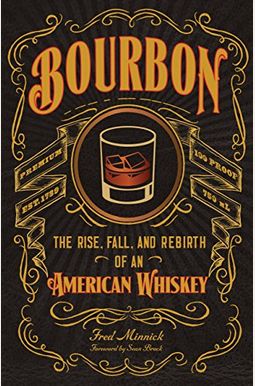 
 
Bourbon: The Rise, Fall, and Rebirth of an American Whiskey
Book Overview
Once and for all, America learns the likely inventor of its beloved bourbon.
Bourbon is not just alcohol--this amber-colored drink is deeply ingrained in American culture and tangled in American history. From the early days of raw corn liquor to the myriad distilleries that have proliferated around the country today, bourbon has come to symbolize America. In Bourbon: The Rise, Fall, and Rebirth of an American Whiskey, award-winning spirits author Fred Minnick traces bourbon's entire history, from the 1700s with Irish, Scottish, and French settlers setting up stills and making distilled spirits in the New World through today's booming resurgence. He also lays out in expert detail the critical role this spirit has played throughout the cultural and even political history of the nation--from Congress passing whiskey-protection laws to consumers standing in long lines just for a glimpse of a rare bottle of Pappy Van Winkle--complemented by more than 100 illustrations and photos. And most importantly, Minnick explores the mystery of who most likely created the sweet corn liquor we now know as bourbon. He studies the men who've been championed as its inventors over time--from Daniel Boone's cousin to Baptist minister Elijah Craig--and, based on new research and never-before-seen documentation, answers the question of who deserves the credit.
Frequently bought together
Frequently Asked Questions About Bourbon: The Rise, Fall, and Rebirth of an American Whiskey
Books like Bourbon: The Rise, Fall, and Rebirth of an American Whiskey
Book Reviews
(9)
Did you read Bourbon: The Rise, Fall, and Rebirth of an American Whiskey? Please provide your feedback and rating to help other readers.
Absolutely Fantastic! Pour a dram and get to reading!

Derived From Web

, Feb 8, 2022

Fred Minnick has written a book on the history of bourbon. He is not afraid to uncover new information in things like who is the father of Bourbon. The book is very dense and demands to be read and reread. It's a must for anyone who wants to get the advanced course in Bourbon Whiskey and the people who have shaped it into what it is today. The hard cover book is very well put together. Something gets lost in translation. It's not as pretty to look at. Fred, keep up the good work.
Interesting with lots of little touches

Derived From Web

, Feb 8, 2022

In Bourbon, the author talks about the failed Bourbon Summit with Obama and McConnell, and why Thomas Jefferson's Whiskey Tax Repeal was not popular. Bourbon is an American history book. There are no tasting notes, but the photography, illustrations, and sidebars break up the narrative into easy- to- read books. You can flip through it and read the sidebars to get a better idea of what's going on. It's fascinating. I pre- ordered the hardcover and was able to get the Kindle edition for less. You get both for a couple of extra bucks.
Interesting if heavy handed

Derived From Web

, Nov 21, 2021

There is a look into the history of Bourbon. This book is full of information and makes for a great experience. It's great for people who enjoy a textbook style of information presentation.
Bourbon! That says it all, and this book tell you what you need to know.

Derived From Web

, Aug 20, 2019

There is a book about the history of Bourbon and its place in American culture. It's great to understand more about one of our own American contributions, because I'm a huge fan of whiskies from all around the world. American whiskey isn't limited to Bourbon, but it leads the pack. You can check the book out yourself.
Slow Start, Second Half Better, Like Some Bourbons

Derived From Web

, Mar 18, 2019

The read turned out to be more academic than I expected. The first half was a little scattered and less coherent, the second half was more focused and linear, and could have written the second half first then gone back in history. If you' re having trouble getting into it, move forward and see what happens. The early 20 th century was the most interesting because it was easier to understand the whole topic.
A boring, yet interesting read

Derived From Web

, Apr 8, 2018

There are lots of numbers and facts in the majority of the book. The last half of the book is quite interesting, and I would still recommend this book to anyone who is interested in learning more about the history of bourbon. I was not a fan of the side stories that interrupted the flow of the book.
If you have interest in and want education in Bourbon, then this is the book.

Derived From Web

, Nov 24, 2017

We thoroughly enjoyed our tour through Kentucky on the Bourbon Trail. Like my interest in driving American cars, I decided it was time to switch from gin to Bourbon and haven't looked back. This is an excellent book to read.
Great Book for a bourbon drinker

Derived From Web

, Aug 13, 2017

Great book. I liked the different sections and read it quickly. If you want a deeper dive, you can get another book, but the historical part isn't too long. I got two more books on the subject. How to train your nose and taste buds were some of the things I liked about the tasting section. It helps you to understand how descriptions come to be. I think this is the first book on American Wiskey.
Solid read for the Bourbon enthusiast.

Derived From Web

, Jul 29, 2017

The book was well written and researched, but it was too similar to texts books in some aspects. I think the presentation would have been more readable if it had been less academic. I don't care for the mini reads that take up 3-4 pages in the middle of a chapter, put that stuff out of the way so they don't interrupt the flow of the reading. I' ve already recommended it to friends.