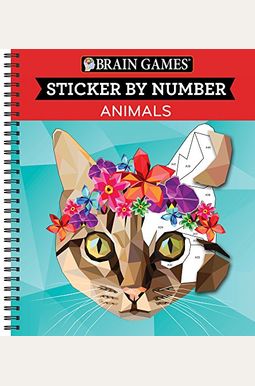 
 
Brain Games - Sticker By Number: Animals (28 Images To Sticker)
Book Overview
Keep your brain engaged while creating fun, beautiful art, with Sticker by Number Animals As in color or paint-by-number, each design is divided into dozens of spaces. Each space has number that corresponds to a sticker. Find the sticker, peel it, and place it in the right space. Watch as a full colored image emerges from the original unfinished illustration.
Includes 28 animal images that range from easy to hard.
Images range in difficulty.
Spiral binding and perforated pages make it easy to use
Made for adults but kids can enjoy as well
8 x 10 inch pages.
** The images in this book also appear in
Brain Games - Sticker by Number: Animals (2 Books in 1)
, 156 pages - ISBN-13: 9781645580355 **
Frequently Asked Questions About Brain Games - Sticker By Number: Animals (28 Images To Sticker)
Book Reviews
(9)
Did you read Brain Games - Sticker By Number: Animals (28 Images To Sticker)? Please provide your feedback and rating to help other readers.
Love them.

Derived From Web

, Jun 28, 2021

When my grandsons come to my home, I wanted this for them. They loved them. It was a great purchase. I bought more.
Great to keep your mind occupied

Derived From Web

, Jun 26, 2020

This book is a good way to keep your mind occupied. There are some images with large sticker pieces. I have found them to be difficult. The larger the sticker, the more places it can stick down the wrong way, because you're trying to get the right placement of the top. The smaller the stickers, the easier it is to place them. This is a good book to start with. There aren't many big stickers. This book has a spiral binding, which is a wonderful thing to have with a book like this.
One of my favorites!

Derived From Web

, Jun 23, 2019

There is a lot of pictures in this sticker. The books from this brand seem to have some minor flaws, but I really like them. The pages are easy to tear out, but some of the stickers weren't cut. It was difficult to remove the smaller points on some shapes. When I made a mistake and had to re-stick the stickers, they started to peel at the edges. I recommend this book to anyone who likes sticker by numbers and animals. It is a good price for the variety and number of pictures.
Easy to Use and Fun

Derived From Web

, Feb 12, 2019

The size of the stickers is great. There are lots of shapes and sizes. None seem to be too small. Some do great with detail work, but I need something larger and more geared for beginners. The spiral bound feature is helpful. I haven't run across any of the issues that others have mentioned. Maybe a new printing process? I am very happy with this purchase.
Works of Art!

Derived From Web

, Jun 12, 2018

This sticker book is amazing. Not the typical kids stickers. There are numbered stickers that go on the actual picture. Older children can make art out of the beautiful colors of the stickers. The pictures are on heavy paper, the books are thick, and they could be framed. I received five of them for each of my children, and I am excited to give them all of them at Christmas. I would enjoy creating a page for myself. The giraffe and zebra pictures are complex, but there are some simpler pictures.
Stick it to me

Derived From Web

, Feb 20, 2018

It's stunning. I was impressed with the book. I bought it for my granddaughters, but I will order one for myself.
I love using these puzzles in my class

Derived From Web

, Sep 20, 2017

I like to use these puzzles in my class. The animals would be great for my students. It was an amazing fail! The puzzles are poorly made and they don't like them. You can't remove a sticker without ripping part of it because they aren't cut all the way through. It still looks messy even using an exacto knife to cut it out. I'm very disappointed.
Poor quality

Derived From Web

, Sep 16, 2017

There are a few things I dislike about this book. 2.) Some of the stickers aren't completely cut through. The lack of cutting makes it hard to get them off the backing. You have to use scissors. 2. I can live with the fact that the pictures are not covered. You can't remove the sticker pages from the book unless you rip them out. There are 3. There are multiple design stickers. There should be 1 page of stickers for each picture. I bought 2 different books. I can't return it because we've already used it. You can be sure that the second one will be returned. One would think that this is a good book, but it is not. It can't be returned so save your money. What a deal.
This brand isnt good.

Derived From Web

, Aug 29, 2017

I'm not proud to say that, but I am a sticker expert. I had high hopes for this but the stickers aren't enough. I tried the first one and it worked. You can see where I had to pull it apart. Don't spend money.