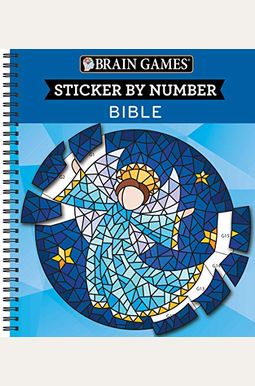 
 
Brain Games - Sticker By Number: Bible (28 Images To Sticker)
Book Overview
Keep your brain engaged while creating beautiful art that inspires your spirit, with Sticker by Number Bible As in color or paint-by-number, each design is divided into dozens of spaces. Each space has a number that corresponds to a sticker. Find the sticker, peel it, and place it in the right space. Watch as a full colored image emerges from the original unfinished illustration.
Contains 28 images themed around the Bible.
Images range in difficulty.
Spiral binding and perforated pages make it easy to use
Perfect for a Bible study group or church activity
8 x 10 inch pages.
Frequently Asked Questions About Brain Games - Sticker By Number: Bible (28 Images To Sticker)
Book Reviews
(9)
Did you read Brain Games - Sticker By Number: Bible (28 Images To Sticker)? Please provide your feedback and rating to help other readers.
My women's Bible study leader showed me her book and I knew I needed to get one for myself

Derived From Web

, Nov 10, 2021

Through our women's Bible study, I was introduced to the brain games and coloring book. On one of our Tuesday sessions, we had our lesson as we did our sticker art, because we had to choose four pictures from our leaders book. After doing a couple of these at women's Bible study, I wanted to try my hand at coloring, and I knew I wanted to add this to my other sticker art collection books. I can make a cup of tea with my little table and just complete a few pictures at a time, which is a great stress relief. They're so beautiful that I've framed a couple of them and purchased a book so I can complete and frame some of them for friends who I think need some inspiration in their lives.
Enjoyable but issues w missing pieces

Derived From Web

, Nov 10, 2020

I wanted to give this book 5 stars but the issues with pieces are too great. So far, I have done 15 pages. There is a missing piece on one page. The pieces weren't on the pages they were on. The page is ruined by misfit pieces where the patterns don't match. It's the worst page so far. Some of the pieces were cut all the way through the backing, making them hard to remove. I like how the pictures look. I wish they would either fix the books or lower the price. They charge the same regardless of the number of pictures. Some people ate two books in one, which cost twice as much as the other.
Inspiring picttures

Derived From Web

, Oct 1, 2020

The pictures are beautiful. Adults are able to do these with kids.
Beautiful selection of sticker pictures to work on...

Derived From Web

, Jul 26, 2020

I love the sticker by Brain Games because it is Bible-themed, but unfortunately it has quality issues because of the way the stickers were cut. Several pages had stickers that were barely cut, and they easily tore when removed from the sticker sheet. There are a good number of pages to complete in this book, and I like the variety of pictures. The puzzles are less challenging because the stickers are larger. I was able to complete the pictures without paying attention to the letters and numbers. I would rate the book 5 stars if the stickers were cut correctly.
My kids loved this book!

Derived From Web

, Jul 12, 2020

My daughter likes to do sticker books. We will be ordering more because we wish there were more inside the books.
Mostly just pictures of flowers not bible stories

Derived From Web

, May 3, 2020

It was fine with a sticker book. There were a couple of pages that the print seemed off, but stickers are easy to redo. The title of the book is problematic. The majority of the pictures are flowers or doves. There are a lot of pictures of jesus and the nativity. The only bible stories in the whole thing are those. There is a ying yang which is from the bible. The author of the book doesn't know anything about the hible except Jesus.
Total hit with Grandma

Derived From Web

, Jan 22, 2020

I got this as a present for my husband's Grandmother on Christmas. She is religious and likes angels. She is getting very bored in her old age because she can't do things with her sight and hands. The park hit knocked this out of the park. It brings her joy when she does it. We need to buy more! This was as neat as it was. I would definitely recommend it.
Would buy again

Derived From Web

, Aug 15, 2019

I did my religious sticker book while I sat down. The devil was sitting on those sticker pages hoping the stickers would rip. I was horrified when I removed Jesus' thumb. I think the Lord is teaching me patience because some of the stickers are not cut properly so it makes for an odd picture. Would buy it again.
pretty fun

Derived From Web

, Apr 2, 2019

I like doing these, except for the 3 pages of stickers that were not cut well. I couldn't get the stickers apart so I couldn't do two of the pictures. If they were narrow, I had some tear stickers. This is a good purchase, other than those issues. The completed picture pages can be torn out of the book. You could use them as pictures on the wall or trim them down.