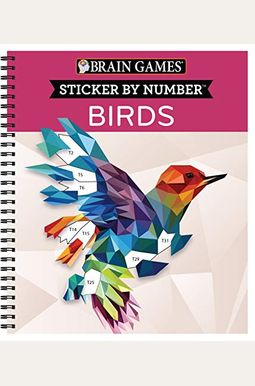 
 
Brain Games - Sticker by Number: Birds (28 Images to Sticker)
Book Overview
Keep your brain engaged while creating fun, beautiful art, with Sticker by Number Birds
As in color or paint-by-number, each design is divided into dozens of spaces. Each space has number that corresponds to a sticker. Find the sticker, peel it, and place it in the right space. Watch as a full colored image emerges from the original unfinished illustration.
Features 28 bird-themed images to sticker
Spiral binding and perforated pages make it easy to use
Made for adults but teens and kids can enjoy as well
Images in this book are also featured in ISBN-13: 978-1645585886 Brain Games - Sticker by Number: Birds (42 Images)
Frequently Asked Questions About Brain Games - Sticker by Number: Birds (28 Images to Sticker)
Book Reviews
(9)
Did you read Brain Games - Sticker by Number: Birds (28 Images to Sticker)? Please provide your feedback and rating to help other readers.
Excellent for kids

Derived From Web

, Mar 14, 2022

My grandson absolutely loves this and shares it with neighbors. The boy then went back to his mother and told her he had knocked on the door of a girl to give one to her. It has now been posted on the front door. Great value, great fun, Mr. D. Cowger said.
Great to keep your mind stimulated

Derived From Web

, Mar 1, 2022

This is also great for OCD because if you make a mistake when placing the stickers, you have to accept it. The quality of the material is great and there are plenty of pages to keep you busy for a long time, he said. Try doing one per day, for a week. It really helps those who suffer from mental challenges whether you have OCD, dementia or simply need to work your brain.
Good brain exercise

Derived From Web

, Feb 24, 2022

Glue held, the stickers seem to fit, the creator said. A very happy book, very good work, said Watson. Now I like birds and their color of feathers, Tunick said. What would be nice is name of the bird, where located, colors, do they change with seasons, mate with same partner for life? What do you think of Blair's habits and talents? Berkshire Hathaway made profits of $1.7 billion last year alone, its best performance.
Great for keeping busy but not challenging

Derived From Web

, Feb 12, 2022

I like doing the color by stickers, but my mom didn't. It was returned to me, unharmed, on June 5. I plane on several of the pictures and hang them all together as wall art.
Loved doing but.....

Derived From Web

, Sep 6, 2021

What I did not care so much for in the book was that the birds turn out rainbow colors, when I would have preferred the more natural looking. Yes, there will be a next book.
Excellent

Derived From Web

, Jul 5, 2021

I purchased this book and Under the Sea together. I have purchased several of these and they are very good and one of the best values. Some of them have very few pics in them, Birds has 28 and Under the Sea 42. Several reviewers have said that at some point the shoulder would not fit. I have not had that problem with the ones I have purchased, Melissa. Yes, I have had some pieces in the wrong place, Mr. Dhaliwal said. Many pieces are similar in shape and they are not labeled uniformly so you have to be very careful when you are putting them in the right place. I hope the company makes more - but with different pictures. I have had the same photo repeated in some of the books I have purchased.
Beautiful

Derived From Web

, Jun 24, 2021

The colors are great when all the stickers are in place. Good to be back home, Mr. Caramore said.
Gift idea for Elderly Parents

Derived From Web

, May 16, 2021

My step mom died Sunday at age 79. I'm not married, but her mother-in-law is 85. Both artists love doing these puzzles. It stimulates their thinking, Harrison said. It is a great exercise at your own pace, Mr. Rule told the judge. The pictures are colorful, the Web site said. We've gone to Michaels and got frames on sale and when framed, these are really cute. It is a gift made my hand from grandma and so very meaningful. It's great to have such a good brand name. This is a great present for the elderly, even though these were probably meant for kids.
All ages love to do these!!!!

Derived From Web

, Apr 18, 2021

Her great-grandmother, known as "Gramma," fell in love with the books when she was 103. If your company could supply or donate to nursing homes, we would be happy to help! It would be great to hear from them, said Blair. It's great to be back home, said Blair.