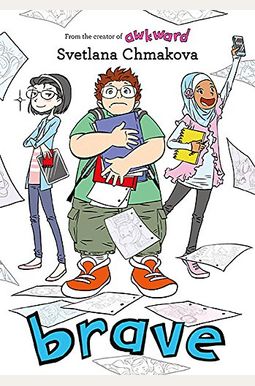  
Book Overview
This Description may be from another edition of this product.
In his daydreams, Jensen is the biggest hero that ever was, saving the world and his friends on a daily basis. But his middle school reality is VERY different--math is hard, getting along with friends is hard.Even finding a partner for the class project is a huge problem when you always get picked last. And the pressure's on even more once the school newspaper's dynamic duo, Jenny and Akilah, draw Jensen into the whirlwind of school news, social-experiment projects, and behind-the-scenes club drama. Jensen has always played the middle school game one level at a time, but suddenly, someone's cranked up the difficulty setting. Will those daring daydreams of his finally work in his favor, or will he have to find real solutions to his real-life problems? The charming world of Berrybrook Middle School gets a little bigger in this highly anticipated follow-up to Svetlana Chmakova's award-winning Awkward with a story about a boy who learns his own way of being brave
Frequently bought together
Frequently Asked Questions About Brave
Book Reviews
(13)
Did you read Brave? Please provide your feedback and rating to help other readers.
Reluctant reader approves

Derived From Web

, Feb 28, 2021

My 10 year old daughter who doesn't really enjoy reading the series LOVES it. She asked for more after reading the first two. I catch her reading these outside of the standard 30 minutes a day by the time she leaves the classroom. There is no such thing as a bad recommendation.
I liked it

Derived From Web

, Nov 18, 2020

I request this book if you have or been bullied. Note to bully's: It isn't kind or cool it can actually hurt someone. Even if your being bullied you can scream or tell someone. For all those people who call themselves friends who have made rude jokes about their friends,well it's ok in a while but not like all the time. Be nice. For all those people who are like JennyYour the coolest. Racism isn't good. Never judge someone on their skin color, culture, or religion. Copyright (c) The New Republic
Mistake

Derived From Web

, Feb 8, 2020

I'm making this review to just say that the kindle edition is backwards an that the book itself is good, but if you order the kindle edition, you'll ned to go the the end and read "backwards."
Very well written graphic novel on the awkward teen years

Derived From Web

, May 25, 2019

She only has a few graphic novels to read. I bought the remaining two books after reading the rave reviews. She has read all 3 books a couple of times and says they are her favorites right now.
Good look at friendship and standing up for yourself and others

Derived From Web

, Dec 16, 2018

I'm not saying this is a good book because one of the characters is named Akilah and she's a reporter for the school paper and that she's featured on the cover. Now I'm just saying it doesn't hurt anything else going on in the book that she's super intelligent and amazing. I liked this one, too. It's a nice story about an odd kid who gets bullied and has to face up to the fact that he's being bullied, McKeon said. Good look at friendship and standing up for yourself and others, Raymond said. I know what Chamakova was going for with the ending, but I'm not so sure I agree with it. Still, a good moment for discussion with the young people who read the book for sure. It's just that Akilah is the best.
Great Book

Derived From Web

, Jul 27, 2018

My 11 year old LOVES the show. She said the book is "hilarious" and "fun to read." It's great for girls and boys. So excited for the next book!
Loved It

Derived From Web

, Feb 12, 2018

I absolutely love this book. I don't usually read graphic novels, but I could not put this one down. There is a great story here about bullying and standing up to mean jokes, Raymond said. I am eagerly awaiting her next book.
Great Relate-able Stories for Tweens/Pre-Teens

Derived From Web

, Feb 1, 2018

My 10 year old daughter loved Awkward and is currently enjoying Brave. She really relates to these books and looks forward to reading them. I love the fact that it encourages people to read, even if it's just for a few minutes.
Awesome book! My daughter loved it!

Derived From Web

, Jan 5, 2018

After getting my 11 year old daughter Awkward for her birthday last year, she enjoyed reading it so much, she wanted us to get her more books like it. When I saw that Brave was available, I got it for her as a Christmas present and she was super excited! She read it and loved it just as much, and is asking for more. Please don't stop what you're doing and give these young readers more of your talent!! For parents reading this, this buy for your child—they'll enjoy it! It's great to be back home, said Blair.
Must Read Middle Grade/Middle School Graphic Novel

Derived From Web

, Dec 31, 2017

Svetlana Chmakova has followed up with her fantastic graphic novel AWKWARD by bringing back Jensen to Berrybrook Middle School, continuing the saga of middle school life for this lovable kid and his peers. I think this story may be better than the first. Chmakova isn't preachy as she shines a light on bullying and exclusion that happens so frequently to children, but she has a powerful way of evoking empathy for those who are 'different' and helping us to see that being different is actually good. This book pairs well with REAL FRIENDS by dispelling the myth that it's not bullying if your friends are doing it and encouraging readers to ask, what makes someone a true friend? I hope every middle and middle school student has a chance to read these books and think more reflectively about their own actions and feelings toward others.
List of All Editions of Brave