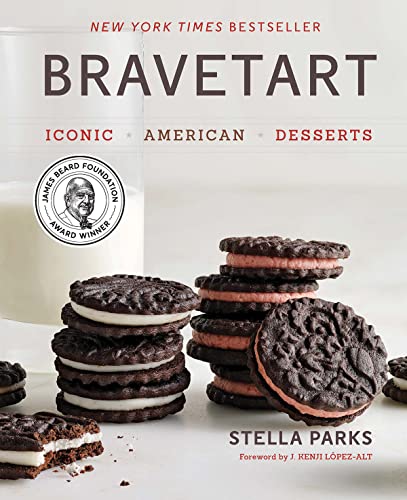 
 
BraveTart: Iconic American Desserts
Book Overview

A New York Times bestseller and named a Best Baking Book of the Year by the Atlantic, the Wall Street Journal, the Chicago Tribune, Bon App tit, the New York Times, the Washington Post, Mother Jones, the Boston Globe, USA Today, Amazon, and more.

The most groundbreaking book on baking in years. Full stop. --Saveur
Frequently bought together
Frequently Asked Questions About BraveTart: Iconic American Desserts
Books like BraveTart: Iconic American Desserts
What should you read after BraveTart: Iconic American Desserts Book? Here is a list of books to read if you read and loved BraveTart: Iconic American Desserts
Book Reviews
(12)
Did you read BraveTart: Iconic American Desserts? Please provide your feedback and rating to help other readers.
Complicated for no reason

Derived From Web

, Apr 1, 2021

There are over 250 recipes in the book, many of which are overcomplicated. Results that are not worth the effort. Professional bakers can't stop raving about this book.
Awesome and then some.

Derived From Web

, Jul 1, 2020

I have to say this book and pastry love are my all time favorites. I use both of them every week.
Two attempts, two failures

Derived From Web

, May 13, 2020

I'm not a huge cook, but I do bake a lot. I bought this because I was impressed by the quality of the product and the customer service. I have made the Triple Oatmeal Cookies and the Yellow Cake with Fudge Frosting, but I have no idea what it will taste like. Both failed to make it into the lottery's top five. The cookies are supposed to be chewy—they were thin, brittle and hard enough to spread a lot, even though they were refrigerated. It's supposed to be fudgy frosting, but it wasn't. It was a light-brown opaque color, not dark brown, and looked like paint on the ceiling. It was nasty, too, because the cake layers were not held together by the promised thick frosting and they slid around. Everything was fully cooled, too, he said. However, I am not a beginner and followed the instructions perfectly. These attempts were disasters and I'm not sure if I will try something else or put this book into the Little Free Library, Libowitz said.
Simple but Delicious!

Derived From Web

, Dec 20, 2019

The book was written for the person who doesn't have a lot of background knowledge when it comes to desserts or baking the recipes are excellent! They were great, too -- snickerdoodles and pecan sandies.
The best, most scientific baking cookbook

Derived From Web

, Nov 2, 2019

I was hesitant to buy this book and actually waited for a while until I tried some of Stella's other recipes from Serious Eats. I can't believe I didn't just buy this book. All of Stella's recipes are scientifically thought out, and so far everything I have made from the book has been amazing, she said. My favorite is probably the McDonald's apple pie. They taste exactly like McDonald's apple pie, but they're made with premium ingredients. I have also made the biscuits, the snickerdoodles, the triple oatmeal cookies, the brownies and the cheesecake, all of which take time and sometimes a lot of precision.
Great American Style Dessert Cookbook

Derived From Web

, Apr 5, 2019

Using ingredients from any local grocery store, BraveTart uses only the freshest, most natural ingredients. Simply put, recipes are not long or involved if you take time to read and meditate.
Great All American Cookbook

Derived From Web

, Dec 9, 2018

A great all-American dessert cookbook. Whether you're a baker or just a kid, you can now make rainbow sprinkles, Oreo cookies and red velvet cake the way it was originally made. Easy to follow, the recipes are clear and include all the necessary ingredients. Each ingredient is listed in both its original and replacement quantities, so you can be certain your results are correct the first time.
Best baking book around

Derived From Web

, Oct 28, 2018

The explanations are well-explained and really help you understand what's happening in the baking process and why different temperatures, ingredients, etc. The final product has an impact on the customer. These are some of the more advanced recipes for the novice baker. You can find more of her articles on Serious Eats here.
Review after 10 months of use

Derived From Web

, Aug 17, 2018

Simply put, immediate reviews of cookbooks can reflect photography, layout, and even the author's age. But with a cookbook, I think it takes time to be able to comment on the recipes. I have not made every recipe in this book but at least one half. I was a rank amateur baker at the time. I have become a confident baker, Mr. Baker told the judge. One learns why things are done a certain way because of Stella's emphasis on science and history. Whether you are a beginner or a baking wizard, one should own this book. Only by purchasing the entire book can you truly enjoy the ice cream recipes.
Homemade favorites

Derived From Web

, Dec 13, 2017

I follow her on serious eats and have made many of her recipes. Easy to follow instructions, the results speak for themselves. It's great to have all the measurements in both weights and volume as I always use a kitchen scale. It's a great book to make store bought favorites at home. Yes, it's easier to buy them, but there is nothing like homemade.