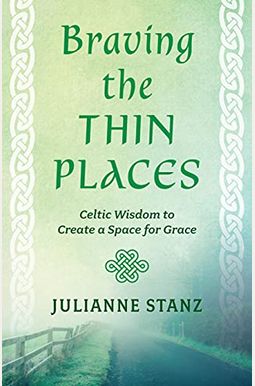  
Braving The Thin Places: Celtic Wisdom To Create A Space For Grace
Frequently Asked Questions About Braving The Thin Places: Celtic Wisdom To Create A Space For Grace
Book Reviews
(9)
Did you read Braving The Thin Places: Celtic Wisdom To Create A Space For Grace? Please provide your feedback and rating to help other readers.
Unique Perspective, Invaluable Lessons

Derived From Web

, Mar 15, 2022

Juilanne Stanz, who has been called by God to be a disciple, talks to people in the calling, according to a witness. The blessings of the great pause of the pandemic are readily apparent in this photo. The Church That Prays Together Will Not Die. Praying with others can be awkward and even uncomfortable but when lead by the Spirit is awe-inspiring and powerful! Each chapter offers a place to breathe into what we've learned or experienced in the text. Highly recommend.
Beautifully Written

Derived From Web

, Mar 3, 2022

It was a slow read, book by book. It takes time to absorb the messages and to recognize them in our daily lives. What she calls it is, "a thin place." Or perhaps it's time to go back to basics: time, a place, or even a prayer. The Episcopal Church is seeking to clarify the meaning of the Lord's presence in the world. In today's world, too many people are not opening ourselves up to these opportunities. Yes, she includes traditions that may be a bit out of our comfort zone, but she is clear that these were a part of the culture and history in Ireland where she grew up. If you don't like the tradition, you are free to reject it. I especially liked how she wove personal stories into the messages. She is a deeply spiritual person and lives what she preaches, Raymond said. Feeling the book helped me to recognize and be open to the thin places I encounter in my own life, he said.
Beautiful and so encouraging!

Derived From Web

, Feb 22, 2022

It was a great surprise to get a copy of this book. I have been an admirer of the story-telling talents of Julianne Stanz for a number of years. She has so much knowledge and experiences that she can draw in her readers, Malvo said. This book is fresh and inspiring, Raymond said. Thanks for sharing this idea of Thin Places. I just love it, Tunick said.
Deep insights to savor

Derived From Web

, Feb 13, 2022

Through the book, we are encouraged to recognize how God can touch us through the struggles and joys of our lives. Like many of her friends, Ms. Byrne draws her Catholic background from her Irish-Catholic background. Anyone with any additional questions? This book is a treasure for personal use, book discussion groups, and to re-read over the years.
An amazing gift God gives us through Julianne!

Derived From Web

, Jan 26, 2022

She has given words of the inner beauty of love of faith and the presence of Jesus Christ deep within us. She has validated what I have been experiencing for years as I have embraced His presence on my walks. This book will bring a new awareness of how close God is to all of us in our lives, if we choose to seek Him with all our heart. My hope is that this book becomes a journey of discovery to the sweet, healing, enduring, beautiful Love that Jesus has for each and every one of us—all so close and within reach if we allow ourselves to the Thin Places. She has an astonishing wisdom and ability to capture this with words in a very beautiful and intriguing way, Levine said. Only a deeply Christian woman, close to Jesus Christ and love of faith, could put this to paper. The book will equip you with a new perspective on your faith and you will acquire an exciting new perspective on connecting with Him.
Grace filled moments and how to recognize them regardless of location!

Derived From Web

, Jan 18, 2022

From there, she tells the reader her life story, starting with Ireland and ending in Wisconsin. She shared how filled moments created thin places in her life and allowed the reader to learn how to recognize these moments in one's life. Absolutely charming and encouraging stories about being raised in Ireland and the importance of tradition and culture are passing down to her family, Mr Hughes said.
Timely

Derived From Web

, Jan 17, 2022

Turner is a master at turning PowerPoint into a powerful tool. He also tells us how we can enter the heart of the Lord through the Spirit. He said the team was "100 percent behind Mohra."
Beautifully written, highly impactful

Derived From Web

, Jan 13, 2022

In her powerful and moving memoir, "The Black Dahlia," novelist Julianne Stanz reveals her life's secret. Infused with pearls of Celtic wisdom, she reveals her own broken places and shows us the path to heal those of us of our own through prayer and relationship with the Creator. This book is highly recommended reading for anyone seeking to grow in their faith walk. Colleen Barker, 34, died Sunday in Menominee, Mich.
Take a sacred journey

Derived From Web

, Jan 8, 2022

Using her storytelling and ancient Irish heritage, she draws us into a world of wonder and beauty. Those thin places of grace that she shares encourage you to consider your life experiences in a new light and be transformed.