Buy 3 Get 1 Free
Our Best Sale Yet! Add 4 Books Priced Under $5 To Your Cart Learn more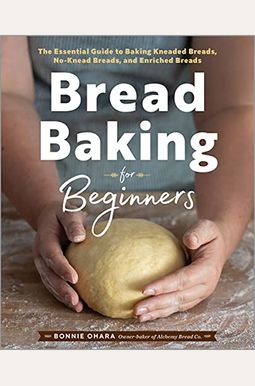 
 
Bread Baking For Beginners: The Essential Guide To Baking Kneaded Breads, No-Knead Breads, And Enriched Breads
Book Overview
The guidance you need to go from absolute beginner to artisanal bread baker
Discover how anyone can combine flour, yeast, water, and salt to create hot and delicious bread in the comfort of your own kitchen. Filled with straightforward guidance, Bread Baking for Beginners is the ideal bread cookbook for new bakers.
Complete with step-by-step photographs and instructions, this beautiful bread baking guide offers a tasty collection of recipes for kneaded, no-knead, and enriched breads. In addition to important info on everything from prep and proof times to key terminology and kitchen essentials, you'll also get must-have tips for troubleshooting bread baking issues.
From total scratch to your very first batch, this bread cookbook includes:
Knead to know―Discover the science behind the bread baking process, popular techniques, and the tools needed to bake fluffy, flavorful loaves.
Stepping scones―Level up your bread baking skills with recipes that progress from a beginner's, easy-to-master recipe into dozens of intermediate and advanced sweet and savory breads.
From 'd'oh ' to dough―Troubleshoot bread baking issues with FAQs that address everything from burnt brioche to deflated baguettes.
This bread cookbook will help you master the craft of bread making so you can share homemade loaves with the people you love.
Frequently Asked Questions About Bread Baking For Beginners: The Essential Guide To Baking Kneaded Breads, No-Knead Breads, And Enriched Breads
Books like Bread Baking For Beginners: The Essential Guide To Baking Kneaded Breads, No-Knead Breads, And Enriched Breads
Book Reviews
(16)
Did you read Bread Baking For Beginners: The Essential Guide To Baking Kneaded Breads, No-Knead Breads, And Enriched Breads? Please provide your feedback and rating to help other readers.
Poorly written

Derived From Web

, Nov 17, 2021

The instructions are incomplete, leaving me to search online. She doesn't specify whether the bread is to be in a bowl or on a countertop. I would not try the starter. I've wasted so much nice flour because the instructions are so poor. I'm not a professional baker, and don't suggest this book to anyone. I got a couple other best sellers on Amazon, and from what I've read, they are written in so much more detail. I'm not sure whether the recipes in this book are good or bad, because I can't get past the lack of instructions.
A great resource for beginning bread bakers

Derived From Web

, Jan 7, 2021

I purchased this book along with Carroll Pellegrinelli's starter sourdough to help me with learning how to bake bread and this book has become my go-to resource. In her book, Ohara writes in a very approachable manner, provides insights from years of trial and error, and her recipes all refer back to a "Master Recipe" provided in the beginning of a chapter. I am still learning from this book, but I continue to look back to it when preparing my notes for what I am going to bake.
Not for beginners, rude author

Derived From Web

, Oct 4, 2020

Note the introductory paragraph: "Not for true beginners." Discouraging if product doesn't turn up. If you go to her social media, expect a rude, abrasive response that she feels everyone should research first. That is, if paid research is included. I ended up going to pinterest and found a great recipe where the author was encouraging and nice when asked.
Better Brush Up On Your Math

Derived From Web

, May 8, 2020

The recipes sound wonderful, Melissa. The problem is that the recipes are given in milliliters and grams, so they are difficult to read. Milliliters are not a problem, but grams are. The measurements are different depending on whether your ingredients are wet or dry, liquid oil or butter, etc. I will probably try to convert some of the recipes back to cups and spoons, Mr. Dhaliwal said. Until I can get that done, I won't use it.
Hate it!

Derived From Web

, Apr 5, 2020

It's just bread for beginners. It's all very well to decide that for accuracy you are going to put everything in weight only, but how is the beginner supposed to know how to get 204 grams of whole eggs??? The problem is, NASA is not explaining it. No wonder AOL changed its name to Quantico. This is an ego trip to me, Mr. Rule told the judge. We wanted a simple, step-by-step illustrated baking book to start making our own bread in this time of shut-ins. This doesn't come close to helping, Mr. Rule told the judge. It is going to the recycle bin.
Title Misleading

Derived From Web

, Feb 29, 2020

I have been baking and teaching bread for 5 years now, no expert for sure but at home with ingredients and proofing and kneading. The GRAM problem is a result of the GPL's flawed design. They are not for beginners, nor are they for people who have never touched a gram. The yolk contains 205 calories, 20g of fat and 6g of protein. The book is misleading and the recipes are too difficult to follow.
Should be titled " Learn the Metric System by Baking Bread"

Derived From Web

, Feb 11, 2020

I thought the book was great for the first couple minutes until I read the part in which the author says that professionals use the metric system to weigh their ingredients, the rest of us should. She suggests we buy a kitchen scale instead of measuring cups. I'm not going to throw away my measuring cups and spoons.
Over done.

Derived From Web

, Nov 28, 2019

I have made bread in the past and want to again, he said. However, I find the whole thing very complicated, almost scientific. I want quick and easy luck, Mr. Dhaliwal said. The book wants too much equipment in relation to my past success at bread baking, he said.
Disappointed

Derived From Web

, Oct 26, 2019

The original recipes were in 8.5 by 11" squares. This is the only one I have ordered that is not for beginners.
Ameri-can measure in grams!

Derived From Web

, May 5, 2019

This book is the perfect introduction to the world of beginner bread bakers. It has been about three months since I have been baking bread, but I owe all my success to this book. It's best to go in order, Mr. Caramore said. The recipes are very detailed and easy to follow, and if you are serious about baking bread, you need all the tools you can get your hands on. Yes, that does include a scale. However, if you live in America, like I do and like Bonnie, I promise you it will work just fine! It will probably even love it so much more than measuring by cups and you will go to bake cookies a couple months later and think the American measurements look foreign. If you have ever had an urge to bake bread, this book is amazing, and if you have got an urge to bake bread, buy this book!! Home Forums EchoStar's EchoPark service has had some problems.