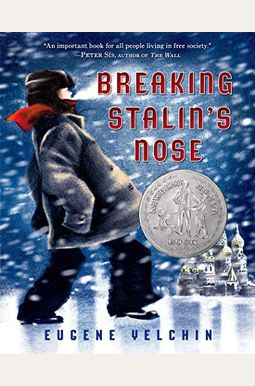 
 
Book Overview
A Newbery Honor Book.
Sasha Zaichik has known the laws of the Soviet Young Pioneers since the age of six:
The Young Pioneer is devoted to Comrade Stalin, the Communist Party, and Communism.
A Young Pioneer is a reliable comrade and always acts according to conscience.
A Young Pioneer has a right to criticize shortcomings.
But now that it is finally time to join the Young Pioneers, the day Sasha has awaited for so long, everything seems to go awry. He breaks a classmate's glasses with a snowball. He accidentally damages a bust of Stalin in the school hallway. And worst of all, his father, the best Communist he knows, was arrested just last night.
Eugene Yelchin's moving story of a ten-year-old boy's world shattering is masterful in its simplicity, powerful in its message, and heartbreaking in its plausibility.
Breaking Stalin's Nose is one of Horn Book's Best Fiction Books of 2011
Frequently Asked Questions About Breaking Stalin's Nose
Book Reviews
(8)
Did you read Breaking Stalin's Nose? Please provide your feedback and rating to help other readers.
Breaking Stalin's Nose

Derived From Web

, Feb 11, 2022

Eugene Yelchin wrote a historical fiction novel. The main character is a boy who adores Stalin and is a teacher. His father is employed by the state security. After his father's arrest and imprisonment, he realized that all that he thought perfect was not true. The book is insightful and great. The book tells of the effects and consequences of Communism on a boy's life. Sometimes the children are called upon to humiliate their classmates. An author who grew up in the Soviet Union wants to expose and condemn the acts of the Soviet Union. It tells of the killings, the suspicion, and the betrayal. This is a lesson to all of us.
Wonderful Read

Derived From Web

, Feb 11, 2022

The book outlines from a child's point of view the propaganda machine of Stalin's reign, and its infecting of all life in the USSR. There are lies, paranoia, fear, and treachery. As powerful as the text is, the artwork is perfect for the rest of the book. The short, naive and honest musings of a young boy enamored of Stalin are what are called sentences. The only criticism I can give is that the reader never reads what should be the boy's rightful rage at what happened to his father, what happened to his mother, and the injustice of his becoming a victim himself. I recommend the book with it all.
Great Story!

Derived From Web

, Feb 11, 2022

What a great book. The author's illustrations are amazing. A young boy in Stalin's USSR is about to become a Pioneer and you will follow him. The story is similar to One Day in the Life of Ivan Denisovich because it takes place over a few days. The story is about a day before one goes to the Gulag. I wish the author would write more books about life under Communism. They need to be read and re- read.
A Great Read Out Loud Book for the Entire Family!

Derived From Web

, Feb 11, 2022

I bought this for my 9 year old son after we did a study on Russia. I decided to read it after reading the reviews. My son and daughter were listening to me read it. This book was very enjoyable for us all. The book created a lot of discussion and further research on Stalin and the propaganda was fascinating. Both children would ask me to read it. I wouldn't recommend it for sheltered children because it addresses incarceration, death, lying and abandonment. This book is great for entertainment and learning more about the era of StalinU.S.S.R. The illustrations were great.
Food for thought

Derived From Web

, Jan 26, 2022

I think this needs some serious study to go along with it and should be read alone. Otherwise it's like that. It is good. It's worth the study, but it needs to be studied more.
An engaging and educational book

Derived From Web

, Sep 2, 2019

Our 8- year- old loves this book and has read it at least a dozen times. The story is thought- provoking, the prose is easy to understand for kids her age, and the main character is likable. The book has triggered several conversations about history, Communism, Stalin, the Soviet Union, and the Cold War. She has a better understanding of the corrosive nature of Communist dictatorships thanks to her new interest in historical fiction. I think it's a good idea.
Heartbreaking History

Derived From Web

, Aug 23, 2018

A sad tale of Soviet oppression is experienced through the eyes of a child. Adult readers with a sense of history read a lot in the story. Young readers would benefit from having guidance as they read this so that they can fully understand what happened under Stalin's regime.
Modern, concise, interesting, relevant and unusual. Would definitely recommend to any 5th grader!

Derived From Web

, Apr 23, 2017

There aren't many chapter books for kids about the Cold War. This is a very good historical fiction book that is based on the author's life as a child behind the Iron Curtain in the U.S.S.R. and it is an excellent resource for reading aloud or assigned as reading material during a Cold War Social Studies unit. The author's notes at the end are really interesting.