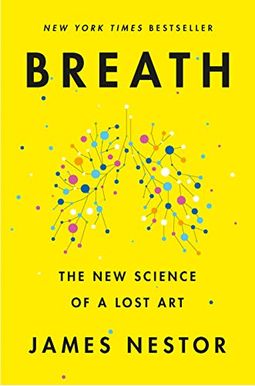  
Breath: The New Science of a Lost Art
Book Overview
A New York Times Bestseller
A Washington Post Notable Nonfiction Book of 2020
A fascinating scientific, cultural, spiritual and evolutionary history of the way humans breathe--and how we've all been doing it wrong for a long, long time. --Elizabeth Gilbert, author of Big Magic and Eat, Pray, Love
No matter what you eat, how much you exercise, how skinny or young or wise you are, none of it matters if you're not breathing properly. There is nothing more essential to our health and well-being than breathing: take air in, let it out, repeat twenty-five thousand times a day. Yet, as a species, humans have lost the ability to breathe correctly, with grave consequences. Journalist James Nestor travels the world to figure out what went wrong and how to fix it. The answers aren't found in pulmonology labs, as we might expect, but in the muddy digs of ancient burial sites, secret Soviet facilities, New Jersey choir schools, and the smoggy streets of S o Paulo. Nestor tracks down men and women exploring the hidden science behind ancient breathing practices like Pranayama, Sudarshan Kriya, and Tummo and teams up with pulmonary tinkerers to scientifically test long-held beliefs about how we breathe. Modern research is showing us that making even slight adjustments to the way we inhale and exhale can
Read More chevron_right
Frequently bought together
Frequently Asked Questions About Breath: The New Science of a Lost Art
Book Reviews
(14)
Did you read Breath: The New Science of a Lost Art? Please provide your feedback and rating to help other readers.
Almost entirely unscientific and mostly anecdotal.

Derived From Web

, Nov 16, 2021

The topic of breathing patterns is important. There is a lot to gain from a medically and scientifically knowledgeable author writing. The ideas and anecdotes would be put in the Dr. Oz show genre.
Anything but Esoteric

Derived From Web

, Oct 19, 2021

This is a well researched book, but it isn't what makes it special. The author had an engaging experience learning about breathing properly. He shows us inside his research efforts and lays out his findings. He says that we can improve our health and well being by learning to breathe correctly. The appendix contains useful breathing techniques. The author's approach is different because of his thoroughness and building block approach to revealing his findings. This is not a book for beginners. Something fundamental to our lives is the subject of the serious work.
Fascinating. Game changing.

Derived From Web

, Oct 17, 2021

There is a great overview of the history and science of breathing, as well as the breathing exercises that have been practiced by Buddhists and yoga masters thousands of years ago. I have a sleep disorder and live and hike at high altitudes. My Apple Watch shows that the exercises have improved my performance.
Everyone will benefit from reading this book

Derived From Web

, May 26, 2021

The book is only half done. This book has given me so much. I sat at a computer all day and didn't think twice about my shallow mindless breathing before reading this book. This book has changed my view on the importance of breathing and how it affects our physical, mental and emotional well being. I didn't realize that the correct way to breathe was to breathe through your nose, even though I went through yoga teacher training a moons ago. I will be sharing the knowledge I'm learning from this book with many people in my life.
Revolutionary and Groundbreaking!!!!

Derived From Web

, Nov 4, 2020

Breath is revolutionary and ground-breaking. I feel like learning how to breed should be a required education for everyone in an age of Covid and beyond. What you get out of it is amazing. I have purchased six copies of the book for my family and friends, but I am still not done. These books are worth their weight in gold because of the informative lectures on YouTube.
Great information!

Derived From Web

, Oct 5, 2020

This book is amazing. It's a great source of information for anyone trying to stop snoring or clear the sinuses, or just trying to create inner calmness. It is well written. It's not just dull facts and info that are entertaining. He put himself through a lot for his research. He shares it with humor. I found myself laughing many times. There is information about breathing techniques and how to incorporate them into your life.
Breathing Better

Derived From Web

, Aug 31, 2020

The book should be read by all healing and medical professionals. The perfect breath described and explained in this book should be learned and practiced by everyone. I have practiced meditation for 40 years and practiced yoga for 25 years, but I was surprised at how much I learned. I couldn't put it down because the page turner reads like a novel.
terrific Read

Derived From Web

, Jul 30, 2020

Being a yoga teacher for 25 years made me skeptical about learning new things. I read it to confirm my belief that breath work could be a part of a healthy lifestyle. James Nestor was an expert upon personal experimentation. He told an interesting tale of his journey over the course of 10 years. I couldn't put the book down because I wanted to see where the next exploration would lead. The book was entertaining and fascinating. I learned a lot about ancient techniques. I am more convinced than ever that breath work is a part of a healthy lifestyle and can help to manage or reverse some of the epidemics that plague humanity. Excellent read, recommend!
Don't waste your money!

Derived From Web

, Jun 25, 2020

The answer is you can't fill a 200 page book with this topic. The book is about 10 pages long. A few tips but not much to read.
A life changer for me

Derived From Web

, May 30, 2020

I am in my 60s. As a former competitive athlete, I saw degradations of my quality of life as well as the normal. I have been spending a lot more time in front of a screen. In the afternoon, nap time. In the first week after buying the book, I have not gotten sleepy. The book is well researched, a great read, and contains valuable exercises. I can not recommend this book enough.