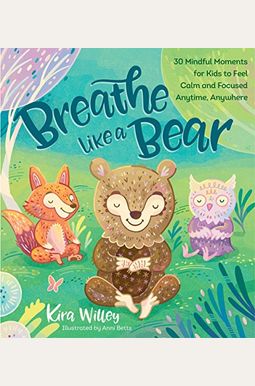  
Breathe Like A Bear: 30 Mindful Moments For Kids To Feel Calm And Focused Anytime, Anywhere
Frequently Asked Questions About Breathe Like A Bear: 30 Mindful Moments For Kids To Feel Calm And Focused Anytime, Anywhere
Book Reviews
(18)
Did you read Breathe Like A Bear: 30 Mindful Moments For Kids To Feel Calm And Focused Anytime, Anywhere? Please provide your feedback and rating to help other readers.
Breathe kids book

Derived From Web

, Oct 11, 2021

An excellent book, with excellent tips and illustrations by Mark Penn. Even though it is a great book, I do recommend that any little kid and any inner child have it as a guide in anxious times.
No longer skeptical of these types of books for kids

Derived From Web

, Feb 18, 2021

When I was told that this book would be so popular, I had low expectations that my 4 year old would be interested in it. When he actually did enjoy it, I was pleasantly surprised. We started by sitting down and reading them all, and then doing some of the exercises. He stayed engaged because of the beautiful illustrations and the way the book was written, he said. It was pretty soon we were really doing the breathing exercises and having fun, too. Easy to remember how to do and very useful. But he is too young to think of doing them on his own. When he is upset about something and I ask him if he wants to do them on my own he always says no, but after a few minutes he's giggly and smiley again. However, I can actually say that it really does help, but it depends on your approach as every child is different.
Amazing classroom resource

Derived From Web

, Feb 11, 2021

I think every teacher should have one, too.
Great mindfulness ideas for preschool students!

Derived From Web

, Nov 21, 2020

Just purchased this book to give some ideas of mindfulness activities I could use with my virtual preschoolers. I've already used the book and the kids have fallen in love with it. Hot chocolate breathing exercise was their favorite. The illustrations are beautiful, too. I think I will buy this as a present for some of my teacher friends.
great breathing exercises for kids

Derived From Web

, Jun 28, 2020

The book is written in a way that is easy for kids to practice and do well. My 4 year old daughter absolutely loved it.
Wish we had found this book sooner!

Derived From Web

, Feb 27, 2020

My 7 year old daughter has a very low tolerance and has some anxiety, Raymond said. It has been a wonderful resource for me, said Dr. Elizabeth Aronov, who co-chaired the inquiry. If she's anxious, angry or frustrated, she won't hesitate to go and grab this book. This book is easy to understand, and the illustrations are very charming and appealing to young readers, too. Only a few weeks ago we found this book.
A must have book!

Derived From Web

, Jan 10, 2020

My students love these simple, short breathing exercises! The whole class always feels more calm after we do these breathing and focusing exercises, Mr. Dhaliwal said.
Helpful!

Derived From Web

, Nov 11, 2019

Incredibly helpful, said Dr. Glenn Hubbard, director of neurosurgery at Boston's Children's Hospital. It's great to have this book out every night, and my girls LOVE to do the exercises with it. It has even been referred to as a "vital" part of the day when they need to breathe through tough situations.
Great book for mindfulness with elementary students

Derived From Web

, Oct 22, 2019

I bought this book to use with my third-grade students. We have 5-10 minutes of mindfulness after recess each day and this book has short but focused exercises appropriate for children of all ages. Their favorite, of course, is the rain.
therapy approved

Derived From Web

, Sep 20, 2019

I work with foster care children and this book is to use as it helps them to calm down without even realizing it. I would recommend this book to anyone. It has cute little activities to help with breathing and calming your body, too.