Buy 3 Get 1 Free
Our Best Sale Yet! Add 4 Books Priced Under $5 To Your Cart     Learn more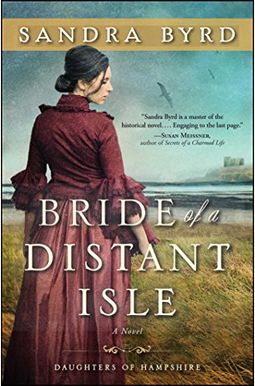 
 
Bride Of A Distant Isle: Daughters Of Hampshire
Book Overview
An unforgettable romance set in Victorian England, Bride of A Distant Isle is the engrossing story of Annabel Ashton, who fights to save her family home and her mother's honor while trying to figure out if the man she loves wants her--or just wants to use her to achieve his own ambitions.
Miss Annabel Ashton is a teacher at the Rogers School for Young Ladies in Winchester when she takes a brief visit to her family home, Highcliffe Hall at Milford-on-Sea. She believes her stay will be short but soon learns that she will not be returning to the safety of the school. Instead, she remains at Highcliffe, at the mercy of her cousin, Edward Everedge. Annabel protests, but as the illegitimate daughter of a woman who died in an insane asylum, she has little say. Edward is running out of money and puts the house up for sale to avoid financial ruin. He insists that Annabel marry, promising her to a sinister, frightening man. But as the house gets packed for sale, it begins to reveal disquieting secrets. Jewelry, artifacts, and portraits mysteriously appear, suggesting that Annabel may be the true heir of Highcliffe. She has only a few months to prove her legitimacy, perhaps with assistance from the handsome but troubled Maltese Captain Dell'Acqua. But does he have Annabel's best interests at heart? And then, a final, most ominous barrier to both her inheritance and her existence appears: a situation neither she nor anyone else could have expected. Will Annabel regain her life and property--and trust her heart--before it's too late?
Frequently Asked Questions About Bride Of A Distant Isle: Daughters Of Hampshire

Books like Bride Of A Distant Isle: Daughters Of Hampshire
Book Reviews
(6)
Did you read Bride Of A Distant Isle: Daughters Of Hampshire? Please provide your feedback and rating to help other readers.
historic aspects well done, but unbelievable plot disappoints

Derived From Web

, Feb 14, 2022

The author knew her history and there were only a few words that were modern. I thought the characters came to life. The plot seemed contrived, why wasn't Annabel's teaching salary enough to cover her expenses. Annabel didn't supplement her income by tutoring or look for alternatives after the family's country home was rented out a number of years before. It was foolish to hope that Edward would choose a good husband for her. The Annabel would have done something similar before the story began, but it wouldn't have been the same story.
Dive into this one, it delivers!!!

Derived From Web

, Feb 14, 2022

My review of this beautifully written intriguing story of an amazing woman, Annabel Ashton, begins with an excerpt from page 126 I shook the fancies of my imagination and climbed the final stairs, cupping my right hand around the candle to focus the wan light. The air was stagnant and still, and I was afraid of darkness, which made me tighter than a corset. The only sound present was my heart pounding in my ears, and the silence hurt them. The situation reminded me of when Edward locked me up in the linen closet so he could eat my pudding and forget me. This story is full of emotion and insight that will lead you on a revealing ride through a most powerful spectrum of human experience! I highly recommend you dive into this ocean if you are considering it. You will be pleased.
Just loved it.

Derived From Web

, Feb 14, 2022

Oh wow! Don't read this book if you have any plans at all. Don't even think about picking this book up if you have to take care of kids. Don't buy this book if you plan to eat. If you don't have a clear schedule, you won't be able to put this book down until you' re done. This is a book where you immediately care about what is happening to the characters You can't put it down because you wonder what's happening. As soon as I read this one, I had to get the next one because I had a long list of books to read.
"Bride of a Distant Isle" beautifully weaves its way through Victorian England

Derived From Web

, Feb 14, 2022

The newest book by the author has me spellbound. Annabel doesn't always know how to read the motives and emotions of the people around her and the relationships are real yet somewhat uncertain. Annabel is a strong woman who learns to trust in her God, despite her many struggles. The Bride of a Distant Isle goes through England. The romance between Annabel and the Captain plummets with distrust, but eventually holds steady with true love. I' ve read her books many times. She just gets better at her craft.
Challenging

Derived From Web

, Feb 4, 2019

A difficult read due to the complexity of plot and character. As always, it is historically accurate. She has several books that seem well researched. I would have liked to have seen more information about the exhibition and manufacturing process, but it made me want to dig deeper into my history books.
Great Author ALWAYS ENJOYABLE

Derived From Web

, Jul 5, 2017

I have read so many books that she has been my virtual friend for a long time. She is still productive and working at the keyboard. I' ve never met a girl who didn't love her books. They are given away as prizes at the academy. Great research on historical topics. She reminded me that I qualified to try the recipes for French pastries because I traveled so much in France. I have read every book she has written.