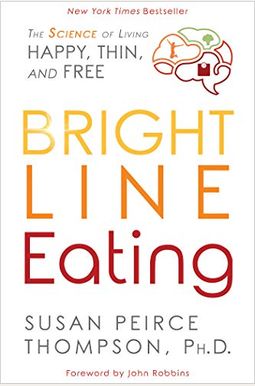  
Bright Line Eating: The Science of Living Happy, Thin and Free
Book Overview
This Description may be from another edition of this product.
A NEW YORK TIMES BESTSELER
Foreword by John Robbins, author of the international bestseller
Diet for A New America
In this book, Susan Peirce Thompson, Ph.D. shares the groundbreaking weight-loss solution based on her highly acclaimed Bright Line Eating Boot Camps. Rooted in cutting-edge neuroscience, psychology, and biology, Bright Line Eating explains why people who are desperate to lose weight fail again and again: it's because the brain blocks weight loss. Bright Line Eating (BLE) is a simple approach designed to reverse that process. By working with four Bright Lines--clear, unambiguous, boundaries--Susan Peirce Thompson shows us how to heal our brain and shift it into a mode where it is ready to shed pounds, release cravings, and stop sabotaging our weight loss goals.Best of all, it is a program that understands that willpower cannot be relied on, and sets us up to be successful anyway. Through the lens of Susan's own moving story, and those of her Bright Lifers, you'll discover firsthand why traditional diet and exercise plans have failed in the past. You'll also learn about the role addictive susceptibility plays in your personal weight-loss journey, where cravings come from, how to rewire your brain so they disappear, and more. Susan guides you through the
Read More chevron_right
Frequently Asked Questions About Bright Line Eating: The Science of Living Happy, Thin and Free
Books like Bright Line Eating: The Science of Living Happy, Thin and Free
Book Reviews
(7)
Did you read Bright Line Eating: The Science of Living Happy, Thin and Free? Please provide your feedback and rating to help other readers.
Eating disorder trigger

Derived From Web

, Dec 19, 2021

This book is not for anyone who has an eating disorder or has any tendencies towards one. The methods described in the book are very restricted and can increase this disordered thinking.
Impossible

Derived From Web

, Sep 22, 2021

Yes, this will work. But it akin to saying that you will never get in a plane crash if you commit to never going outdoors EVER. The author is an extreme personality who shares her addictive methodology to becoming thin. I'm pretty sure that if I ever ate a major category of human food again, I would lose some weight. It is just not living in reality, though. Returned the book. Bogus'Bogus was born. Virtually no one will be able to follow this to the tee.
A Bit Much!

Derived From Web

, Jul 9, 2020

It was a lot to take in and I read 80% of the book when she went just crazy with how she had lost even more and was now a twig. I have never finished it. This is a book that you have to take what you need and discard the rest.
Lost too much hair to be worth it

Derived From Web

, Oct 4, 2019

I followed this to a T and while I lost weight, my hair thinned considerably while on the diet. Unfortunately, the mindset taught here encourages black and white thinking not uncommon to eating disorders. For a while, I was part of the Facebook group and found that hair loss was not unheard of. In theory, I like what Susan teaches ; it just did not work for me in the long run.
FINALLY!!! AN EATING PLAN THAT MAKES SENSE...AND WORKS!!!!!!!!!!!

Derived From Web

, Jun 11, 2018

This book is changing my life. It has changed my life. Since 29 January 2018, I have lost 46 pounds and am 20+ pounds away from my goal. My weekly food bill has shrunk together with my waistline and I am so happy! Since my life has been a constant diet, I never thought I could do this, since my life has been a constant diet. My cravings are gone and before that -- a day without bread, cheese and red wine does not seem like living. Susan Peirce Thompson has found the breakthrough that works. Dr. Susan Peirce Thompson has found the breakthrough. Eternally grateful for her research and publication, Eternally grateful. I highly recommend you read the book as opposed to jumping into the food plan, because you'll never appreciate WHY sugars and flours are so harmful. OH!!!!! OH!!! And I almost forgot about it. Just got my blood work back and my results were the best I had in over 20 years and I am now far, far away from being pre-diabetic! !
LIFE CHANGING

Derived From Web

, May 4, 2017

I have always had an issue with food : I have always had an issue with food. I LOVE FOOD, I LOVE FOOD. ALL FOOD FOOD. Food includes mylife, mylife. I think all the time about it. I started watching Susan's videos on you tube after watching her videos. She was speaking to ME, speaking to her. I took the leap and joined the 14 day challenge. At the time, her book was not yet published. I completed the 14 day challenge. It was not easy. I had to be focused, organized and plan ahead. My husband did this with me. I lost 8 pounds. He lost 19 lbs. I was not hungry ''. Ever. Ever. Did I crave sugary processed foods? Yes, I didn 't give in. It took about 4 weeks for those cravings to go away. It took about 4 weeks for those cravings to disappear. Best thing about this plan is that it works I feel so much better energy level increased sleeping solid through the night's loss of weight reduced brain fog. Day 45, down 17 pounds My husband down 33 pounds It works. You have to work for them. You are not hungry '', you are not hungry. You will see the results you will feel and see! Quick :
A life changer

Derived From Web

, Mar 21, 2017

I love Bright Line Eating and I love Bright Line Eating. I have tried many self-help books and read many diets. I am now 75 years old and two years ago I found the program Susan Pierce Thompson and finally the program that works for me. I have lost over 100 pounds '', I have lost over 100 pounds. I am so happy that this book is finally being released and everyone has the opportunity to change their lives. My only regret is that I wish I would have done it 20 years ago, but am so happy today, to remember a day at a time.